First home buyers accounting for a whopping 41% of housing sales each month, new interest.co.nz First Home Buyer Report shows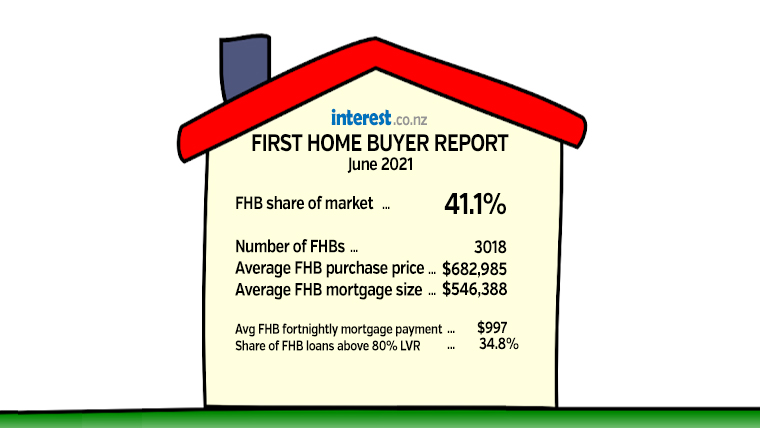 First Home Buyer Report - June 2021
By Greg Ninness
First home buyers' share of the housing market was at elevated levels for the second month in a row in June, according to analysis by interest.co.nz.
It estimates first home buyers accounted for 41.1% of the 7345 sales reported by the Real Estate Institute (REINZ) of New Zealand in June, down very slightly from the 41.5% market share in May.
Our report estimates the market share of first home buyers each month going back to August 2014, based on Reserve Bank's figures for new mortgage approvals, which are matched with sales data from the REINZ.
This shows that the only other months when first home buyers' share of the housing market rose above 40% during that seven year period were in either December or January, when overall sales activity is very low, and for the three months from April to June last year which were badly affected by COVID lockdowns.
But as far as normal real estate trading months are concerned, first home buyers made up a bigger proportion of housing sales in May and June than at any other time covered by our report (see the graph below for the monthly trends).
Not only has first home buyers' share of the housing market been increasing, the total numbers of first home buyers getting into their own homes has also been setting new records.
The number of home loans approved for first home buyers in a single month passed the 3000 mark for the first time in September last year and remained above 3000 in November and December and also in March, May and June of this year.
The 3018 home loans approved for first home buyers in June this year was up by 48% compared to June 2018 (June 2019's figures were still being affected by the aftermath of the COVID lockdowns).
So on the face of it, many first home buyers have benefited significantly from falling interest rates, which have undoubtedly helped many of them into a home of their own.
But the downside is that they have also been paying record prices and taking on record amounts of debt to achieve their dream of home ownership and many will struggle to raise a sufficient deposit due to the sky high prices. 
The report estimates that the average price first home buyers paid for a home was almost $683,000 in June, down just slightly from the record $685,000 in May (see the second graph below for the monthly trend).
And the average mortgage taken out by first home buyers in June was $546,388, down by just over $2000, compared to the record $685,257 set in May, but up by almost $129,000 compared to June 2019.
More than a third (34.8%) of the mortgages approved for first home buyers in June were for more than 80% of the property's value.
To service a mortgage at the June average of $546,388, the payments would be just $3 shy of $1000 a fortnight, not enough change for a decent cup of coffee (assuming a 20% deposit and a 30-year term at the average two-year fixed rate).
Those figures suggest many recent first home buyers could become financially stretched if mortgage rates start rising, as many commentators expect them to over the next few months.
For a regional/city breakdown of the main affordability measures for first home buyers, refer to interest.co.nz's Home Loan Affordability Report.
The comment stream on this story is now closed.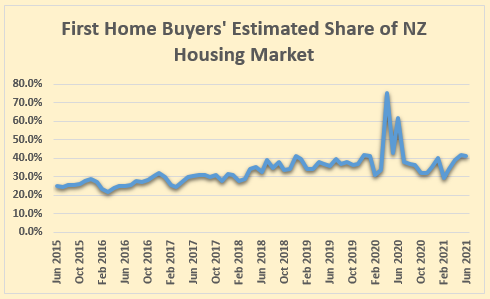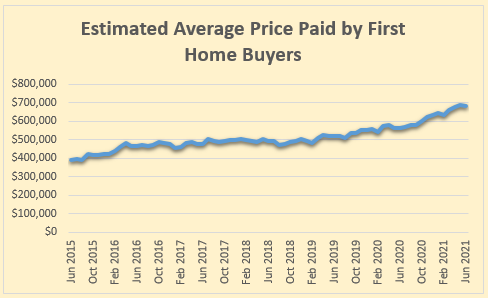 You can have articles like this delivered directly to your inbox via our free Property Newsletter. We send it out 3-5 times a week with all of our property-related news, including auction results, interest rate movements and market commentary and analysis. To start receiving them, go to our email sign up page, scroll down to option 6 to select the Property Newsletter, enter your email address and hit the Sign Me Up button.