Opinion: Bernard Hickey looks at whether to fix your mortgage or go floating and what the experts are saying
By Bernard Hickey
Now that the Reserve Bank has issued its half yearly Financial Stability Report and the European crisis has kicked off again it's worth revisiting the decision about whether to stay floating or to fix your mortgage. A fresh round of short term fixed mortgage rate cuts by the banks has also prompted a fresh look.
The short story is some bank economists have said in recent months now is a good time to fix because 2-3 year fixed mortgage rates offer good value compared to rises they see in floating mortgage rates over the next couple of years. Although in late April and early May those same economists backed off their 'fix now' calls because the European crisis worsened and the prospects for an Official Cash Rate cut increased.
Some economists and the Reserve Bank's own forecasts suggest, that floating may be the marginally cheaper option and allows any borrower to take advantage of any possible (and now more likely) cuts in official interest rates. My view, for what it's worth, is that rates stay lower for longer and floating makes marginally more sense.
Everyone is different though, so it's worth running through the pros and cons of fixing vs floating and look in depth at the various factors at play. It's also worth spending some time on it. As I'll show lower down, it's a decision that could save (or cost) you thousands of dollars over the next couple of years. Here's our Fixed vs Floating calculator to help.
Firstly, let's look at what the 'ref' at the Reserve Bank has said recently and what the latest economic and financial signals are saying.
The Reserve Bank substantially revised down its forecast track for interest rates in its March 8 statement, which was widely interpreted by economists and the financial markets as being 'dovish', which means more emphasised on keeping interest rates lower for longer. See our news report here. It didn't update that forecast in its April 26 statement, but suggested again it is no hurry to raise rates while the New Zealand dollar is so strong.
On March 8 the Reserve Bank held the Official Cash Rate (OCR) at a record-low 2.5% and forecast the 90 day bill rate would peak at around 3.6% by the first quarter of 2015, which implies a peak for the OCR of around 3.25% to 3.5%. This is a reduction of 0.4% or 40 basis points in the Reserve Bank's forecast peak from its December quarter forecast. At some points in the forecast track (early to mid 2013), it represents a 0.7% or 70 basis point fall in the bank's forecast in just three months.
This substantial lowering of the forecast track surprised a few people and triggered a slight (if shortlived) fall in wholesale interest rates and the New Zealand dollar. Reserve Bank Governor Alan Bollard was highly critical of the high New Zealand dollar, given recent falls in commodity prices, but that's another story. He even suggested he might cut the OCR if the currency kept rising.
There's a couple of reasons for the Reserve Bank's more dovish view, which is important because the OCR sets the base for all interest rates and is closely connected to floating mortgage rates. The central bank said the high New Zealand dollar was holding down inflation and the recessionary forces of the last four years were keeping inflationary expectations down too.
The Reserve Bank's chart here of its forecast track for the 90 day bill rate, which is typically around 30 basis points above the OCR, tells the story.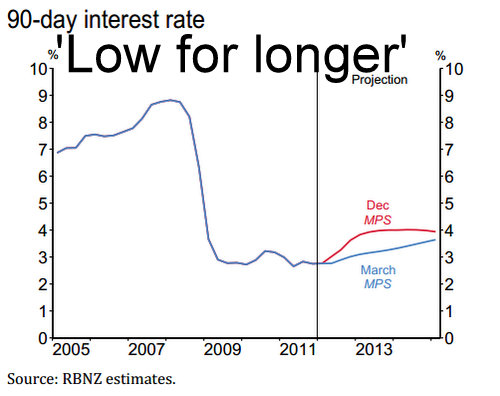 So the Reserve Bank is forecasting a rise (the blue line), but it's very slow and not much at all. If the Reserve Bank's forecast now actually turns out to be fact, then floating mortgage customers would see their rates rise very slowly to a peak of around 6.5% by 2015 from around 5.7% now. Given 3 year fixed mortgage rates are currently around 6.1%, it's not obvious that fixing is a better deal, assuming the Reserve Bank is right. See our bank mortgage rate comparison page here.
There is a way to test the various scenarios and work out which option is cheaper (although cheapness is not the only factor worth thinking about for many people).
There is a calculator
We have a calculator here that allows you to test which rate is cheaper, depending on three different interest rate scenarios. Click here to go to the calculator.
There are three different rate scenarios. A is the high one with an OCR peak of almost 4%, B is the medium one, which is in line with the Reserve Bank's latest forecast track above, and C is the low one, which implies no hikes until early 2014.
Try it out to see which option is cheaper for you, depending on your rates view. My view is that the OCR stays lower for longer, which means my bank floating rate of 5.4% (I hammered my bank down via a broker) is better than my bank's 2 year fixed mortgage offer of 5.8% using option C (low) to the tune of NZ$1,161 on a NZ$200,000 mortgage. I would be NZ$1072 worse off off fixing if rates rose on the high track (option A). I'd be NZ$1,117worse off with the middle option B.
A simple money calculation isn't everything though. Some people put a high value on knowing exactly what their mortgage payments are going to be for the next two years because, perhaps, they have a fixed income or are very nervous about a sharp rise in rates. They may see paying slightly more for a fixed mortgage as a bit like an insurance payment.
Others may want to stay floating because they really believe interest rates will be cut again and because they don't want to be stuck fixing and have to pay an exit fee if rates do fall. The most recent memories for some people are having to break their mortgages and pay big break fees (or finding it unaffordable to do so) during 2009 and 2010. Others have longer memories of being stung with big increases in floating mortgage rates as the OCR was hiked from 5% to 8.25% between early 2004 and mid 2007. Really old people remember the 20% plus rates of the mid 1980s. I'm not that old. ;)
Everyone has different appetites for those sorts of risks about paying more or missing out on paying less, and different views about where interest rates will go. Those are the main things to consider when fixing or floating.
More than 60% of New Zealand's mortgage lending is now on floating rates, which is a record high and a complete turn-around from before 2008. The decision for many now is when to fix.
The bank economists' views
Westpac's Dominick Stephens changed his view on fixed vs floating in late April, saying that floating now looked more attractive than fixing. See Gareth Vaughan's April 27 article here.
Back in early March he pointed to the risk of quite fast and steep increases in the Official Cash Rate through 2013 and said fixed rates looked good value.
But by late April after the worsening of the local and global economic outlook and a change in the outlook for the OCR he switched back.
Here's his latest comment on the OCR outlook in his April 26 note:
Markets are now pricing in a 40% chance of an OCR cut before the end of RBNZ Governor Bollard's term in September. We broadly agree with the market's assessment of risks; while we don't believe that a rate cut would be eff ective or appropriate, it has to be regarded as a meaningful risk in the near term. Whether the OCR is cut this year or not, our expectation is for an extensive series of OCR hikes over the 2013-2015 period. Interest rates remain well below neutral levels, and the impending construction boom is likely to be more infl ationary than the RBNZ is conceding (this will be more of a driving force in later years than it will be this year).
ASB's economists now expect the Reserve Bank to wait until March next year before increasing interest rates and Jane Turner said in a May 16 note is that "some fixed rates are now below or similar to floating rates, offering a window of opportunity (to fix)"
The economic recovery remains gradual and inflation pressures are currently subdued. Recent economic developments highlight the downside risks that remain to the outlook in the near term, and we expect the RBNZ to leave to OCR unchanged at 2.5% until March 2013. Nonetheless, we continue to expect the economy to recover which, along with the Canterbury rebuild, will underpin a swift pick up in inflation pressures. As a result, we expect the RBNZ will need to steadily increase the OCR over 2013 and 2014, returning the OCR to 4% by mid-2014.

For borrowers, this means that floating mortgage rates are likely to remain at very low levels for the rest of the year, although borrowers do need to be prepared for rising interest rates from 2013. A combination of domestic and offshore events has seen the market start to price in interest cuts. This has reduced domestic wholesale funding costs, and lowered some fixed-term mortgage rates. In some cases these are lower or at similar levels as the floating mortgage rate. Our view is these declines may not be sustained unless the RBNZ follows through, and provides a window of opportunity for those borrowers that prefer certainty to protect themselves against further interest rate increases.
ANZ National's Cameron Bagrie sees the economy in a 'grumpy growth' mode that means the Reserve Bank is likely to hold the OCR for some time and may even cut rates before the end of the year. He leans towards staying floating.
Here is ANZ National's latest comment on May 3 on where the OCR might go:
This is the third "major data" downward surprise for the RBNZ since the March MPS. While the hurdle remains high, it is now easier to articulate scenarios involving rate cuts. The probability of a rate cut is low, but rising, and ultimately depends crucially on global events and their impact on New Zealand.
Here's ANZ National's latest views on borrowing strategy in its May 11 note:
The big picture remains one of interest rates remaining lower for longer, and we still remain of the view that borrowers have time on their side. Some say interest rates have moved to price in too much easing, and there could be some truth to that. But with no catalyst for a sustained move higher in sight, we prefer to go with the flow, taking relief from lower rates. Broadly speaking, we still prefer to be more exposed to floating than fixed, but with rate cuts a possibility rather than the central scenario, given they are priced in, it makes sense to "average in" to fixed by gradually adding to fixed cover at current levels.
BNZ Chief Economist Tony Alexander said on February 16 that it was time to fix. Here's his view as of May 10:
Stay floating or fix three years at 6.15%. It all depends upon one's risk tolerance. Thankfully, on February 16 when I wrote here that I would move from floating to fixed the justification was not an expectation of a rise in interest rates but simply the small gap between floating and fixing.

To whit..."The gap between floating and fixing for three years has declined to only 0.41% from 1.4% three months ago and is now the lowest since March 2009. Personally I would take the three year rate because I like certainty and the 0.41% cost is very small. Most people however seem to be very comfortable sitting floating so if they change will probably only jump to the two year rate. The chances are however that with little discussion in the media regarding interest rate rises and picking low points, very few people will in fact shift away from floating. This will likely happen even though it is a complete gimmee because the chances of either the two year rate or floating rates falling again this year are low (though not zero given Europe uncertainty) and our official view is that the Reserve Bank will start tightening monetary policy before the end of the year."

The only change I would make in the February 16 statement would be to note more explicitly the always high probability that monetary policy tightens in 2013 and not anytime this year.
Bernard Hickey's view
For what it's worth, I think the Reserve Bank is likely to keep the OCR low for longer and I'm closer to the RBNZ's view than the economists' views. I still think there is a risk (now increasing) of a blow-up in Europe's financial markets that could even force the Reserve Bank to cut interest rates again.
There are plenty of structural deflationary risks in the global economy as consumers in the big economies struggle to find well paid jobs and companies look to outsource work in both manufacturing and services to lower paid emerging economies such as India and China. This tends to suppress wages and prices, which in turn encourages savings and keeps interest rates low.
At the same time, there is a mountain of debt that has to be worked off (or restructured). Studies of previous financial crises show that these mountains of debt tend to suppress growth rates and inflation rates (and therefore interest rates) for many, many years after a crisis.
That means I'm personally staying floating, even though the two and three year fixed rates appear reasonably attractive if interest rates rise in the same way they have in previous recoveries. I think some structural things have changed in the global economy that mean interest rates are likely to be suppressed for some time to come.
But my view is just one view and there are plenty of others, including the views of the financial markets (which are often different to those of economists).
Those views are often expressed in Wholesale interest rates known as 'Swap rates'. Check out our interactive chart below. They rose quite sharply in the second half of February as markets calmed down about the problems in Europe, but have dropped again through April and early May as the Greek crisis reappeared and election results endangered Europe's austerity strategy.
The rise in swap rates in late February and early March encouraged some to think the worst was over and that interest rates were about to rise sharply again, and therefore now was the time to fix. Some reversed that view in early May though because of the renewed European fears and higher New Zealand unemployment rates.
* There was caveat to all of this. As Dominick Stephens has pointed out to me, if Europe were to go horribly, horribly pear shaped and that signficantly increased the foreign debt funding costs for New Zealand's banks, those banks may pass on those costs to floating mortgage borrowers in the form of higher rates. That is possible in the worst possible scenario. The Reserve Bank has said in the past though that it would help out by cutting the OCR in case that happened, to offset those higher funding costs. We'll see.
The ultimate worst case scenario would be if foreign investors completely lost confidence in New Zealand and started treating us like Greece, slashing our credit rating and pushing up our interest rates dramatically. I think this is very, very unlikely.
(Updated on May 16 with latest from Reserve Bank and markets action, also ASB's view to fix now)