NZIER shadow OCR board sees no rate move on Thursday, but chances of a cut increase in June from April
The Official Cash Rate should be kept on hold this week, although there is more weight this month for a cut than in April, according to a shadow Reserve Bank board set up by the New Zealand Institute of Economic Research (NZIER).
The shadow board of nine academics, economists, and business leaders put a 63% weight on the Reserve Bank keeping the OCR on hold on Thursday, down from 68% in April.
There was just a 3% weight given to raising the OCR (down from 7% in April), and a 34% weight given to settings below the current 2.5% as appropriate.
"The Shadow Board is now more inclined to a lower interest rate being most appropriate for the economic conditions. This shift reflects higher global economic risks, particularly in Europe, the economy moving sideways, fiscal headwinds and low inflation," NZIER Head of Public Good Research Kirdan Lees said.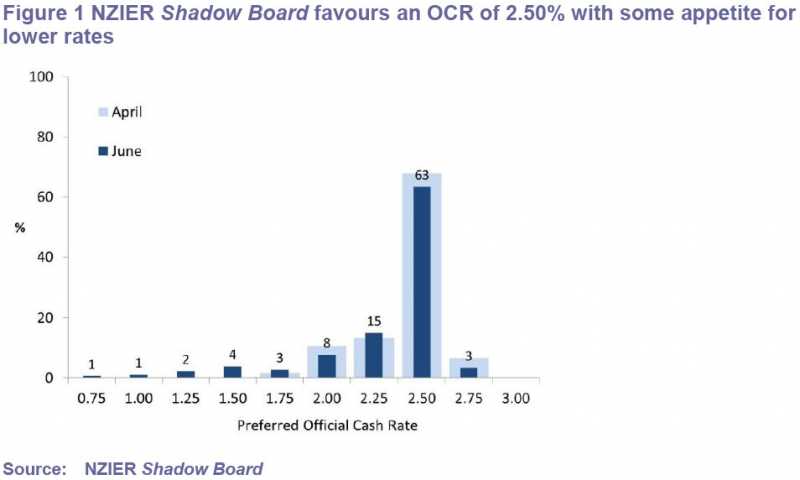 In mid-May financial markets gave an 85% chance of a cut in the OCR, although in recent weeks that has retreated back to under 20%. New Zealand bank economists expect the next move in the OCR to be up, in March 2013. Markets are pricing in cuts over the next year, with this oscillating between a cut to 2% or 2.25%.
Reserve Bank Governor Alan Bollard is set to review the OCR at 9am on Thursday, June 14.
Also see article, Reserve Bank to keep OCR at 2.5% next Thursday, bank economists say; Global developments the catalyst for any cut; Markets eye 25% possibility of a cut.
Shadow board
The members of the board are:
Cameron Bagrie, Chief Economist, ANZ National Bank
Luke Bunt, Chief Financial Officer, The Warehouse
Shamubeel Eaqub, Principal Economist, NZIER
Dominick Stephens, Chief Economist, Westpac
Phil O'Reilly, Chief Executive, Business New Zealand
Dr. Viv Hall, Professor, Victoria University of Wellington
Stephen Toplis, Head of Research, Bank of New Zealand
Dave Taylor, Chief Executive, Steel & Tube
Dr. Christoph Thoenissen, Associate Professor, Victoria University of Wellington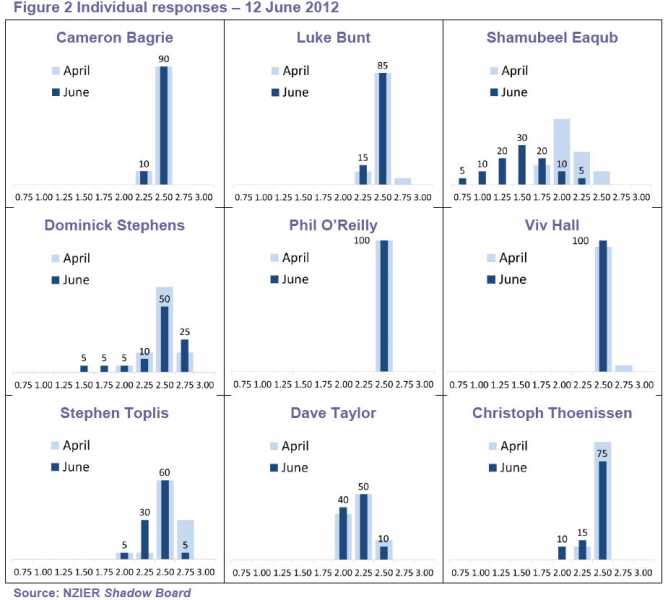 About the NZIER Shadow Board
Lees said the NZIER Shadow Board aimed to achieve three goals:
to encourage informed debate on each interest rate decision
to help inform how a board structure might operate relative to New Zealand's current single decision-maker model, where the Governor is responsible for making each decision
to explore individual board members using probabilities to express their uncertainty.
"The format closely mirrors the Australia Probabilistic interest rate setting project (PROPOL) run by the Centre for Applied Macroeconomic Analysis at the Australian National University," Lees said.
The Board does not meet but each member is asked to give a percentage value for how much they prefer each interest rate. These values are aggregated to form a collective Board view (see above).