Bernard Hickey looks at whether or fix or float, what's happening with house prices, and what economists are saying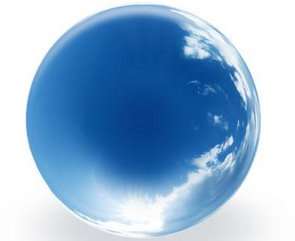 By Bernard Hickey
After years of being flat as a pancake, the outlook for interest rates appears to be turning.
There's great hope by some that this could the year of the 'great recovery' after the Global Financial Crisis (GFC), which would see economic growth surge and interest rates rise.
Yet, as in previous years, others point out many of the problems exposed in the GFC have not been solved and growth is unlikely to surge.
The year appeared to begin well with signs of a strong recovery in business confidence in New Zealand and relatively calm financial markets in America and Europe.
If this followed through into a burst of investment, employment and economic activity that would put upward pressure on interest rates, making fixing more attractive.
However, the New Zealand dollar remains persistently high, which is dragging down on inflationary pressures and there's still plenty of potential for hiccups overseas to stall our rebound.
Europe is in recession with few signs of life and America is sputtering along with periodic political and fiscal crises that have handicapped investment plans.
The net result of all this is the Official Cash Rate (OCR) is not expected to rise until late in 2013 or early 2014 and has been at a record low 2.5% for most of the last 5 years.
In previous years I was firmly in the floating camp because I saw interest rates staying low or even falling further because of the stubbornly weak global economy and very low inflation. However, in recent months my views have started to shift towards fixing. This largely followed the appointment of new Reserve Bank Governor Graeme Wheeler in September last year and the surge in the Auckland housing market through 2012 and into 2013.
The new Reserve Bank Governor seems to be taking an orthodox approach to policy and interest rates, which means he is less likely to cut. He is also starting to look at the surge in the housing market and appears reluctant to use alternative tools to control house price inflation (such as a limit on loan to value ratios) other than the blunt instrument of the OCR. This hawkishness on inflation and orthodoxy on monetary policy makes a rate hike late in 2013 more and more likely.
The Reserve Bank has a big dilemma at the moment. The economy is subdued and inflation is below the Reserve Bank's 1-3% target range. All other things being equal, there'd be a good case for the Reserve Bank to cut the OCR, which should in turn drag floating rates lower and make floating more attractive than fixing. But house prices are taking off again and any OCR cut risks pouring yet more petrol on the fire of record low interest rates under house prices, particularly in Auckland and Christchurch.
One way for the Reserve Bank to get around this dilemma would be to use other tools to try to control the housing market, incluing limits on Loan to Value Ratios (LVRs). Other central banks and bank regulators in Israel, Canada, Hong Kong and Singapore have used such LVR limits, but Wheeler said early in November and again in December he would not use a LVR limit yet, even if he had it. See the full article and video here.
That means Wheeler is more likely to use the blunt instrument of the OCR to try to keep inflation around the 2% mark he has agreed to target in his own Policy Targets Agreement. If he worries about the housing market getting too hot then the one way (in his view) to knock it on the head is to hike the OCR. That's why I would tend towards floating half and fixing half of my mortgage in coming months, rather than floating it all. (I have actually sold my house and cleared my mortgage, but that's another story).
This is far from specific financial advice and everyone is different, so it's worth running through the pros and cons of fixing vs floating and looking in depth at the various factors at play. It's also worth spending some time on it. Don't blindly follow my or anyone else's view. This article is aimed at providing useful information in an accessible way to help you make a big decision. As I'll show lower down, it's a decision that could save (or cost) you thousands of dollars over the next couple of years. Here's our Fixed vs Floating calculator to help.
Also, there are many different views, and I've included those views of other economists below.
What the economy is doing and what the RBNZ is saying
Firstly, let's look at what the 'ref' at the Reserve Bank has said recently and what the latest economic and financial signals are saying.
The Reserve Bank's chart below is from its December 2012 Monetary Policy Statement of its forecast track for the 90 day bill rate, which is typically around 30 basis points above the Official Cash Rate (OCR), tells the story.
The blue line shown is its December forecast with the OCR peaking at around 3%. The red line shown is its September forecast. These forecasts have been dropping for at least a year.
Wheeler said in the Reserve Bank's December 6 New Zealand's economic growth outlook had slowed, but was still expected to recover to around 2.5-3%. He said he was watching inflation closely, particularly the housing market in Auckland, but saw no need to change the OCR from 2.5%. On January 31 he repeated that it was appropriate to keep the OCR at 2.5%.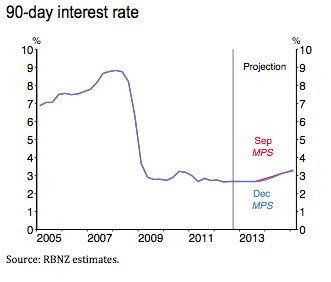 So the Reserve Bank is forecasting a rise (the blue line), but it's very slow and not much at all. If the Reserve Bank's forecast now actually turns out to be fact, then floating mortgage customers would see their advertised floating rates of around 5.7% rise very slowly to a peak of around 6.2% by the end of 2014. Although it's worth remembering that those customers with plenty of equity and good repayment records can push their banks for better deals at the moment of around 5% to 5.2%.
Those in competitive situations would see their floating rates rise to around 5.7% by the end of 2014 in this scenario. Currently advertised 18 month-2 year rates are around 5% to 5.5%, which would mean you'd pay more for the first 6-12 months or so and then less in the second 12 months.
Fixed rates tend to be more closely linked to wholesale 'swap' rates than the OCR. Swaps rates fell broadly through 2012 on increasing fears about a global slowdown and a slow rebuild in Christchurch, but they have risen around half a percentage point in early 2013 on hopes for recovery and relative stability on global markets. Luckily for borrowers though, banks' funding costs on international markets have dropped so the net effect is fixed mortgage rates haven't risen.
There is a way to test the various scenarios and work out which option is cheaper (although cheapness is not the only factor worth thinking about for many people).
There is a calculator
We have a calculator here that allows you to test which rate is cheaper, depending on three different interest rate scenarios. Click here to go to the calculator.
There are three different rate scenarios. A is the high one with an OCR peak of almost 3.5%, B is the medium one, which is in line with market expectations for flat rates and then a rise to 3% by mid 2014, and C is the low one, which implies flat rates through to mid 2014.
Try it out to see which option is cheaper for you, depending on your rates view.
A simple money calculation isn't everything though. Some people put a high value on knowing exactly what their mortgage payments are going to be for the next two years because, perhaps, they have a fixed income or are very nervous about a sharp rise in rates. They may see paying slightly more for a fixed mortgage as a bit like an insurance payment that helps them sleep at night.
Others may want to stay floating because they really believe interest rates will be cut again or not rise, and because they don't want to be stuck fixing and have to pay an exit fee if rates do fall. The most recent memories for some people are having to break their mortgages and pay big break fees (or finding it unaffordable to do so) during 2009 and 2010. Others have longer memories of being stung with big increases in floating mortgage rates as the OCR was hiked from 5% to 8.25% between early 2004 and mid 2007. Really old people remember the 20% plus rates of the mid 1980s. I'm not that old. ;)
Everyone has different appetites for those sorts of risks about paying more or missing out on paying less, and different views about where interest rates will go. Those are the main things to consider when fixing or floating.
More than 50% of New Zealand's mortgage lending is now on floating rates, which is just below a record high and a complete turn-around from before 2008. Although there has been a slight move back to fixing in recent months. See Gareth Vaughan's article here. The decision for many now is when to fix.
What house prices are doing
House prices are rising quite quickly, particularly in Auckland and Christchurch, where chronic shortages of non-leaky and non-damaged buildings are being squeezed by demand from immigrants (both internal and from overseas) and those with insurance payouts. Record low interest rates with little prospect of fast rises is also fueling activity.
REINZ figures showed the national median house price was 4.3% higher in January from a year ago, while Auckland prices were up over 8%.
The Reserve Bank has said it is watching it closely, but has said so far it does not think the Auckland inflation is spreading in a way that would boost Consumer Price inflation beyond its current target band of 1-3%. It has also signalled its reluctance to use unorthodox alternative tools such as Loan to Value Ratio limits to slow the market. Although Governor Wheeler did mention in passing in a speech in late February that the housing market was 'over-heated', particularly in Auckland.
New house building is increasing, but remains less than needed in Auckland to keep up with demand. All those factors together suggest continued house price inflation in Auckland and Christchurch at least, however a weakening economic outlook and any rise in interest rates would take away some of that upward pressure.
What economists are saying
Westpac's Dominick Stephens expects the Reserve Bank to start hiking interest rates from September 2013 and eventually rise to 5.25% by 2016 as the Reserve Bank is forced to react to rising inflation pressures, particularly from the construction sector and the Christchurch rebuild. He thinks fixing is better than floating. Westpac forecasts house price inflation of 9% and 4% respectively over 2013 and 2014.
Fixing is likely to prove better value than floating over the next few years. Fixed-term rates out to two years are currently well below floating rates, while three-year and longer fixed rates are only slightly higher. Staying on floating would only be the better option if the RBNZ actually cut the OCR, and we regard that as fairly unlikely. Our view is that the OCR will stay on hold for now, and increase steadily from late 2013.
BNZ's Tony Alexander thinks interest rates are on hold this year, but sees house price inflation in Auckland accelerating and spreading to other centres. He prefers to sit floating, or to fix for one year.
The upturn in the housing cycle underway in New Zealand has only just started and it will probably run for another three years. It bears greatest resemblance to the 1990s cycle which was also led by Auckland, rather than the 2000s cycle which came out of the regions.

In case you had not noticed there is the sniff of a fixed rate discounting war in the air. I'd be keeping an eye out for a nice low long term fixed rate and locking half of my mortgage into it while placing the other half in a mixture of floating and fixed rates out to two years. I'd not be doing this with the goal of minimising my interest rate cost because doing that requires faith in interest rate forecasts which have all been wrong for about five years. Instead I'd look at it from a near pure risk management perspective of giving myself time to adjust should interest rate surprise on the upside.
ASB's Nick Tuffley sees the Reserve Bank waiting until the March quarter of 2014 before raising interest rates. He also sees house prices continuing to rise.
Mortgage rates remain competitive, in part due to a reduction in bank funding costs. As such, many shorter-term rates are still below the floating rate, which allows borrowers to secure a lower interest rate despite the reduced prospect of an OCR cut. Medium-term fixed rates also offer excellent value, providing a good hedge against interest rate increases in the future.
ANZ's Cameron Bagrie sees interest rates on hold for some time and only limited house price rises. ANZ suggests a mix of shorter term fixed mortgages while waiting for a clearer view on rates.
The withdrawal of specials has also coincided with a rise in wholesale interest rates after the Reserve Bank's December Monetary Policy Statement, which made it clear that rate cuts are off the agenda. With monetary policy likely to remain on hold for an extended period, and cuts unlikely, a mix of 6 month, 1 year and 2 year terms with a view to re-fixing them when they expire offers a good "rolling" balance of cost and certainty.

(Housing) activity metrics are continuing to recover from cyclical troughs, as historically low mortgage interest rates start to impact. This is now flowing through into prices, although the reasonably modest pick-up in borrowing and retail spending suggests no immediate signs of a widespread impact on consumer spending. There remain regional nuances, with the shortage of listings more acute in Auckland and Canterbury, which is contributing to faster price rises in Auckland in particular. While the supply response will help, we expect the high household debt overhang and subdued labour market backdrop to limit the uplift in property values over the next few years. If they don't, and consumer spending picks up, higher interest rates and likely prudential policy changes look set to materialise.

Repeated undershooting of inflation will inflame the debate more as to whether we've seen a structural shift in the evolution of inflation. Inflation suppressants in the form of deleveraging (think credit growth below GDP) and a high NZD look set to be around for a while yet. Absent a city rebuild and perkiness across the housing market, the case for a lower OCR would be solid. However, both present risks to the medium-term outlook for inflation which carries the implication that the odds remain tilted towards the next move being up as opposed to down. However, we continue articulate the timing as being well down the track.
(Updated with economists' views on fixed vs floating, the OCR and house prices)
--------------------------------------------------------------------------------------------------------------------------
Mortgage choices involve making a significant financial decision so it often pays to get professional personalised advice. A Roost mortgage broker can be contacted by following this link »
--------------------------------------------------------------------------------------------------------------------------