Bernard Hickey looks at whether or fix or float, what's happening with house prices, and what economists are saying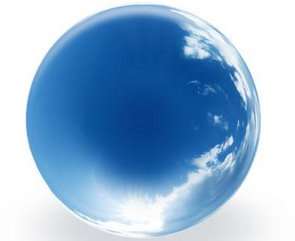 By Bernard Hickey
The times they are 'a changin' in the world of interest rates and that could shift your view on fixing vs floating. So let's have a look at the factors at play and how to think about them.
Wholesale interest rates are rising and so are the fixed mortgage rates that are connected to them, albeit indirectly and with a lag.
The big news in recent months has come from a man far away with a beard, and he's not Father Christmas. US Federal Reserve Chairman Ben Bernanke began signalling in late May that the world's largest central bank would 'taper' down its current programme of Quantitative Easing or money printing to buy government bonds, possibly as soon as later this year. This surprised some in the markets who had been expecting the money printing support from the Fed to go on and on into the foreseeable future, given America's stubbornly high unemployment rate and equally stubbornly low inflation rate. These 'tapering' comments helped the US 10 year Treasury bond yield jump almost 1% to 2.6% in the last couple of months.
That bounce in longer term interest rates has spread around the world, given US Treasuries are seen as the base for all interest rates. 
Also, closer to home, expectations about New Zealand's own economic growth rate have improved in the last couple of months. Economists are now expecting the Christchurch rebuild and the house price boom in Auckland will drive economic growth of between 3-4% over the next year or two. Financial markets are beginning to price in expectations the Reserve Bank of New Zealand will have to put up the Official Cash Rate (OCR) by around 0.75% over the next year to keep inflation within its 1-3% target band.
However, the Reserve Bank itself has said as recently as June 13 that it won't be increasing the OCR this year. It even forecast the 90 day bill rate would not start rising until the middle of 2014, which implies the OCR and therefore floating mortgage rates will stay on hold until then. That's because inflation appears dead and buried. It has actually been running below the 1% lower bound of the 1-3% target range for much of the last year, thanks largely to the very strong New Zealand dollar.
Economists are sitting between the Reserve Bank and the markets on the outlook for interest rates. Most expect the first hike will be in the March quarter of next year and then the OCR will rise from 2.5% to around 4.5% over the following year to 18 months. That would lift floating mortgage rates to around 7.5% by the middle of 2015. 
In previous years I was firmly in the floating camp because I saw interest rates staying low or even falling further because of the stubbornly weak global economy and very low inflation. However, in recent months my views have started to shift towards fixing. This largely followed the appointment of new Reserve Bank Governor Graeme Wheeler in September last year and the surge in the Auckland housing market through 2012 and into 2013.
The new Reserve Bank Governor seems to be taking an orthodox approach to policy and interest rates, which means he is less likely to cut. He is also worried about the surge in the housing market. In recent months the bank has signalled it is now much keener to use other tools to control the housing market such as a 'speed limit' on growth of low deposit or high LVR (loan to value ratio) mortgages.
That may have some impact, but ultimately the impetus from stronger growth is likely to force the bank to put up interest rates, possibly as early as March next year. Also, fixed mortgage rates have been competed signficantly lower in the last year, making them better value in some cases than floating. One reason for that is a fall in the cost of foreign wholesale funding for the banks. They are passing some of that on in the form of lower fixed mortgage rates and there has been a fresh surge of competition since early 2012 as the banks geared up to fight for market share as ANZ merged with National/
That's why I would tend towards floating half and fixing half of my mortgage in coming months, rather than floating it all. (I have actually sold my house and cleared my mortgage, but that's another story).
This is far from specific financial advice and everyone is different, so it's worth running through the pros and cons of fixing vs floating and looking in depth at the various factors at play. It's also worth spending some time on it. Don't blindly follow my or anyone else's view. This article is aimed at providing useful information in an accessible way to help you make a big decision. As I'll show lower down, it's a decision that could save (or cost) you thousands of dollars over the next couple of years. Here's our Fixed vs Floating calculator to help.
Also, there are many different views, and I've included the views of other economists below.
What the economy is doing and what the RBNZ is saying
The Reserve Bank's chart below is from its June 2013 Monetary Policy Statement of its forecast track for the 90 day bill rate, which is typically around 30 basis points above the Official Cash Rate (OCR). It tells the story of what the bank is thinking. It sees economic growth accelerating to 3.5% by the second half of next year and it expects inflation to rise from under 1% to around the mid point of its 1-3% target range over the next couple years.
The blue line shown is its June forecast and the red line its March forecast, which shows it is slightly more worried about inflation, but not that much. It shows the OCR only rising to just below 4% by early 2016, which suggests floating mortgage rates only rising as high as 7% within the next 3 years. Three year fixed mortgage rates are currently around 5.9%.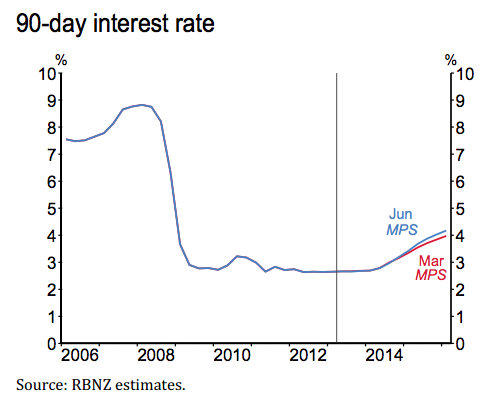 Those in competitive situations and with plenty of equity can get floating rtaes of around 5.3% at the moment and would see their floating rates rise to around 5.7% by the end of 2014 in this scenario painted by the Reserve Bank..
Currently advertised 18 month-2 year rates are around 5.4% to 5.5%, which would mean you'd pay slightly more for the first 6-12 months or so and then slightly less in the second 12 months if you were to switch from floating to fix..
Fixed rates tend to be more closely linked to wholesale 'swap' rates than the OCR. Swaps rates fell broadly through 2012 on increasing fears about a global slowdown and a slow rebuild in Christchurch, but they have risen around 40 to 80 basis points through the first six months of 2013 on hopes for recovery and the rise in international rates.
Luckily for borrowers though, banks' funding costs on international markets have dropped so the net effect is fixed mortgage rates haven't risen as much. Two to five year swap rates have risen from 40 to 70 basis points over the last two months, but fixed mortgage rates are up on average by only 15-20 basis points in the last month or so. 
There is a way to test the various scenarios and work out which option is cheaper (although cheapness is not the only factor worth thinking about for many people).
There is a calculator
We have a calculator here that allows you to test which rate is cheaper, depending on three different interest rate scenarios. Click here to go to the calculator.
There are three different rate scenarios. A is the high one with an OCR peak of over 4.6%, B is the medium one, which is in line with market expectations for a rise to 3.6% by late 2014, and C is the low one, which implies flat rates through to mid 2015.
Try it out to see which option is cheaper for you, depending on your rates view.
A simple money calculation isn't everything though. Some people put a high value on knowing exactly what their mortgage payments are going to be for the next two years because, perhaps, they have a fixed income or are very nervous about a sharp rise in rates. They may see paying slightly more for a fixed mortgage as a bit like an insurance payment that helps them sleep at night.
Others may want to stay floating because they really believe interest rates will be cut again or not rise, and because they don't want to be stuck fixing and have to pay an exit fee if rates do fall. The most recent memories for some people are having to break their mortgages and pay big break fees (or finding it unaffordable to do so) during 2009 and 2010. Others have longer memories of being stung with big increases in floating mortgage rates as the OCR was hiked from 5% to 8.25% between early 2004 and mid 2007. Really old people remember the 20% plus rates of the mid 1980s. I'm not that old. ;)
Everyone has different appetites for those sorts of risks of paying more or missing out on paying less, and different views about where interest rates will go. Those are the main things to consider when fixing or floating.
Less than 50% of New Zealand's mortgage lending is now on floating rates and there has been a significant move back to fixing in the last year. The decision for many now is when to fix.
What house prices are doing
House prices are rising quite quickly, particularly in Auckland and Christchurch, where chronic shortages of non-leaky and non-damaged buildings are being squeezed by demand from immigrants (both internal and from overseas) and those with insurance payouts. Record low interest rates with little prospect of fast rises are also fueling activity.
REINZ figures showed Auckland house prices were up 19.8% in year to June, while Christchurch prices were up 10.6% and prices nationwide were up 8.4%.
New house building is increasing, but remains less than needed in Auckland to keep up with demand. All those factors together suggest continued house price inflation in Auckland and Christchurch at least, however a weakening economic outlook and any rise in interest rates would take away some of that upward pressure.
What economists are saying
BNZ's Tony Alexander says in his latest commentary interest rates will start rising in the March quarter of next year and could rise by as much as 3% by the end of 2015. He sees house prices continuing to rise.
Our current forecast is that the rate rise cycle for floating rates starts in the first half of next year, takes the official cash rate from the current 2.5% to 4.5% come late-2015 and after that it depends very much upon how Kiwis react to rising rates this particular economic cycle. History tells us that we will largely ignore the RB for a long time therefore the risk is that the cash rate rises to 5.5% and not 4.5% and that floating mortgage rates therefore reach 8.5%

House prices will rise higher given that migration flows now appear headed for boom territory thus adding to already high buying pressures and a deepening dearth of listings made worse by the low ability of house construction to rise quickly given a shortage of builders.
Here's his summary of what he'd do as of July 11.
If you think taking out an 18 month or even two year term is fixing and giving you some certainty through the interest rate cycle – you're dreaming. Three years and beyond is true risk management. Anything shorter is largely opportunistic grabbing of a low rate simply because it is less than the floating rate.

Personally, having really sat down and given it thought this week, were I truly borrowing at the moment I would have half at the five year fixed rate of 6.35%, one quarter fixed 3 years at 5.9%, 15% fixed at one year for 5.25%, and 10% floating at 5.74%. If you are in a position where you recognise the risk management benefits of this structure but can't do it and instead take one of the low short-term fixed rates out there because otherwise you could not afford your house – then don't borrow the money in the first place.

You could well be forced to sell when rates rise 3% even though your equity will be greater because you won't be able to afford the cash outflows – especially if at the moment you are a couple, both working, but plan having one partner quit within three years to raise children. Work out your cash flows assuming an 8.5% mortgage rate come 2016 and see how you would be left.
ASB's Nick Tuffley sees the RBNZ holding the OCR at 2.5% until March of 2014, before increasing it gradually over the following two years to 4%. But he reckons low fixed rates provided a good hedge. Here's ASB's latest home loan rate report.
Mortgage rates remain competitive, in part due to a reduction in bank funding costs. As such, many shorter-term rates are still below the floating rate, which allows borrowers to secure a lower interest rate despite the reduced prospect of an OCR cut. Medium-term fixed rates also offer excellent value, providing a good hedge against interest rate increases in the future.

Borrowers should keep in mind that large uncertainties remain around the economic outlook. Given the risks to the economic outlook, it is equally conceivable borrowing rates could end up either lower or higher than average. Faced with uncertainty the best strategy for borrowers is to weigh up what their priorities are and make the choice that looks the best aligned with them.
Westpac's Dominick Stephens says in his July 'Home Truths' research note that New Zealand's housing landscape is now split into three distinct markets -- Auckland, Christchurch and the rest.  He sees genuine short term supply problems driving up house prices and rents in Christchurch, but he questions whether supply is the only expanation for the fast inflation in Auckland house prices, given rents there are flat. 
If physical shortages are not the main explanation for the behaviour of Auckland's housing market, then building more houses will not necessarily change the market. I seriously doubt that the supply measures recently enacted by the Government will really change much. Prices are being driven by buyer expectations of future capital gain - we know this because prices have become divorced from rents.
Westpac sees the OCR rising from the first quarter of 2014 to 3.5% by the end of 2014 and 5.5% by the beginning of 2017. Here's Westpac's July 8 commentary on fixed vs floating:
We favour fixing over floating. Fixed-term rates out to two years are currently below floating rates, while three-year and longer fixed rates are only slightly higher. Staying on floating would only be the lower-cost option if the RBNZ actually cut the OCR, which we regard as unlikely.

In fact, we expect the floating mortgage rate to rise significantly over the 2014 to 2016 period. There may be value in fixing sooner rather than later. Wholesale interest rates have risen sharply in recent weeks, and fixed mortgage rates are already rising in response. We think fixed mortgage rates may rise further in the near term.
ANZ's economics team releases its monthly property focus here. It sees the OCR rising from early 2014 and says there is merit in fixing.
Supply shortages and the lowest mortgage interest rates in almost 50 years are underpinning a rising trajectory for house prices, but we question the durability of a nationwide housing market lift given stretched affordability and debt metrics. Given the high NZD, the RBNZ will shy away from OCR hikes as long as possible, and will deploy macro-prudential tools to try to cool the housing market directly.

Rising residential investment activity and an additional 39,000 houses for Auckland over the next three years will eventually help reduce pressure on prices, but a nervous wait lies ahead. The RBNZ will be hoping that pending restrictions on high-LVR lending will help cap the housing market. If not, the OCR will be brought into play. We expect the first OCR hike to occur in early 2014.

Looking ahead, given the likelihood that rates will continue to rise, borrowers would do well to consider fixing. Fixing now means paying more, but it may work out cheaper in the long run. Selecting a term depends on how quickly you believe interest rates might rise versus one's appetite for the extra cost. We have long favoured a spread of terms, with an emphasis on 1-2 year terms. However, for the first time in some time, we believe there is now some merit in for fixing for longer than 2 years.
--------------------------------------------------------------------------------------------------------------------------
Mortgage choices involve making a significant financial decision so it often pays to get professional personalised advice. A Roost mortgage broker can be contacted by following this link »
--------------------------------------------------------------------------------------------------------------------------