Moody's Analytics says the Aussie parents of NZ's big banks have world's highest exposure to 'overvalued' houses; Hopes 'looming correction' is a smooth one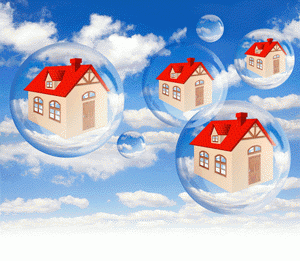 By Gareth Vaughan
Australia's banks, owners of New Zealand's big four banks, have the highest exposure to residential mortgages in the world, with these mortgages on overvalued houses, Moody's Analytics says.
Furthermore Moody's Analytics argues it would take a bold economist, who had been in a decade-long coma, to declare that an Australian housing correction was impossible.
These comments come in a report entitled Trends in Australian consumer lending by Moody's Analytics managing director Tony Hughes and senior economist Daniel Melser. Moody's Analytics is a subsidiary of Moody's Corporation.
"Irrespective of the complacency of local analysts, who sound a lot like many US housing cheerleaders circa 2006, this exposure (to home loans) represents a major concentration risk for banks and the Aussie economy," Hughes and Melser say.

"Houses appear to be overvalued. One merely hopes that the looming correction is a smooth one."
Hughes and Melser's report provides a chart showing Australian banks' residential real estate loans as a percentage of total loans comfortably above 60%, giving them the highest exposure to residential mortgages in the world, according to the International Monetary Fund. Based on interest.co.nz analysis, New Zealand's big five banks, - ANZ, ASB, BNZ, Kiwibank and Westpac, combined, have 61% of their total net loans in residential mortgages.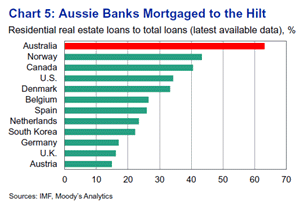 Could a housing collapse happen in Australia?
Of Australia's banks Hughes and Melser say the high degree of exposure to the domestic mortgage market raises many concerns.
"Recent experience has shown that house prices can fall significantly and trigger serious banking meltdowns."
They go on to ask what the chances are of a similar housing collapse, as seen in other countries in recent years, happening in Australia. 
"Many international analysts think the chances of an antipodean housing bust are quite high - it would take a bold economist who has been in a decade-long coma to declare that an Australian housing correction was impossible." 
"When trends in Australian house prices are compared globally, the signs look worrying. House prices have increased for longer and faster than in many of the markets where prices cratered during the Great Recession," say Hughes and Melser.
"Local analysts tend to be somewhat more sanguine. The 'Lucky Country' has proven to be remarkably adept at sidestepping tackles over the past quarter-century." 
The report notes that some local analysts have argued Australian tax rules that favour housing over other forms of investment tend to support more rapid house price growth than in other countries. And others argue city planning rules and poor transport infrastructure, something Auckland also suffers from, also contribute to elevated Australian house prices. 
"The problem with these arguments is that US tax laws are more favourable to housing than Australian tax laws, yet house prices still crumbled stateside," say Hughes and Melser. 
"Arguments about poor transport, natural barriers to city expansion, and troublesome local bureaucrats apply as much to Phoenix and New York as they do to Melbourne and Brisbane." 
'No special status'
Ultimately they suggest that although Australian house price growth has exceeded international norms for several decades, this is more because of a combination of complacency and surprisingly robust economic performance than any special status enjoyed by Australian homeowners. 
"Recent modelling work by Moody's Analytics indicated that it does appear as if (Australian) housing is modestly, but not excessively, overvalued relative to fundamentals." 
In an interview with interest.co.nz in March, Ian Narev, the CEO of ASB and Sovereign's parent Commonwealth Bank of Australia (CBA), said his bank stress tests its mortgage book to 13% unemployment (it's currently 5.7%) and a 40% drop in property values. CBA therefore foresaw "modest and manageable" losses through its residential mortgage exposure even under "aggressive stress."
"Now all models have got potential flaws," Narev said. "You never know what you don't know. But against any foreseeable scenarios, driven by a hard landing in China, freezing up of credit markets, all those sorts of things, we are comfortable that we can withstand the shock," Narev added.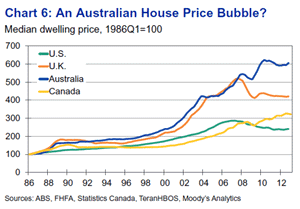 'Google 'subprime mortgage crisis' if you are comfortable with this'
The Moody's Analytics report also looks at borrowers buying the likes of TVs on their credit cards or adding such a purchase onto their mortgage. Hughes and Melser note that whilst the Reserve Bank of Australia's cash rate has fallen to 2.75% from its high of 4.75% in October 2011 pushing standard variable mortgage rates down by about 1.6%, the average credit card rate has remained virtually unchanged. 
"Buying a television on a credit card attracts a 20% interest rate but, typically, the loan is paid off quite quickly. Buying the same TV using a home equity line tied to a 25-year mortgage means the rate is lower, but the borrower will be implicitly paying interest on the purchase for the remainder of the mortgage, which often extends well past the time a TV typically enters the landfill." 
Hughes and Melser say that from a bank's perspective such a redistribution of credit tends to concentrate risk in housing values.
"Is it better for banks to make a 25-year, mortgage-backed TV loan at a low interest rate or an unsecured TV loan at a high interest rate? If house prices were guaranteed to rise, banks would be willing to accept a thin margin in the mortgage-based transaction." 
"The data suggest that over the past few years, banks are becoming increasingly comfortable with lower margins on mortgage-backed TV loans. Google 'subprime mortgage crisis' if you are comfortable with this unfolding trend," Hughes and Melser suggest. 
This article was first published in our email for paid subscribers. See here for more details and to subscribe.