QV says average house price has risen to $445,247, up from $441,254; Auckland prices up 12.8%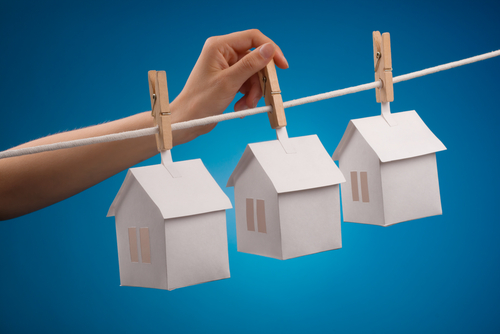 Nationwide housing values as measured by government valuer Quotable Value (QV) increased by 3.1% in the past three months and by 8.1% in the past year.
Values are now up 7.5% over the previous market peak of late 2007.
National average residential property values rose in the year to July to $445,247, compared with 441,254 for the 12 months to June. The rate of annual increase has risen to 8.1% from the 7.6% it sat at in June.
Auckland values for the latest 12 months were up 12.8%, compared with 12.6% in the 12 months to June, while the average price had risen to NZ$644,973, QV said.
The Reserve Bank, concerned about the potential impact of rising house prices on financial stability, is considering introducing "speed limits" on high loan-to-value lending. The Government and the Auckland Council have agreed in principle to an Auckland Housing Accord that would fast-track housing development, with 39,000 new houses targeted to be built in the next three years.
QV operations manager Kerry Steward said that house values continued to rise "although still primarily driven by Auckland and Christchurch".
"Most of the rest of the main centres are also increasing but at a much slower rate. Many of the provincial towns had previously started to see some small gains; however values have dropped over the last month," he said.
Stewart said that while there had been the normal slowdown in sales activity over winter, the decrease since May had been "greater than that alone".
"This appears to be due to a decrease in sales activity and a decrease in home loan approvals," he said.
"The latter is due to many main banks already tightening their lending policy in anticipation of policy changes from the reserve bank."
Auckland values continued to rise across the region, albeit some areas were increasing at faster rates than others.
"Lack of supply continues to heavily influence the market, but other factors may be playing a role in the continual increases, including the low interest rates still prevalent, an increasing population as well as incentives for both investors and first home buyers in the form of capital gains and Kiwisaver schemes respectively," Stewart said.
Here is QV's regional  breakdown of the latest figures:
Auckland
Values across Auckland are still increasing, with strong increases over the past three months in old Auckland City, Waitakere and North Shore. Each saw a rise over 4%, leading to a 4.1% increase in Auckland region as a whole. If we delve a little further we can see some areas slowing in comparison.
Auckland City Central especially has only increased 2.1% over the last three months, a stark contrast to the surrounding areas like Auckland City South which has seen a 5.3% increase and Auckland City East with a 4.9% increase.
Overall, values across Auckland are 12.8% above last year, with Waitakere seeing the highest annual increase of 13.8%. Auckland City and North Shore are close behind at 13.6% and 13.5% respectively, however, with further scrutiny again we can see some regions, such as Auckland City South (15.7%) and North Shore Onewa (14%) exceeding.
QV Operations Manager Kerry Stewart said "There is patchy growth across the city with central Auckland generally flat. There is a ring of price movement around 5-10km out of this area, but as you move further out of the city values are generally flat also. Once you move out of the central area commute times for example become a deterrent. However, we are still seeing good god money being paid for normally average listings due to the lack of stock."
Hamilton and Tauranga
Growth in Hamilton is still occurring, but it has started to falter somewhat over the winter period. Values are up 0.6% over the last three months, and 3.8% over the past year.
QV Valuer Richard Allen said "The north east of the city, in and around Flagstaff, is experiencing high activity with construction, specification builders, and sales all occurring. This is consequently raising prices. Despite some higher density housing being built around the university area, entry level homes below $300,000 are a struggle to find."
Tauranga is fluctuating still, with values now 0.1% below this time last year. However, there has been a 0.4% increase over the past three months.
QV Valuer Paul Scown said "There has been a small improvement in interest from buyers this month, particularly for well-maintained properties."
Wellington
Values in the Wellington area are still showing small signs of growth. Values are 2.8% above this time last year with a 0.7% growth in the last 3 months.
Whereas Porirua clearly had the highest annual rise in previous months, all areas are now only between 2.6% and 3% annually.
QV Valuer Pieter Geill said "It has been a relatively quiet month in July, partly due to school holidays but also probably because of the weather and the earthquakes. The latter may mean buyers will start to focus more on the quality of buildings and their level of earthquake proofing. We are also seeing insurance becoming a standard condition of purchase."
Christchurch and Dunedin
Christchurch values have once again risen, although increases here aren't quite as high as some of the areas in Auckland. Christchurch has seen a 3.4% increase over the past three months, leaving it sitting at 10.8% over the past year.
Values in Banks Peninsula and the Central and North areas of the city are seeing the most rapid increases, with 5.9% and 3.8% increases over the past three months respectively.
QV Valuer Jonathon Dix said "Momentum in the market is continuing with sales being recorded in all sale sectors. We are seeing first home buyers trying to get into the market in the $500,000 and under bracket, especially before the changes to the bank's lending requirements come into play."
"A steady influx of rebuild workers is continuing to put pressure on the market with a notable increase in demand for adequate rentals. This is also seemingly pushing rent prices higher."
Dunedin initially saw some gains this year, but has dropped back recently. Values have decreased 0.2% over the past three months, leaving it 3.4% above last year.
QV Valuer Tim Gibson said "The market has seen a slowing down in supply. There have been good attendances at open homes, but not enough quality listings around for those looking to buy.
"We may see the situation improve through spring when more sellers put their homes on the market."
Provincial centres
The provincial centres are patchy, however most are still up on last year. Whangerei, Taupo, Rotorua and Gisborne are all up, although no more than 2.6% annually.
Hastings and Napier saw only slight gains over the past three months, whereas the Wairarapa has seen a slow winter with all areas declining slightly over the past three months. In the South Island, Nelson has increased 1.2% over the past three months, whereas both Gore and Invercargill has continued to decline.