Barfoot & Thompson reports that the median price for Auckland houses climbed 5.3% to $621k in November; no sign of LVR impact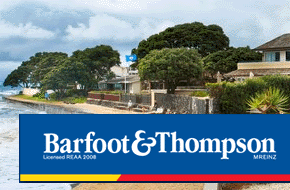 Auckland's largest real estate firm is reporting that the median price of houses it sold in November surged by 5.3% to a new record of $621,400.
The median has risen nearly 11% since November last year.
Also, B&T reports that it sold the most ever houses in a month for over $1 million - some 189 of them.
"If the Reserve Bank restrictions on mortgage lending are to have an impact on the Auckland housing market, they are yet to show up in housing activity or sales prices," B&T managing director Peter Thompson said.
The new figures are highly significant, since it is now two full months since the the RBNZ introduced its limits on high loan-to-value lending from October 1, mainly to preserve financial stability, but also with an eye to dampening the housing market - particularly in Auckland.
While October's figures would still have been influenced by people buying houses using up pre-approved mortgages, this should have been less apparent in the latest month.
However, while prices rose again, volumes were significantly down and that could point to future impact from the LVR moves. Additionally, while record numbers of high-priced houses sold, there was a marked drop in the number of houses sold at the lower-price end of the market. Also, the number of houses sold directly at auctions dropped - though B&T doesn't give figures.
ASB has made a seasonally-adjusted estimate that B&T's sales figures actually dropped by 12.5% compared with October's and were down 0.5%  compared with a year ago.
ASB economist Daniel Smith said the November decline in sales could be partly due to the recently-introduced LVR restrictions, "but given that sales have come off [an] elevated level it is not clear cut what the impact might be".
"The most significant change seen in November's data is a drop-off in new listings following a surge in October. That matches the nationwide trend observed in the November data published yesterday by realestate.co.nz. There may have been an element of sellers getting their homes on to the market before the LVR restrictions fully impacted the market.
"But should new listings continue to run at subdued levels like those seen in November, supply constraints will continue to put upwards pressure on prices. The slight easing in inventory seen as a result of higher listings over recent months will not last long in the absence of more new listings."
B&T said its average sales price increased by 3.2% over that for October to $684,646.
"What has to be factored into November's sales figures is that it is traditionally one of the strongest trading months of the year, particularly for high end homes," Thompson said.
He said November was less active than October, and "what may have occurred in October was a rush of activity in anticipation that change was about to happen, with people determined to get their property intentions sorted ahead of that change".
B&T's sales numbers in November at 1118 were down 7.1% on the numbers for October, but "in line" with the numbers in November last year.
"In terms of house values and turnover, November represented a solid month's trading with numbers and values unaffected by any changes that the trading banks imposed," Thompson said.
"This comes as no surprise as structural changes of the type being sought by the Reserve Bank can take many months to flow into the system. If change does occur, it is likely to be towards the end of the first quarter of 2014 before its influence is felt.
"The one segment of the market where potential change may be occurring now is in the sale of homes under the auction hammer. There has been a reduction in the number of homes sold under hammer on the auction floor, but sales have been occurring later following negotiations between the parties.
"This may well be a sign that buyers do not have the same flexibility as previously, and are looking to get confirmation from their bank before completing the purchase.
"In November we sold 370 homes for under $500,000, with strong activity in south and west Auckland. While this number is significantly lower than the 457 sold in October, it is in line with the number sold in September.
"New listings for November were 1665. While 17.4% down on those for October, which were exceptionally high, they were still the fourth highest for any month this year.
"At month end we had 3637 properties on our books, right in line with the number at the end of October."