RBNZ says banks reduced low equity mortgage lending to just 3.8% of total new mortgage lending in January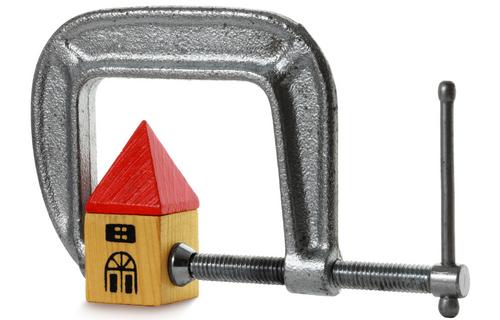 Banks are continuing to squeeze the life out of their' high loan-to-value ratio (LVR) residential mortgage lending, with the ratio of such lending making up just 3.8% of new mortgage commitments in January.
The 3.8% figure, down from 4.7% in December, is after applying exemptions to the Reserve Bank's 'speed limit' on high LVR lending, which was introduced on October 1. Before applying exemptions the figure was 4.8% in January, which was down from a comparative figure of 5.6% in December.
As of October 1, according to new Reserve Bank rules, all banks were limited to committing no more than 10% of their new lending to mortgages exceeding 80% of the value of the property being bought.
The latest figure of 3.8% of high-LVR lending compares with over 25% in September, the last month before the speed limit took effect.
In January there was a total commitment of new mortgage lending by the banks of $3.090 billion.
Of this, $2.942 billion was on properties with an LVR of 80% or below, while just $147 million was committed for so-called high-LVR loans (above 80%).
Some $31 million worth of mortgages for loans above 80% but exempt from the new rules were also advanced.
The latest figures compared with a high-LVR portion of lending of 12.7% (before exemptions) and 11.7% (after exemptions) for October.
The figures as of yet do not include the more recently announced exemption on new builds, which is being applied retrospectively to October 1. Therefore it can be expected that the current LVR figures being produced by the banks will ultimately show even smaller percentages of high LVR loans once the new build exemptions are retrospectively incorporated.
When the RBNZ announced last August that it was introducing the LVR speed limit from October 1, this was in response to figures showing that some banks were rapidly increasing the proportion of high-LVR lending on new commitments.
The RBNZ was concerned about a potential risk to financial stability that could occur from a sudden shock to the housing market.
First home buyers are those seen as most effected by the LVR restrictions. The Government was known to have wanted to have first-time buyer exempted, but the RBNZ was not keen on exemptions. However, it subsequently relented on exemptions for new builds.
Exempted lending categories include lending made under Housing New Zealand's Welcome Home Loans scheme, refinancing of an existing high-LVR loan, bridging finance or the 'porting' of a high-LVR loan between properties.
The RBNZ has been consulting with banks on the new builds exemption, with submissions on this having closed on February 14. Once the consultation process is complete then the figures from the banks will included loans affected by the new builds exemption.
The RBNZ says that banks' compliance with the high-LVR speed limit will initially be measured against the average high-LVR share after exemptions figures taken from October 1, 2013 to March 31, 2014. Thereafter, it will be measured against the 3-month rolling average for the larger banks (ANZ, ASB, BNZ, Kiwibank and Westpac) and the 6-month rolling average for the smaller banks.
Clearly at the moment the banks are taking no chances that they will exceed the 10% speed limit when the first overall calculation of it is made after March 31.
If you look at the last six months worth of figures, back to August 2013, banks have made total new commitments of $25.726 billion, of which about 14% ($3.604 billion) was on high-LVR loans. This ratio is calculated before exemptions.
However, just taking the last four months of figures, gives a total commitment of $16.519 billion, of which just 7.75% ($1.281 billion) is high-LVR lending, which gives a ratio of just 7.75% before exemptions. If exemptions are included the number drops to 6.6% - but remember this doesn't include the new builds exemption.