ASB piggybacks on 'Like Loan' marketing campaign with interest free month offered on 3 year home loan 'special'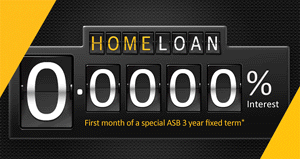 ASB says it'll charge borrowers no interest for a month on its new three year fixed-term home loan rate "special" of 6.29%.
The bank says this offer is in celebration of its Like Loan promotional campaign, through which ASB's Facebook friends help lower the interest rate for a customer. 
"Last night many thousands of Kiwis participated in Like Loan to drive the winning interest rate down to zero percent on a three-year fixed home loan for one lucky winner," Shaun Drylie, ASB's general manager of products and strategy, said in a statement.
"We are excited to be able to share the success of the Like Loan campaign and offer the opportunity for an unprecedented zero percent interest rate for one month on new lending on a three year fixed term special of 6.29%."
This rate trims 31 basis points from ASB's three year fixed rate. ASB's offer is available to new home lending of $100,000 or more where there is a minimum of 20% equity in the property. The offer will end on April 17.
ASB also says an establishment fee of $400 may apply, borrowers must have a main transaction account with ASB where their salary or wages is credited, and an ASB credit card. 
Among the other banks, BNZ also has a 6.29% carded three year home loan rate, and  SBS Bank has 6.20%, although this is only for borrowers with a deposit or equity of at least 20%. See all advertised, or carded, bank home loan rates here.
"Every Monday for the last three weeks, Facebook users have had the opportunity to win a special home loan rate determined by how many people 'liked' the rate through a dedicated Facebook app between 6pm and 10pm," Drylie said.
"In a ground-breaking move, the real-time decreasing rate on Facebook was integrated live into TV adverts on TVNZ channels TV One and TV2 throughout the evening – no other brand in New Zealand has used this innovation before. The 2013 campaign was recently awarded Gold in the financial services category at the New Zealand Direct Marketing Awards and was awarded one Gold and two Silvers at the AXIS Awards."