Jenée Tibshraeny hears how some savvy young first home buyers have got a foot on the property ladder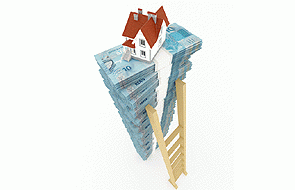 Do first home buyers see reflections of their parents buying their first homes, when they look in the mirror?
Bell bottoms and perms aside... Many probably don't.
First home buyers are older than their parents were when they bought their first homes – getting married and buying a house at 25 is somewhat of an anomaly these days.
The house price to income ratio is larger.
Young people have more student debt, as a bachelors degree simply doesn't cut it in many industries.
Our Prime Minister maintains the reflection isn't that different in one respect.
Prime Minister John Key says the fact 47% of first home buyers have to rely on their parents to get on the property ladder, isn't a new phenomenon.
He's shrugged off suggestions this indicates a two tier gap is opening between those with rich and poor parents.
Squirrel Mortgages managing director, John Bolton, says first home buyers don't necessarily need help from their parents, but often use it to top up their deposits and secure better rates.
He managed to help a client save $3000 a year in interest, by suggesting her mother give/lend her $30,000 to top up her $100,000 deposit on her $650,000 house.
Having spoken to a few people who have just bought their first homes, I can conclude there's never been a more critical time to think outside the square, when trying to crack into the property market.
We live in a world with more complications, but also more solutions, than there were available 30 years ago.
This is what some go-getters in their 20s have done to buy their first homes:
Teaming up with friends
C decided to buy her first home by forming a company with three friends.
Rather than diving head-first into the property market, she decided to share the cost, risk and responsibility.
The 29-year-old business systems manager didn't have the funds to get what she wanted on her own, so joined forces with others in the same boat.
They forked out about $3000 to create a company constitution and a shareholders' agreement, before buying their first property in January last year – a $407,000 newly built, three-bedroom town house in central Christchurch.
After accumulating income from rent, and receiving a Government Valuation of $430,000 for the property six months later, they bought a two-bedroom house in New Brighton for $210,000.
C says forming a company means each shareholder can invest as much as they can afford.
They have flexibility, with the ability to invest more, or sell their shares if they'd like to get out.
"There's no one person who's critical to the success of the company" she says.
This has meant she hasn't had to tighten her belt too much, and has been able to travel and maintain a good social life.
Furthermore, C believes she's in a better position to make sound business decisions, as she's less financially constrained.
She maintains the key to the success of the scheme, is that shareholders have the view of it being a long-term commitment, through which they can grow their investments.
Finally, because she's investing thought the company, she can still withdraw funds from her KiwiSaver to buy her "first home".
Entering a new subdivision in the outer rims of Auckland
J sacrificed time and location to get the house she wanted.
The 26-year-old civil engineer has bought a house that's being built in a new subdivision in the south Auckland suburb of Takanini.
J looked at properties all around Auckland, before deciding to buy a three-bedroom, two-bathroom house at Raceway Estate, for $530,000.
"You just can't find that in an up and coming area, or one that displays capital growth", she says.
However J admits building on less valuable land hasn't been smooth sailing, and her engineering skills have potentially saved her tens of thousands of dollars.
It was only once she side-stepped the developer, and contacted the property's engineer, that she got her hands on a geotechnical report, and realised additional engineering work was necessary to properly drain storm water.
In terms of finances, J's parents have loaned her $50,000 to help top up her deposit.
"You have more bargaining power when you have more than a 20% deposit", she says.
J says she'll come out $50 better off each week, getting rent from flatmates and paying her mortgage, than when she was renting a unit in Mt Wellington for $300 a week.
She admits she drives a company car, so won't spend more on travel costs living in Takanini.

Going regional

R got value for money, buying in New Plymouth.
The 26-year-old oil and gas engineer bought a solid three-bedroom house, with polished wooden floors, new carpet, garden, garage and renovated kitchen and bathroom, for $320,000.
The house is in a good suburb – close to town, the hospital and good schools.
Despite earning a decent salary, R says she needed help from her parents to make a deposit in early 2013.
She says it would've been harder had the current loan-to-value ratio laws been in place when she bought her house, as she only had a 10% deposit.
R also made use of a mortgage broker, as she acknowledged she didn't have the expertise to identify the best way to structure her mortgage.
She maintains buying in New Plymouth has enabled her to enter the market by "starting small".