Iwi plan High Court challenge to Government's plan to redesignate NZTA and Education land in Auckland to avoid Treaty provisions on offering to iwi first; Smith surprised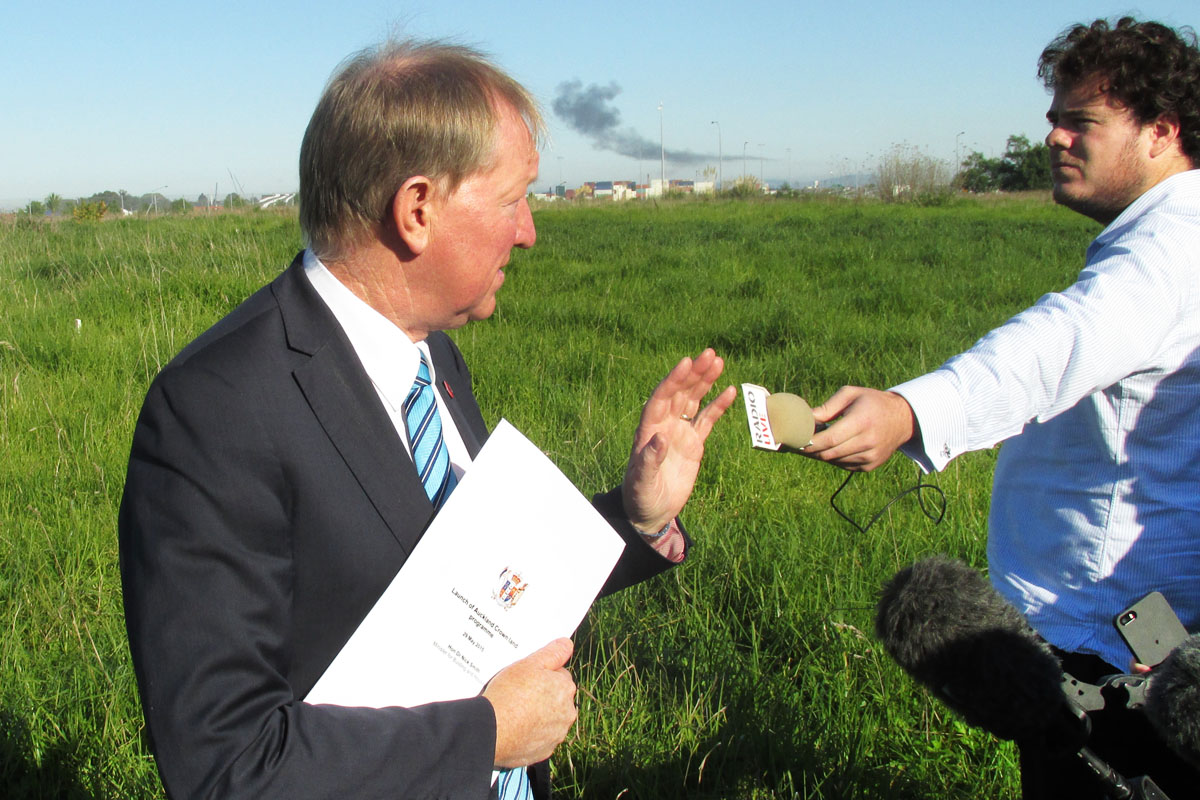 By Bernard Hickey
The Government's plans to sell up to 500 ha of Auckland land to housing developers may get bogged down in court action, further frustrating its strategy of addressing Auckland's housing crisis by increasing housing supply.
Ngati Whatua and Waikato-Tainui announced late on Sunday they had employed high powered lawyers to challenge the Government's strategy of redesignating NZTA and Education Ministry land as Crown land under the 1955 Housing Act, which is not covered by Treaty of Waitangi provisions forcing the Crown to give iwi 'right of first refusal' when Crown land is sold.
Housing and Building Minister Nick Smith met with iwi representatives earlier on Sunday in Auckland to discuss the issue of whether the land should be offered first to iwi and said immediately afterwards that court action was not raised.
But those hopes were dashed when Ngati Whatua's Ngarimu Blair and Waikato Tainu's Tukoroirangi Morgan issued a joint statement late last night saying they had engaged Russell McVeagh to represent them in court action.
They said they wanted to make a joint approach to the High Court with the Crown to seek clarification on the Government's plans to redesignate NZTA and Education land as housing land under the Housing Act 1955, under which the Treaty provisions don't apply.
"Our major Treaty settlement Acts provide us with a right of first refusal when the government plans to privatise land, and these rights will endure well into the 22nd century," they said.
Smith told Morning Report the Government had yet to decide whether to join the iwi approach to the High Court.
"I only heard late last night. When we had the hui yesterday with all of the 13 iwi across Tamaki Makaurau there was no talk of legal action at all and so it's taken me a little bit by surprise. We'll need to get some advice before we make that decision," Smith said.
"We need to resolve this issue at pace. This land has sat vacant in some cases for decades. I don't think it's right for New Zealand or for Maori or for Auckland to have public land sitting vacant when we have such a high housing need," he said.
Maori Party upset over tactic
Smith's work-around to avoid the Treaty provisions has already proven contentious with National's support partner, the Maori Party, which criticised the move as breaching the good faith provisions of the Treaty.
"In effect, the process initiated by the Housing Minister circumvents the requirement to trigger the right of first refusal (RFR) over the purchase of former public works land in Auckland," Maori Party co-leader Marama Fox said on June 3.
"It is antithesis to good faith obligations on the part of the Crown to on the one hand offer apologies and compensation to iwi through their Treaty settlements, and then completely ignore them when it is convenient to do so," Fox said, adding the Maori Party had asked the Government to 'please explain' under its Government support agreement.
"If the Crown is able to use other legislation to override the RFR this will potentially have significant implications for all settlements," she said.
'But we've done it before'
Smith has previously defended the work-around as one already used at Hobsonville and in Christchurch.
"If an area is declared under that (1955 Housing Act), then neither the first right of refusal or the normal 'offer back' provisions of the Public Works Act apply, so obviously the Government, just as it did with Hobsonville, is looking to use that Housing Act to enable these areas to be able to have housing on them without those mechanisms such as first right of refusal or the offer back being used," Smith said on June 3.
He said the 1955 Act method was also used by the Government to develop over 200 homes with Fletcher Building on the Awatea block in Christchurch.
"It's that model that the government is intending to use on some surplus land in Auckland," he said.
"We are not ruling out doing partnerships with iwi or with other groups through this process, but with the Housing Act 1955, we do not have a legal obligation under the first right of refusal where the government is intending to use those lands for houses," he said, adding there had already been some "confusion" with iwi in Auckland around the process.
'It's all turning to custard'
Labour Leader Andrew Little said the court action showed National's Budget centrepiece "has turned to custard."
"It was clear from the start this plan was rushed and ill-conceived. If Nick Smith had done his homework on this and not tried to put together a sneaky deal to cut iwi out, he wouldn't have gotten into this mess in the first place," Little said.
"First the Government wanted to build houses on cemeteries and substations. Then they promised to make 500 hectares available but 10 days later the Housing Minister could only identify 30 hectares," he said.
"Then it emerged one of the four land parcels being touting isn't even owned by the Government so Nick Smith has no right to sell it to developers. And finally it was revealed local iwi Ngāti Whātua hadn't been consulted. The Government needs to stop tinkering with rushed and piecemeal housing policies which will have little impact on skyrocketing Auckland house prices. If John Key really wants to address the housing crisis he needs to ban foreign speculators and undertake a mass government-backed building programme."
'Fairy godfathers for property developers'
Green Co-Leader Metiria Turei described the situation as a shambles and said the Government was cheating iwi and young Aucklanders who were desperate to buy their own homes.
"John Key, Nick Smith and Bill English are the fairy godfathers of property developers everywhere ­– they're making all their dreams come true, at the expense of first-time home buyers," Turei said.
"The Government is skirting around its legal obligations in order to fast track the transfer of land to profit-hungry developers, some of whom may potentially be based offshore and all of whom will be keen to cash in on the sky-rocketing Auckland housing market," she said.
"Worst still, these very 'lucky' developers will be under no obligation to build the affordable housing Aucklanders desperately want. You can bet your bottom dollar ­they're going to be hawking off most of the houses built on this land to the highest bidder, because this Government will let them do it."
(Updated with picture and comments from Andrew Little and Metiria Turei)