Record portion of ASB survey respondents expect house prices to keep rising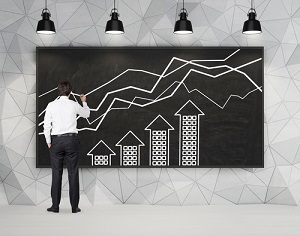 House price expectations have hit a record high in ASB's quarterly Housing Confidence report.
The highest portion of people surveyed, since the survey began 19 years ago, think house prices will increase in the next year.
While a large portion believe interest rates will decline, most believe it's still a bad time to buy a house.
House prices up, up, up
A net 65% of respondents expect house prices to increase – up from 56% in the last quarter.
In other words, 69% of those surveyed believe house prices will increase, 4% believe they'll decrease, 12% expect they'll stay the same, and 14% don't know.
ASB reports, "House price expectations held fairly steady over most of 2014, but have picked up again in 2015. This is consistent with the pickup we have seen in the housing market."
ASB chief economist Nick Tuffley says low interest rates will continue to boost the wider housing market.
"The recent OCR cuts have put downward pressure on floating and short-term fixed mortgages. At the same time, longer-term mortgage rates have been held down, and at times even dipped as global interest rates declined," he says.
Unsurprisingly, expectations of higher house prices are greatest in Auckland.
A net 71% of those surveyed expect gains over the year ahead – up from 63% last quarter.
However, ASB points out we may be seeing the first signs of respondents considering the likely impacts of the new housing restrictions, as expectations of higher Auckland prices eased off towards the end of the quarter.
As of October 1, residential property investors in the Auckland Council area will need a deposit of at least 30% to get a bank loan.
The RBNZ will also increase the existing speed limit for high loan-to-value ratio (LVR) borrowing outside of Auckland from 10% to 15%.
Currently the rule is the same across the country, and banks must restrict new residential mortgage lending at LVRs over 80% (i.e. deposit of less than 20%) to no more than 10% of the dollar value of their total residential mortgage lending.
In Canterbury, a net 58% of people expect house prices to increase – up from 51% in the last quarter.
Expectations have mellowed right out since their peak in early 2013, as the rebuild slows and the housing shortage eases.
Looking at the rest of the South Island, a net 61% of survey respondents expect prices gains over the year, up strongly from 47% last quarter.
In the North Island (excluding Auckland), the net percentage expecting price gains have lifted sharply from 54% to 63%, the highest reading in over two years.
Tuffley says, "Stronger sentiment outside of Auckland is likely to be reflecting the easing of lending restrictions for the rest of New Zealand, as well as falling interest rates.
"Consistent with these price expectations, recent housing data points to a broadening beyond the recent Auckland-centric theme."
Interest rates down, down, down
The ASB Housing Confidence survey shows a growing portion of people expect interest rates to fall in the coming year.
A net 3% of respondents expects rates to fall.
Breaking this down, 26% expect rates to decrease, 23% expect them to increase, 25% expect them to stay the same and 25% don't know.
ASB points out a lot has changed in recent times, as a year ago the RBNZ had just finished a tightening cycle, raising the OCR to 3.5%. Since then it's cut the rate by 50 basis points, and has signalled more cuts are to come.
Tuffley says, "Given we expect the RBNZ to cut the OCR by an additional 50 basis points by October, we may see even more people expecting lower interest rates in next quarter's survey". 
Not a good time to buy a house
A net 11% of respondents think now is a bad time to buy a house – the weakest sentiment recorded since July last year.
26% maintain it's a bad time to buy, 14% think it's a good time to buy, 45% say it's neither good nor bad, and 15% don't know.
The outlook is even more dire in Auckland, with a net 27% of respondents saying now's a bad time to buy.
However ASB reports that sentiment dropped drastically towards the end of the quarter.
As explained above, Tuffley says, "Respondents in Auckland are likely pre-empting the added difficulty in buying houses ahead of tighter rules for overseas buyers and the RBNZ's new LVR restrictions".
As for Canterbury, a net 17% of respondents think now's a bad time to buy.
ASB reports, "Higher house prices and limited stock relative to the number of buyers continue to outweigh the benefits in Canterbury of low interest rates".
Sentiment remains neutral in the North Island (outside of Auckland), with the same portion of respondents believing it's a good time to buy compared to those who think it's a bad time.
In the South Island (outside Canterbury) the pessimists continue their narrow rule, with a net 3% viewing now as a bad time to buy.
ASB: Reserve Bank under pressure
ASB says the survey results are in line with its outlook of upward pressure on house prices and downward pressure on interest rates continuing.
While it expects Auckland house prices to continue to increase, it says we are likely so see some future slowing as migration eases, more houses are built in Auckland, and investment restrictions offset the impacts of lower interest rates ever so slightly.
ASB expects house prices in Canterbury to trend sideways as supply has caught up with demand.
It maintains lower interest rates and relaxed LVR restrictions will boost the housing market throughout the rest of the country.
As for interest rates, it expects to see the Reserve Bank to keep these at historical lows for some time.
ASB says the RBNZ acknowledges the pressure this will put on the Auckland housing market, so expects to see the RBNZ maintain the proposed high LVR restrictions for some time yet, and possibly implement other prudential tools deemed necessary.