Finance Minister says Govt will come under pressure to provide more big Working For Family subsidies if housing become more unaffordable and if interest rates rise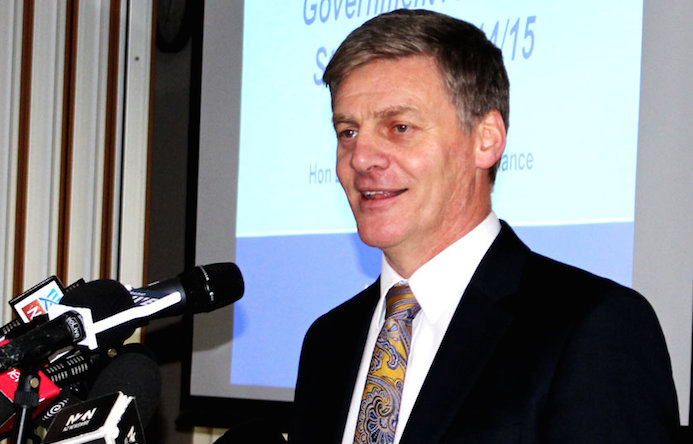 By Lynn Grieveson
Finance Minister Bill English has warned Auckland's housing boom is one of the economy's biggest risks if it goes bust.
He also warned it was one of the Government's biggest political and fiscal risks because it would face growing pressure to provide more subsidies to low and middle income earners stressed by painfully high housing costs if prices kept rising and interest rates rose.
Speaking to the Community Housing Aotearoa annual conference in Wellington, English said the Government was in a difficult position because many of the decisions around housing were made at a local level, but the fiscal and political consequences were felt at a national level.
"So one of the biggest risks for this economy over the next three to five years is that Auckland will follow the same track as pretty much every other housing market where house prices have risen for 25% for years on end, and that is that they stop rising, and then they come down. And people don't like that," English said.
"And it creates a lot of problems in an economy. And we have seen some economies affected really badly by exactly that phenomenon - Ireland and Spain being two in particular. So the decisions that are made at a neighbourhood level have an impact for the whole economy. But they also have an impact on the government's books, because when housing isn't affordable, government in various ways comes under pressure to fill the gap," he said.
More subsidies?
English said the Government already paid NZ$2 billion in rent subsidies, including subsidies for over 50% of all private rentals through accomodation supplements. Including income related rent subsidies for Housing New Zealand properties, over 60% of all rentals are subsidies by the Government.
"My view is that, if you look at where the big cash transfers have occurred -- by that I mean, interest free student loans, big increases in Working for Families, early childhood education subsidies -- which cost a lot of money, it's pretty tightly related to when house prices took off," English said.
"And I have no doubt that if house prices keep rising in New Zealand, Governments will come under pressure again to increase all of that income assistance to our low and middle income households because they just can't pay the bill for their housing," he said.
Higher interest rates?
English said the Government and borrowers were lucky at the moment because New Zealand currently had the lowest interest rates in 50 years.
"But imagine if interest rates tomorrow were 7%. We would have a very significant political issue on our hands," he said.
"And then another reason we focus on it is because of the inequality - and the change in the proportion of income spent on housing is one of the biggest single drivers of inequality in New Zealand in the last 30 years."
'We wouldn't respond'
Later while speaking to reporters, English said the Government had no intention of responding to political pressure to increase subsidies or Working For Families to offset the pressure of high house prices and higher interest rates.
"I think in the mid-2000s that's one of the things that led to the big increase in Working for Families, interest free student loans and that was just people were paying 8% or 9% interest rates on rising house prices and they felt over-stretched and the government responded," English said.
Asked if the National Government would also respond, he said: "No, we don't want to do that. We prefer to get the market right. I think that the point - that it's in government's and taxpayer's interests to get the housing supply issue sorted out, because if the gap gets too big taxpayers end up having to try and fill that gap for low and middle income households."
"New Zealanders, in the past, have expected the government to fill the gap when housing gets too expensive. So that's why we are, in addition to the shorter term steps we are taking, working with the city councils, getting special housing areas into place and cranking up supply of housing on government land. In addition to that, there's a bit of a longer term job to make sure that the next cycle isn't as volatile as this one," he said.
Asked if he expected interest rates to rise from 4% to 7%, he said: "There is no sign it will get to 7% interest rates. I was just pointing out that with these very high house prices we are having 50 year low interest rates so it looks a bit affordable, but if interest rates rose there would be a bit more risk."