Minister calls on Auckland Council to 'stay the course' on building 'up and out'; says Council needs to deliver Unitary Plan before expiry of Special Housing Areas in Sept 2016; Key more equivocal; sees intensification in CBD, West Auckland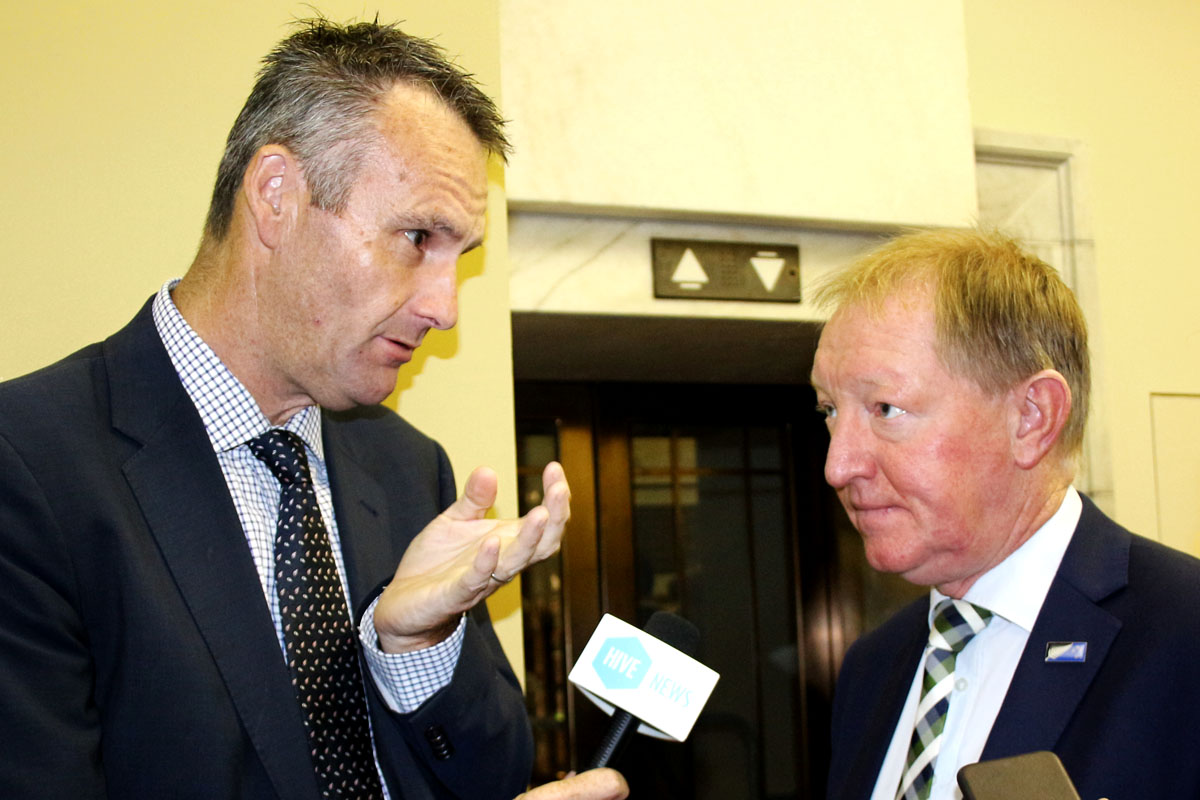 By Bernard Hickey
Building and Housing Minister Nick Smith has called on the Auckland Council to 'stay the course' with its revised Auckland Unitary Plan proposal for more intense housing developments.
His comments came as a revolt led by National Party-affiliated Councillors threatens to over-turn the revised proposal and derail the hopes of the Government and the Reserve Bank for a housing supply surge to deal with Auckland's housing affordability and financial stability risks.
The new proposal put forward in December would see 6% of Auckland's land rezoned for three storey apartments and townhouses, rather than the existing two storey houses. But opposition has grown since more than 600 ratepayers attended a protest meeting in Kohimarama last week that was organised by Desley Simpson, who is a senior figure in National Party circles in Auckland.
The Council's balance of opinion is reported to have shifted against the more intense plan, which has created a conflict in National Party circles between those wanting more intensification to increase housing supply and those opposed to more intensification. The Property Council accused the Councillors who had flip-flopped of being 'Baby Boomers that were locking a generation out of their own homes.' See more on that in my article yesterday.
The Council's revised proposal is now before the Government-appointed Independent Hearings Panel (IHP), which is expected to send final recommendations back to the Council in July. The Council then has 20 working days to accept or reject the recommendations. Any partial or complete rejection would force the Government or other parties to have to challenge the Council's decision in the Environment Court, which would delay the introduction of the Unitary Plan for at least two years. The decision will have to be made by the Council before Local Government elections in the three weeks to October 8 and the process of proposing intensification followed by a ratepayer's revolt months before elections is looking like an action replay of a similar episode before the 2013 elections, when the draft Unitary Plan was gutted in the weeks before the elections.
The potential rejection of any or all of the IHP recommendations also threatens to leave the Government's entire Special Housing Areas (SHAs) drive in limbo. The legislation governing the areas lapses on September 16, 2016 and was supposed to be replaced by an activated Auckland Unitary Plan. The SHAs were set up to fast-track consents and avoid the most onerous consultation processes in the current Resource Management Act. Without the SHAs or a Unitary Plan, the entire consenting process for new developments would revert to the old RMA process. Another Government option, sometimes referred to as a 'nuclear' option, would be for a full central Government takeover of Auckland's town planning and consenting system.
Smith told reporters in Parliament the Government saw the Auckland solution as being to grow both out and up.
"There's always going to be some contention around the extent to which the town centre intensification goes beyond that. So I think there is pretty clear consensus that we need to have intensification around the key transport nodes and around the town centres, and then there's a decision about balance - about how far out into suburbia that goes," Smith said.
"I've got great confidence in the Independent Hearings Panel that is working that process through. I am concerned to make sure that there is a smooth transition from the Special Housing Area process over to the new Unitary Plan. I will encouraging the Council to stay the course and to make sure that that Unitary Plan process is concluded in this term of Council," he said.
"The reason that's important is that the Special Housing Area mechanism expires on the 16th of September. It was always designed on the basis that it would be superceeded by the Unitary plan and that's why we need to keep that progress going forward."
Court action needed?
Asked if the Government would take the Council to the Environment Court if it rejected the IHP's recommendations, Smith said those decisions were for another day and were a "matter of extent."
"We'll be encouraging the Council to stay the course and to keep this process on time because it is so critical to the broader housing supply and affordability issues for the city," he repeated.
Asked if he was concerned about figures in the National Party actively opposing intensification, he said: "There's always contention in local body politics and the Government wants to respect the fact that it's election year, that there will be range of candidates with different views."
Smith the Government was not considering a full takeover of planning and consenting if the Unitary Plan process collapsed into a process of litigation.
"We passed special legislation late last year to enhance the Independent Hearings Panel's process and we'll just be encouraging Council to stay the course and ensure there's that smooth transition from the special housing areas process over to the new Auckland Unitary Plan."
Earlier this month the Government joined in legal action before the Environment Court to support a Fletcher Building plan to build 1,500 homes in the dis-used Three Kings Quarry. The plan is being challenged by a residents group who think the plans for apartment blocks is too intense. This was the first time the Government had gone to the Environment Court in such a way since 1999.
Key more equivocal
Prime Minister John Key was more equivocal when asked about the risks that a backlash led by National party figures could derail the Government's supply-led strategy to deal with Auckland's housing crisis.
Key said more houses needed to be built in Auckland and the Government could play its part through Special Housing Areas and releasing Government land, but he stopped short of saying the Council should 'stay the course.'
"Ultimately, the Unitary Plan is a matter for Auckland and those Councillors will need to work through that," Key said.
"I suspect there will be quite a bit of to-ing and fro-ing, but when people talk about intensification it's like a lot of things in life. I think there are some areas where they believe intensification makes sense and would probably be widely supported, and there are other areas where it would come up against some significant resistance. It will be a matter for the Council to work its way through that," he said.
Asked if he was disappointed that National-aligned Councillors were campaigning against intensification, he said: "It's not National's Unitary Plan, it's the Auckland Council's Unitary Plan. But the government recognises that there needs to be more houses built in Auckland, and as part of that I have said publicly on many occasions that would include Auckland spreading out and becoming denser, and therefore there being more high rise and higher structures and more in-fill taking place," Key said.
'Apartments in CBD, West Auckland less controversial'
Key suggested apartment blocks in the leafier suburbs of Remuera, Herne Bay, Kohimarama, Parnell, Mt Eden, Epsom, North Shore and Tamaki would be more controversial than in the CBD or in West Auckland.
"We are already starting to see more of that (intensification). Some places are not going to be terribly controversial, I think the CBD area and some parts of West Auckland. It just depends, like all of these things. I think they will find a pathway through it that suits most people . Not everyone will agree with it, but you will see a fair bit of it," he said.
Asked if National's Auckland MPs would be allowed to take a personal view on this issue. "Many of them will be lobbied both ways by their constituents and I expect them to listen to their constituents. It doesn't mean they will always agree with them or it doesn't mean that actually the policy that the National government takes will always fully be in agreement (with them)," Key said.
"But we expect people in good faith to listen to their constituents and see what they have to say. Some areas that they represent will be opposed to greater intensification, others will be much more relaxed about it," he said.