English capitalises on Labour call for Auckland to abolish urban boundary; ramps up pressure on Council ahead of Unitary Plan decision; Greens, ACT support Labour too, with caveats; Darby tells Govt to back off; Goff wants Govt funding help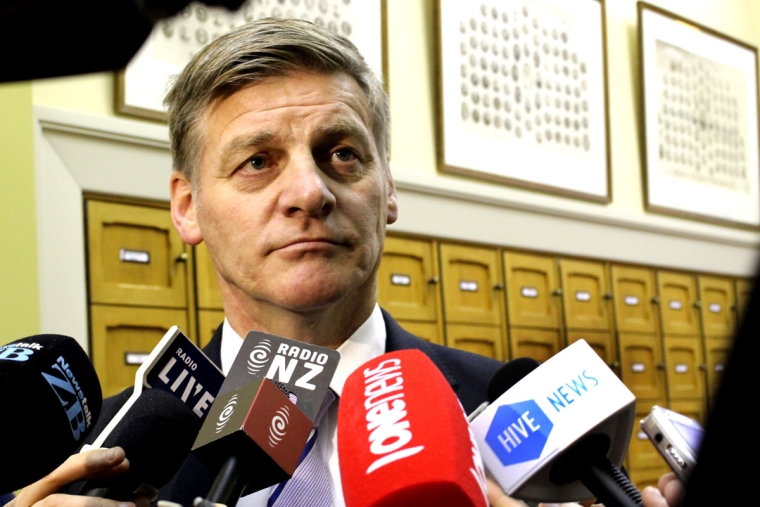 By Bernard Hickey
The Government and the Opposition are collectively applying their Parliamentary blowtorch to the Auckland Council ahead of its August 19 decision on the Unitary Plan, saying it must approve a plan that allows for enough land supply for Auckland's housing needs.
Labour's intervention yesterday with its call for the abolishment of the Rural-Urban Boundary (RUB), the relaxation of density controls and the introduction of infrastructure bonds serviced with targeted rates ramped up the pressure, which acting Prime Minister Bill English climbed on to intensify his warnings to the Council.
The importance of Labour's move was emphasised when English called a short press conference in Parliament to repeat last week's calls on the Council to agree a Unitary Plan with enough housing supply.
"It's a pretty clear signal to Auckland City Council that when the plan turns up in six weeks time they need to demonstrate it enables enough supply and Mr Twyford's statement illustrates to them that there's a strong Parliamentary majority for a plan that's going to allow more houses," English told reporters.
The statutorily appointed Independent Hearings Panel (IHP) finished three years of hearings last week and is due to present its plan to Council on July 22. The Council must approve or reject the plan by August 19. A rejection would send the plan to the Environment Court for years of disputes and effectively freeze Auckland's development with its pre-1993 zoning rules, including its limits on expansion either up or out. A rejection would effectively blow apart the Government's supply-led strategy to deal with Auckland's housing shortage, which has been estimated at 30,000 and growing at 5,000 to 10,000 per year.
Intervention warning
English stopped short of calling for a full abolishment of the RUB, but said the 1993 boundaries clearly did not allow enough room for growth.
Asked if central Government would over-ride the Council if the Unitary Plan was insufficient or was rejected by Council, English said: "We would do that if necessary, but Auckland should take Labour's support for abolishing that boundary as a pretty clear signal where things will go if they don't deliver sufficient houses."
"The Auckland Council is on notice and the fact that Labour and National can agree on what in the past has been a pretty controversial proposition is strong signal to Auckland Council that central Government could step in if it needs to."
English was also receptive to the idea of infrastructure bonds, which contrasted with Housing and Building Minister Nick Smith's rubbishing of the idea in Parliament on November 10 last year, when he described infrastructure bonds paid for through targeted rates as "creative accounting" and "nothing more than fool's gold."
"They're interesting and constructive ideas and they've been kicking around for a while. We've got ongoing engagement with Auckland about how to try and cut through the restraints on infrastructure and those kind of funding proposals are something we would look at, in the context of a plan where they're possible," English said.
English was asked if Council had asked for Government help to use such bonds or restructure its financing to deal with the infrastructure costs of new greenfields developments.
"If they did they'd come and ask. They'd need to sort out their processes before they come near Government. From what we can see, they are having a good hard look about how real their financing constraints are," he said.
English was even blunter when asked why Auckland housing was of national significance.
"Because if it goes wrong it will have an impact on the whole economy. It also drives big cost for Government. We spend NZ$2 billion a year on subsidising accommodation and housing, and that's going up. It's fundamentally unfair that the planning rules lock a lot of people, particularly low and middle income people, out of the Auckland market. And as we've seen, there's signs of distress for families in Auckland because of the difficulty of accessing moderately priced housing," he said.
Asked why the Government was being tough or if it was bullying the Council, he said: "Because so far they've made poor decisions. The fiscal cost to the Government is rising. The risk to the economy is going up and the sense of unfairness is going and the Council understands that. That's why we're quietly confident they will make sensible decisions over the next few months over the plan that's going to be put in front of them."
He said his comments were not a threat. "The Council understands their decisions have a national impact and the Government is interested in that, and sufficiently interested that Labour and National are agreeing on at least one aspect of what should change about the plan," he said.
Greens and ACT supportive
ACT Leader and Epsom MP David Seymour said he was glad Labour had adopted ACT's position from before the 2014 election, when it was the only party calling for the abolishment of the RUB.
"They say, first they fight you, then they laugh at you, and then you win," Seymour said.
He also said he wasn't opposed to Labour's call for a removal of density controls within the city limits, but said the Council needed to convince residents like those in his Epsom electorate that their concerns about congestion, school zones and community character were also being addressed.
"If you talk to people to people in the Epsom electorate, on balance they're in favour of intensification. They just want to know what it looks like and how it's going to effect them. If you can't answer those three fundamental questions it just ain't going to work," he said, referring in particular to the need for a new feeder junior high school for Epsom Girls Grammar and Auckland Grammar.
Seymour also welcomed the calls for infrastructure bond financing, which he described as a Texan-style Municipal Urban District (MUD) with mandatory Council involvement.
"All of this disarms the speculators and the land bankers. The best thing to do to the land bankers and speculators is to drown them in supply of land and that will do this, so I think it's absolutely the right thing to do," he said of the plan to remove the boundary and bring in new financing techniques.
"The National Party should swallow their pride and admit that once in a blue moon Phil Twyford gets something right and he's certainly right about the Rural Urban boundary and isn't it a good story that in only six months he's gone from Winston Peters style race-baiting to an orthodox approach to urban economics."
Green Co-Leader and Housing Spokeswoman Metiria Turei said the Greens were also open to Labour's package of relaxed city limits, relaxed density controls and new infrastructure financing, as long as it included integrated planning with public transport and protection of special land.
"That deals with a lot of our general concerns about just freeing up land on the rural boundary to allow for more sprawl. On the face of it, it looks like something we could consider and support because it has all of the parts of the puzzle integrated. The devil is in the detail always, but we're certainly interested in their proposal," Turei told me, adding she was also open to the infrastructure funding idea.
"If this is a measure to help with the affordability question, then this is a measure that should be given some serious thought. With the housing crisis as it is, every idea needs to be explored. We can't afford to dismiss any idea outright."
Goff and Darby push back
Auckland Mayoral candidate (and favourite) and Labour MP Phil Goff stopped short of endorsing Labour's proposal for the abolishment of the RUB, saying other measures would have to be put in place to control growth or fund the subsequent higher infrastructure costs of housing developments well beyond the fringes.
"If you abolish them you've got to put other measures in place," Goff said, referring to the bulldozing of farm land he had seen near Kumeu which he did not approve of.
"You have to have controls. You have to have a situation that if somebody wants to build way out of the city, the developer and therefore the property purchaser, will pay for the internal infrastructure -- the streets and the water supply -- but the Auckland ratepayers pay the cost of getting infrastructure to that area and the further out you go the more expensive it is," he said.
"And unless you've got a user pays system in place there you can't have open slather."
Goff called on the Government to help with infrastructure funding, rather than simply hectoring the Council to open its boundaries.
"This shouldn't be a slanging match between central and local Government. All the terms being used this morning like throwing down the gauntlet and putting the Auckland Council on notice, threatening to put Commissioners in, that's all nonsense," he said.
"You've got to have a proper working relationship between central and local Government and Treasury told Bill English himself Auckland cannot borrow more. It cannot use rates to pay for infrastructure. Infrastructure is going to cost billions and billions of dollars. It's no good central Government sitting back and saying it's Auckland Council's fault if they're not prepared, either to provide the money, or to give Auckland Council the mechanisms to get the money themselves."
Auckland Councillor Chris Darby, who voted on February 24 against zoning rules allowing more apartments closer to the city, said the Government should let the IHP put forward its Unitary Plan and then let the Council make its decision, without interfering in the process.
"I would just caution the Government and Labour from suggesting that the RUB should be rid of. We're at the end of a statutory process and I don't think it's appropriate to be influencing that outcome at this stage," he said.
"We probably need to hold fire and await those recommendations. There's no suggestion that we're keeping the 1993 boundary and what Labour and the Govenrment appear to not be aware is that the Council adopted the Future Urban Land Supply Strategy last November, which opens up an extra 11,000 ha of land," he said.
"Everybody is putting the blowtorch on Auckland's housing crisis and good on them, but we are in a statutory process. The IHP have a quasi-judicial role headed up by Judge David Kirkpatrick. Let's respect that body and it's work."