More listings but declining buyer interest could mean a quieter winter for Auckland housing market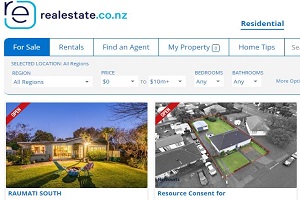 The remaining winter months may bring a quieter time for Auckland's residential property market, with buyer interest waning but new listings remaining buoyant, according the latest figures from Realestate.co.nz.
There were 9327 homes throughout the country that were newly listed for sale on the specialist property website in June, which was the highest number in the month of June since 2012.
It was similar story in Auckland, with 3369 homes in the region newly listed for sale in June, which was also the highest number in the month of June since 2012.
However there were big differences between the total number of searches made for properties in Auckland compared to the rest of the country.
Realestate.co.nz chief executive Brendon Skipper said the national voilume of traffic on the site across the entire country was comparable with previous years, however the numbner of users searching for homes for sale in Auckland was down 19.3% compared to last year, while the average amount of time people spent looking at Auckland properties was down by around a third.
"It appears buyers are moving away from looking in the Auckland area in favour of other regions," Skipper said.
"It could be a turning point for Auckland, with prices now at an all time high they're almost out of reach for the average income earner, with first home buyers the hardest hit."
And there appears to be no relief in sight on the price front, with the average asking price of properties newly listed on Realestate.co.nz hitting a new recpord high of $888,493 in June.
Those prices were also affecting the potential returns investors could achieve, pushing them to increasingly look outside of Auckland for properties.
That was showing up in a jump in seraches on the website for properties in Northland, Hamilton, Tauranga and Queenstown, which all recorded signficantly higher traffic in June coimpared to June last year.
"It appears Aucklanders still want to stay in relatively close proximity  to our biggest city, but in terms of affordability they are forced to move even further afield or they are making lifestyle changes," Skipper said.
Hotspots in Northland on Realestate.co.nz in June were Waipu, Whangarei Heads, Paihia and Tutukaka, all of which had significant increases in users looking for properties.  
You can receive all of our property articles automatically by subscribing to our free email Property Newsletter. This will deliver all of our property-related articles, including auction results and interest rate updates, directly to your in-box 3-5 times a week. We don't share your details with third parties and you can unsubscribe at any time. To subscribe just click on this link, scroll down to "Property email newsletter"and enter your email address.