Housing prices headed south in most parts of the country last month, providing a faint ray of hope for those struggling to get onto the property ladder, even in Auckland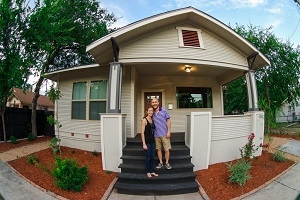 By Greg Ninness
Housing became more affordable for first home buyers in many parts of the country including Auckland last month, as falling prices more than offset rising mortgage interest rates.
According to interest.co.nz's Home Loan Affordability Reports, lower quartile selling prices peaked at record highs in November and then fell back in December in Auckland, Waikato/Bay of Plenty, Hawke's Bay, Manawatu/Whanganui, Taranaki, Nelson/Marlborough, Canterbury/Westland and Southland.
But lower quartile prices kept rising to set new records in December in Northland, Wellington, and Otago.
The lower quartile price also rose in Central Otago/Lakes in December, but remained below the record high that was set in September last year.
The Home Loan Affordability Reports track the monthly changes in the REINZ's lower quartile residential property prices, mortgage interest rates and incomes in each region and the impact these would have on how much of their weekly income typical first home buying couples would have to put towards mortgage payments to buy a home at the latest lower quartile selling price. (Click on the links in the box below for the individual reports for each region).
The reports show that the average of the two year fixed mortgage rates charged by the major banks has risen in each of the last three months, rising from 4.42% in September to 4.58% in December.
Offsetting interest rate rises
Although the falls in lower quartile prices were relatively modest, when combined with a modest allowance for rising incomes they were enough to more than offset the effect of the rise in interest rates in December, making mortgage payments slightly more affordable.
The biggest fall in the lower quartile selling price last month was in Nelson/Marlborough where it declined by $15,700, or 4.2%, falling from $374,100 in November to $358,400 in December.
Other regions to post declines were Southland -$14,000, Taranaki -$13,500, Manawatu/Whanganui -$11,000, Auckland -$10,800, Canterbury/Westland -$9700, Waikato/Bay of Plenty -$3700 and Hawke's Bay -$1500.
The biggest increase in the REINZ's lower quartile price last month was in Central Otago Lakes where it climbed by $34,600, or 7.6%, from $455,400 in November to $490,000 in December.
However big swings in lower quartile prices are not uncommon in Central Otago Lakes where they can be volatile due to the type of properties in the area and relatively low sales numbers compared to other regions.
Also posting gains in lower quartile prices from November to December were Wellington +$33,600, Otago +$13,300 and Northland +$6300.
Small drop in mortgage payments
Unfortunately, while the fall in lower quartile prices will be welcome news for first home buyers in the affected regions, the differences they would make to mortgage payments are small.
In Auckland, the $10,800 drop in the lower quartile price would only result in mortgage payments dropping by $6.55 a week and in Waikato/Bay of Plenty where the lower quartile price dropped by $3700, mortgage payments would have reduced by just $1.79 a week.
And a fall in prices for a single month does not make a trend.
With a lower quartile price that's still above $700,000 and mortgage payments on that coming in at almost $750 a week at current interest rates, Auckland remains seriously unaffordable for typical first home buyers.
The small dip in prices that occurred in Auckland last month would need to turn into a sustained and substantial correction before it would start taking housing in our largest city back into affordable territory for typical first home buyers.