RBNZ Governor tells MPs sceptical about debt-to-income restrictions they could distort the housing market, which the government's tax policies already do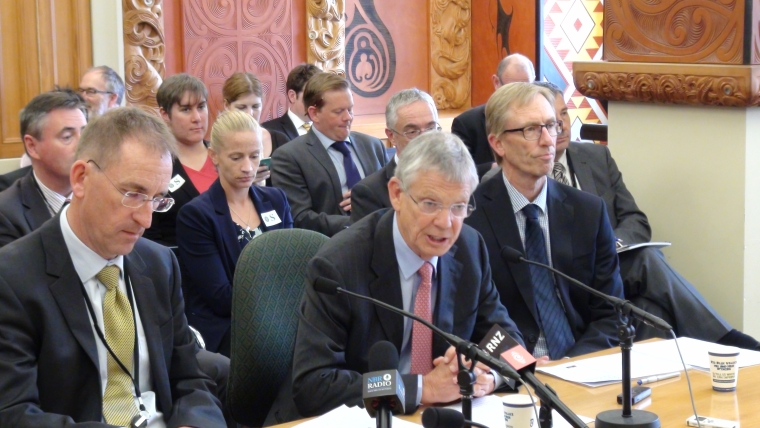 MPs in Parliament's Finance and Expenditure Select Committee were given a quick-fire tutorial Thursday from Reserve Bank Governor Graeme Wheeler on just how debt-to-income ratios (DTIs) could work alongside loan-to-value limits (LVRs).
The announcement from Finance Minister Steven Joyce Wednesday that he had asked the Bank to do a full cost benefit analysis on DTIs before deciding whether they can be used has been widely read as the government kicking the idea into touch (LVRs are already in use).
If questions (or rather, statements) from one National Party member on the committee – Wairarapa MP Alastair Scott – were anything to go by, the party isn't too keen on the measures:
"DTIs and LVRs distort the market," Scott bellowed. New Zealand's lending system is working as it should, and any interference would favour one group of borrowers over the other, Scott put to Wheeler. Indeed, on Wednesday Joyce raised concerns on how DTIs would affect first home buyers.
The Governor agreed on distortion effects: "Every regulatory intervention has unintended consequences," he replied, using government tax settings as an example where behaviour is distorted by new measures.
He went on to explain what the Reserve Bank uses its macro-prudential tool-box for, and how LVRs and DTIs could work together.
LVRs are aimed at lowering systemic risk in New Zealand's banking system, by reducing banks' credit exposure, Wheeler said. DTIs, meanwhile, are used to reduce the risk of borrower default.
Where LVRs can help DTIs is where, if DTIs reduce the risk of default, LVRs reduce the risk of bank losses because of the extra equity borrowers have been made to take on, he said.
I.e. the tools are used for financial stability and could complement each other.
ACT Party leader David Seymour is not convinced on DTIs either: He asked the RBNZ officials whether some property buyers would be able to get around the restrictions by sourcing cash from overseas. Deputy Governor Grant Spencer replied that, mostly, New Zealand housing market pressure is driven by local credit channels.
Labour's Clayton Cosgrove got the Reserve Bank officials talking about what caps a DTI policy might have. Spencer said there would always be special cases, which is why the RBNZ would use a 'speed limit' rather than a fixed cap for DTIs.
Wheeler noted that in the UK, banks are not allowed to dish out more than 15% of new mortgage lending at DTIs of more than 4.5 times, giving them some flexibility to lend above the threshold.
The Reserve Bank has already received a trove of DTI data from the retail banks over the past few years. The group with the largest DTIs is property investors, not first home buyers, Wheeler reminded the Committee.