The Auckland housing market is on the verge of losing all the capital gains it made in the last 12 months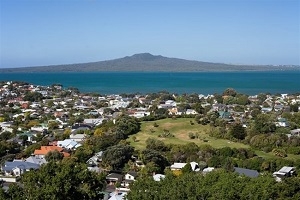 By Greg Ninness
The Auckland housing market is on the verge of having all of the capital gains it made in the last 12 months wiped out.
Prices of Auckland properties have fallen so much in the last few months that median prices are within a hair's breadth of going into negative territory on an annual basis.
They may already be there.
In February the average price of Auckland homes sold by Harcourts, the country's largest real estate agency, was $934,428, down 1.1% compared to where it was in February last year.
While Harcourts' average prices can be a bit choppy on a month by month basis, the figures do not appear to be an aberration.
According to the Real Estate Institute of New Zealand, Auckland's median selling price peaked at $868,000 in October last year and has declined every month since.
In February it hit $800,000, down 7.8% from October's peak.
But just as significantly, Auckland's median price in March last year was $820,000.
So even if the median price for March this year doesn't  fall any further from where it was in February, or if it increases by anything less than $20,000, Auckland's median price will have declined to the point where it will be below where it was 12 months previously.
Then it's goodbye capital gains.
The interesting thing about those numbers is that the downward trend they show is occurring at a time when Auckland's migration-driven population growth is increasing at record levels and construction of new housing continues to fall miserably below the numbers that are required, exacerbating the region's growing housing shortage.
How can this be?
As you might expect, the market is being influenced by forces converging from several different directions.
One of the biggest changes to affect the Auckland market over the last few months has been the relative absence of local ethnic Chinese buyers.
It would be hard to underestimate the impact they were having on Auckland's residential property market up until about the end of the third quarter of last year.
They dominated some of what are often called the "big room" auctions where several dozen properties could be auctioned in a single day, and it wasn't uncommon for them to account for around 70% of sales.
Often they were competing amongst themselves for properties and their bidding could be fierce. Sometimes it seemed as if the prices they were prepared to pay knew no limits.
Then late last year, just as the market geared up for the summer selling season, the Chinese tide went out.
Auckland now has a significant population of Chinese people, so there will always be some who are actively buying or selling properties.
But the numbers are well down on where they were a year ago.
Auctions that were packed with Chinese buyers this time last year are now much quieter and Chinese faces are often more notable by their absence rather than their presence.
When they are buying, they are more likely to be buying a home for themselves or perhaps their children than a pure investment property, and their bidding has been far more cautious than it was just a few months ago.
Often they will bid on a property only to let it be passed in, figuring that they may not face much competition from other buyers in post-auction negotiations.
With the odd exception, the days of the bidding frenzy are over.
This change in buyer behaviour corresponded with new restrictions the Chinese government introduced on the amount of money people could take out of China, cutting off one of the main sources of funding for property purchases by Chinese buyers in this country.
Around the same time, interest rates started rising and tougher loan-to-value ratio (LVR) restrictions on investment properties introduced by the Reserve Bank began to bite.
All of these factors began to weigh on market sentiment, which could potentially have a bigger impact on the market than actual drivers like interest rates.
The interest rate rises that have occurred so far have been extremely modest, with the average of the two year fixed mortgage rates offered by the major banks increasing from 4.35% when it bottomed out in May, to 4.84% in February.
That should hardly make a difference to property investors and won't make any difference to those still on fixed rates, but it will affect market sentiment.
When investors see interest rates rising they know it will affect them at some stage, and when that's combined with other factors such as higher LVR restrictions, they start pulling their horns in and the effects are compounded.
So who is left?
So with local Chinese buyers and other investors being more likely to be sitting on the sidelines now than they were a year ago, who is left in the market?
Three main groups – recent migrants who can afford to buy a home, people who already own a home and are looking at taking another step, either up or down on the property ladder, and first home buyers.
The first two groups remain very active, the last group less so because they are constrained by affordability issues in Auckland.
Some of the new migrants can afford to pay cash for a home, and many of the people looking to move up the property ladder are also well set up financially.
These are often baby boomers who have paid off their mortgage and don't need to raise another one to buy their next property, although they may need to sell their existing home to settle the deal.
Often they also own other properties, perhaps an apartment in the CBD for their children to live in while they attend university, or a holiday home and maybe an investment property or two.
If they have a mortgage, it's more likely to be over the investment properties than their family home.
As investors have retreated from the Auckland market, these buyers have become much more prominent, and I believe that's probably one of the main reasons why data recently released by CoreLogic showed a jump in the number of homes being purchased without a mortgage.
Although many of these people could be classed as investors because they own several properties, they are not necessarily adding to their investment portfolios when they make a purchase.
Many will be buying a new home for themselves and will not need a mortgage to do so.
And although prices in Auckland have started easing, they remain out of reach for most first home buyers, or at least for those on average wages.
So the Auckland market is becoming increasingly dominated by the wealthier buyers and this is showing up in the auction results which interest.co.nz publishes every week.
These clearly show that homes in the more upmarket suburbs of central Auckland are selling more readily than those in the cheaper parts of town, such as the city's southern outskirts.
Herd behaviour is also a factor at the moment.
Just as weakening market sentiment has caused investors to sit on the sidelines, the thought that the market has peaked has prompted a rush of new listings, as people try to capture top dollar for their properties before prices slide further.
This has pushed up the inventory of unsold stock over the summer months and created a buyer's market in Auckland, as the smaller number of buyers have more properties to choose from.
The result has been falling prices, but it's a slow leak rather than the bursting of a bubble, as vendors slowly adjust their expectations to a point that buyers are willing to pay, or in the case of first home buyers, a price they can afford.