The latest data showing cash-rich investors ruling the roost in Auckland demonstrate why the Government can't leave the housing market to the Reserve Bank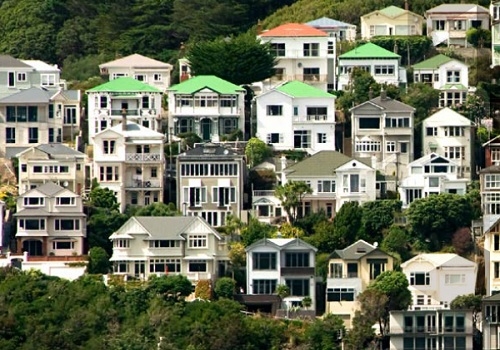 By David Hargreaves
Two recent sets of data, ostensibly both charting the same thing - but showing very different trend patterns - highlight how difficult it is going to be for this country to keep the housing market under control unless the Government gets fully committed.
The two sets of data I refer to come from, firstly the Reserve Bank and secondly, CoreLogic, the property information, analytics and services provider.
Both sets of data show house buyer by type information; for example whether a buyer is an investor, or first home buyer, etc.
The difference is that the RBNZ information tracks these patterns through who is taking out mortgages. CoreLogic tracks buyers regardless of whether they are taking out mortgages or not.
And so it is that the RBNZ information is continuing to show that investors have backed off since the 40% deposit rule was introduced in October.
CoreLogic, on the other hand, is telling a rather different story.
As CoreLogic puts it: "...We can see investor activity holding relatively strong while first home buyer share has still slipped from its 2016 strength. The strength in investor activity is being held up by those purchases not requiring a mortgage, while those investors requiring credit have been impacted by the latest round of LVR restrictions. We have also seen that the bigger banks have reduced their lending to investors over the past two quarters."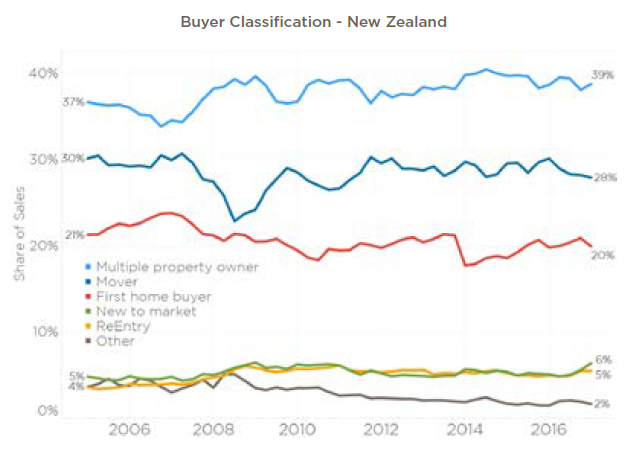 The picture is more exaggerated, and more stark, in Auckland - with investors surging and first home buyers falling to new lows. CoreLogic again: "Investors appear to have rebounded after slipping late last year, however further investigation has revealed this is mainly due to cash investors remaining active, while those requiring a mortgage have reduced their activity. This is probably an involuntary reduction based on not having the required 40% deposit."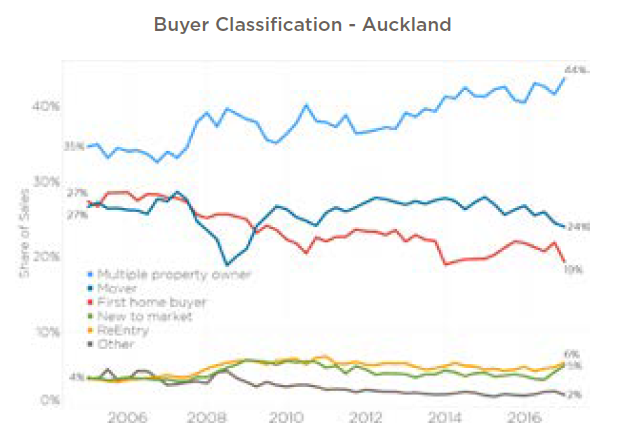 So, if I can chip in here; what all this means is that to the extent it can control the market - IE through restricting banks' lending - the RBNZ is currently putting the market in check.
But of course it can't control what cash buyers do.
The presence of apparently cashed up people in the market without need to resort to borrowing will inevitably lead to questions of where the buyers are coming from and where they are getting the cash - all questions we are still not capable of answering due to the dearth of information available on house buyers.
I have been intrigued at how cautious the Reserve Bank has been when commenting on the recent slower conditions in the housing market. It was quite quick to claim credit for the slowdown that occurred after the initial introduction of loan to value ratio 'speed limits' in 2013, but has been reluctant to suggest anything like victory this time around.
The RBNZ in fact makes extensive use of data from CoreLogic, which probably points to the reason for the caution; that is, the RBNZ can see on the one hand that its policy is having an impact where it can have an impact - but those with the cash are carrying merrily on their way.
Personally, I don't think that's a very good sign. It suggests, as CoreLogic implies, that the pullback in borrowing from investors is very much involuntary and that the demand is still very much there. Where there's a will there's a way and if these investors keep seeing cashed up buyers swooping up houses they will feel frustrated and they will find a way of getting the money.
The other point of interest here is the first home buyers in Auckland. As the figures have shown, with the first onset of the new 40% deposit rule for investors there was a surge in buying interest from the FHBs. Does the lull we are now seeing indicate that they suddenly can't get the money to buy, having seemingly previously found a way in the run-up to Christmas? Or is it that they are now taking a 'wait and see' approach amid tales of slower conditions - and hoping that prices might even drop?
The question then is what happens if in a month or two some renewed signs of life, particularly in Auckland re-emerge? Do we get a panicky response from both FHBs and perhaps also investors who have been held back by the 40% rule?
Here's a quote from CoreLogic again in respect to the Auckland market: "High migration, low interest rates, tight listings and a housing shortage are all strong upwards pressure on prices being constrained currently by the latest lending restrictions. We saw a similar slow down last year after the initial investor LVR restrictions in Auckland and we suspect we'll see a similar trend this time around, with the slowdown not lasting particularly long."
Of the housing market more generally, that is nationwide, CoreLogic's expectation is that the latest lending restrictions "will slow values for a few more months before things pick up again, probably after the election in September".
And that would certainly be my pick too around the country generally, with the possibility that the pick-up happens rather quicker than that in Auckland.
Of course, from the way I'm talking it might seem that I see it as a bad thing that property values go up. No, not at all. The worry is the extent to which property investment dominates all investment in this country, as this graph, again courtesy of CoreLogic, neatly demonstrates: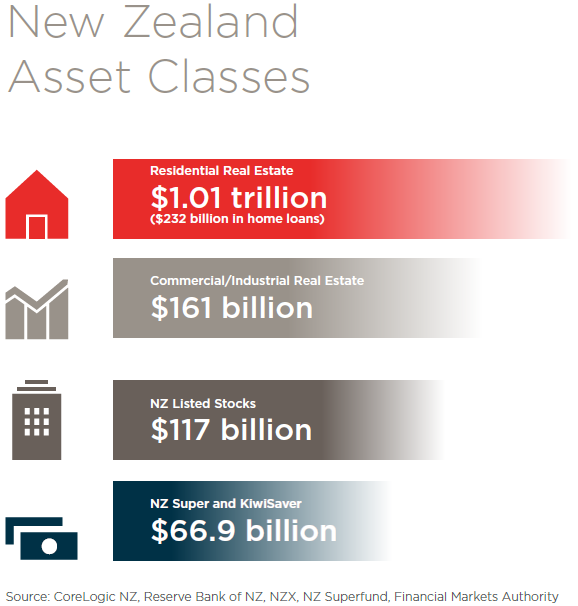 That really is what you call having all your eggs in one basket, or well, certainly A LOT of eggs.
I have said previously that it is a shame, and in fact it is just plain wrong, that this Government got all cute with the Reserve Bank and pushed back (till after the election) on the central bank's hopes of getting debt to income ratios installed as one of the weapons in its macro-prudential toolkit. And that's even after the RBNZ promised it wouldn't use them now.
Ultimately, however, when you look at those cash-fuelled investor figures in Auckland courtesy of the CoreLogic data, then so it becomes ever more apparent that anything the RBNZ can do is only part of the story.
In fact without full Government commitment to stopping boom and bust cycles in our housing market, the RBNZ measures might arguably just lead to distortions - since the RBNZ is acting on parts of the market it can act on, IE borrowers, while others, those fortunates with cash in their pockets are not affected.
So, where does this leave us?
It most definitely means that to ensure a market that is fair and even for all, the Government must use its considerable weaponry and stop being half-hearted and sitting on the sidelines as much as it has.
We need better information on who is buying houses and the method by which they do this. And then we do need to consider measures such as stamp duties and the removal of tax deductibility on investment properties, just so that the investment playing field is levelled.
The way we are going at the moment, if you look at those investor figures in Auckland, the sad fact is that anybody in future who just wants to buy a house to live in better start planning on winning Lotto.