'We absolutely have an interest in helping finance some' of the housing required to overcome Auckland's shortage, ANZ Group CEO Shayne Elliott says
By Gareth Vaughan
The ANZ Banking Group is keen to finance some of the housing required to help Auckland overcome its shortage, CEO Shayne Elliott says.
Speaking to interest.co.nz in a Double Shot interview Elliott said ANZ and other banks are in the business of helping the communities they are part of transition by building the likes of new infrastructure.
"So when Auckland will grow through a change, around infrastructure, housing etc, we've a role to play in that. Our role is to make sure it's done responsibly, with thought, it's affordable, all of that. So we'll have an opinion on all of those things, [but] we won't always be right. And we absolutely have an interest in helping finance some of that. That's our job," Elliott said.
His comments follow concerns raised by S&P Global Ratings about where the funding required to tackle Auckland's housing shortage, with densification encouraged under the city's Unitary Plan, will come from. The credit rating agency estimates a housing supply shortage of between 30,000 and 40,000 dwellings in Auckland.
"With banks reporting a tightening in lending standards for property development, it's conceivable that new construction will slow, despite the rollout of the Auckland Unitary Plan, applying further upward pressure on house prices," S&P said in February.
'David didn't ask for, or seek, our approval for that'
Last June ANZ NZ, the country's biggest bank, tightened its lending criteria for rental property investors and owner-occupier borrowers by reducing loan-to-value limits, and by stopping lending to investors wanting to buy sections and apartments off the plan. This saw other banks follow suit, and tighten their lending standards too as demonstrated in the S&P chart below.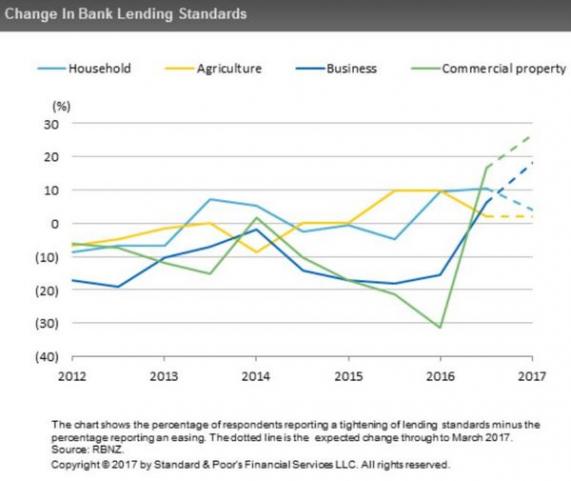 Then in July last year ANZ NZ's CEO David Hisco publicly aired concerns about the Auckland property market being overheated and potentially running out of steam.
Elliott says ANZ Group head office in Melbourne had no input into Hisco airing those concerns.
"In that particular case that was completely a New Zealand decision. David didn't ask for, or seek, our approval for that. Those were the views of the New Zealand business and that's exactly as it should be. So we had no involvement in that from a group perspective," Elliott says.
"The role of Australia [the group] is really around strategy. So we set some guidelines, some boundaries as shareholder and say; 'look, in running a bank in New Zealand we'd like you to keep within these parameters in terms of size and scale and risk appetite'." 
"But other than that we don't really get involved in the day-to-day decisions. So whether the team here [in NZ] decide to grow or shrink a business, or add more branches or invest in new technology, those are decisions that get made here as long as they're within those pretty broad boundaries," Elliott says.
"I've been on the board here [ANZ NZ] since I joined ANZ in 2009, [and] really the [NZ] business runs almost completely independently."
'House prices have grown extraordinarily'
In terms of the Auckland housing market Elliott says the city is suffering from the same issues as Sydney and Melbourne.
"There are some supply challenges, there are some infrastructure challenges. House prices have grown extraordinarily over the last decade in particular. So we watch that really very, very closely. On some measures Auckland's even more extreme than Melbourne and Sydney. So yes, it is a concern because when we lend money to people to buy homes we want to make sure that they can afford that debt, that it's a responsible amount for them to borrow and that they can comfortably repay it," says Elliott. 
"And obviously with house prices growing at a much faster rate than household income, sometimes that ability to repay is getting stretched."
"The regulatory changes that have been made on both sides of the Tasman recently have actually been good things. And while they may not have taken all the heat out of the market, I think they have been positive developments for everybody," says Elliott.
*This article was first published in our email for paying subscribers early on Thursday morning. See here for more details and how to subscribe.