Infometrics says we've forgotten the lessons of the GFC and homeowners will struggle with mortgage debt as interest rates rise and house prices fall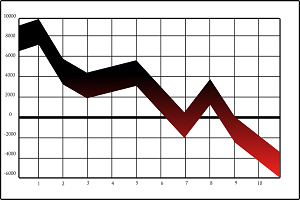 Infometrics believes house prices will fall in the second half of this year to levels that will be lower than they were 12 months earlier, putting the dampeners on consumer spending.
The economic consultancy's latest forecasts show house prices finishing the year down 2.7% compared with where they were at the end of last year.
"The emergence of flat or falling house prices within the next few years will undermine consumers' willingness to spend, while the discretionary portion of households' budgets will be squeezed as interest rates gradually rise from their historic lows," Infometrics Chief Forecaster Gareth Kiernan said.
"The result of this squeeze is particularly weak growth in household spending from 2018 through to early 2021, with per capita growth nationwide holding below 1% throughout this period" he said.
The effects will be particularly acute in Auckland.
"To put Auckland's household budgetary challenge in perspective, an increase in mortgage rates from 5% to 6% adds almost $200 to fortnightly repayments on a 25-year mortgage for someone who has bought an average house with a 20% deposit," Kiernan said.
That could see many people working longer hours or looking for other sources of additional income to help pay the bills.
"Surging house prices have driven debt levels to record highs and it seems that some of the cautionary lessons learnt during the Global Financial Crisis are already being forgotten," he said.
"People that have heavily leveraged themselves to purchase property, most particularly in Auckland, are likely to find that increasing debt servicing costs cause a significant degree of financial stress.
"Re-entering the workforce or taking on additional hours to boost their income shape up as one way that people can adapt as mortgage rates track upwards."
And in spite of the housing shortage, Infometrics expects the number of new homes being built to decline over the next year.
"The safety net of rising house prices encourages developers to push ahead with new projects, safe in the knowledge that possible building cost overruns will be covered by higher sale prices at the end of construction," Kiernan said.
"But with the wind having been taken out of the housing market's sails, that financial buffer looks to be less assured.
"Our residential construction forecasts see the annual new dwelling consent total slipping back from its current level of 30,162 in the year to February 2017 to below 29,000pa in the March 2018 year."
However, while Infometrics sees house prices and building consents sliding back, they expect inflation and interest rates to creep upwards.
"Over recent months we have revised our forecast of inflation during 2017 up by 0.2 percentage points to 1.7%," Kiernan said.
"Although an upward revision of of 0.2 percentage points does not seem like a lot, it hints at the emergence of greater price pressures, both domestically and internationally.
"Against this backdrop, the Reserve Bank is likely to begin raising the Official Cash Rate by the middle of next year."
Infometrics is also forecasting further increases in net migration, which it expects to peak at a net gain of 73,436 people a year in September, and then remain at elevated levels for the next five years.
You can receive all of our property articles automatically by subscribing to our free email Property Newsletter. This will deliver all of our property-related articles, including auction results and interest rate updates, directly to your in-box 3-5 times a week. We don't share your details with third parties and you can unsubscribe at any time. To subscribe just click on this link, scroll down to "Property email newsletter"and enter your email address.