Budget 2017 'families package' includes Accommodation Supplement boost, more Auckland suburbs into top bracket; WFF payments raised; Bottom two income tax thresholds up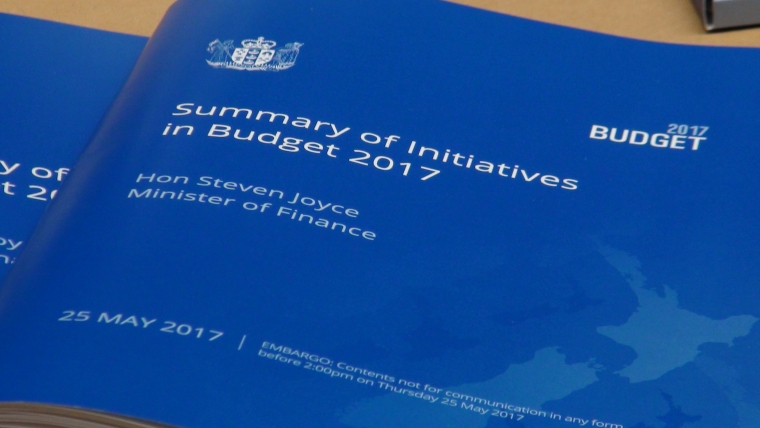 By Alex Tarrant
Auckland landlords will be rubbing their hands with glee after Steven Joyce's first Budget as Finance Minister, with the city's 'central surrounds', Southern and Western suburbs being boosted into the top bracket for the government's Accommodation Supplement (AS) rent subsidy.
Maximum AS payments were also boosted across the board in a move the government said was designed to help low-income earners with rising housing costs. See tables and regions below.
And while Joyce acknowledged there was a risk landlords bump up rents to take advantage of tenants with more money available to put towards rents, he issued a warning: the government would be keeping an eye out for whether the move is abused.
Families package
Joyce on Thursday revealed a 'families package' delivering 1.3 million families an average $26 weekly after tax income boost by shifting income tax thresholds, Working for Families (WFF) and Accommodation Supplement (AS) payments.
Changes include boosting the bottom two income tax thresholds:
Lifting the 10.5% tax bracket ($1-$14,000 previously) to a cap of $22,000.
Lifting the 17.5% bracket ($14,001-$48,000 previously) to $22,001-$52,000.
The 30% tax bracket will now be $52,001-$70,000, and the 33% bracket is unchanged at $70,001.
The government Independent Earner Tax Credit will be discontinued, the WFF Family Tax Credit rates for young children will increase to the level of those for children aged 16-18, and Accommodation Benefit payments for eligible Student Allowance recipients will be raised by up to $20.
Along with Accommodation Supplement boosts, the set-piece moves will cost roughly $2bn per year. It will "provide better rewards for hard work, help lower-income families with young children meet their living costs, and improve incomes for people with high housing costs," Joyce said.
"The measures in this package are expected to lift 20,000 households above the threshold for severe housing stress, and reduce the number of children living in families receiving less than half of the median income by around 50,000."
West, South and Central Auckland surrounds bumped up
"The Accommodation Supplement maximum payments will be increased to better reflect the increasing housing costs that lower income families face," Joyce said in a fact-sheet on the changes.
Maximum AS payments will be boosted by between $5 and $80 nationwide over the four 'area' brackets individual suburbs come under.
Central and Northern Auckland remain in the top 'area 1' bracket and will be joined by 'Central Auckland surrounds', South and West Auckland, Tauranga, Queenstown, Wanaka and Arrowtown.
In 'area 1' a one-person household maximum AS payment will be boosted from $145 to $165, a two-person household from $160 to $235 and a three-plus-person from $225 to $305 per week.
Moving in to 'area 1' to join central and Northern Auckland from 'area 2' are Southern and Western Auckland, and 'central surrounds' suburbs:
Bombay, Clevedon, Glenbrook, Hunua, Karekare, Kaukapakapa, Kaukapakapa rural, Kingseat, Muriwai Beach, Muriwai Valley, Pautumahoe, Pokeno, Pukekohe, Rewiti, Riverhead, Tahekeroa, Mahurangi, Parakai urban, Helensville South, Waitakere West, Helensville, Warkworth, Snells Beach, Waiheke Island and Waiuku.
'We'll be keeping an eye on landlords'
Joyce told media at the Budget lock-up in Wellington Thursday that the government will be keeping "a close eye" on whether landlords move to bump up rents in response to the AS caps being raised.
While this was a risk, and often raised as a possibility, Joyce said experience showed this hadn't happened in the past.
Below are Treasury's statements on the package's impact on family incomes
Tax threshold changes and discontinuing IETC

The tax threshold changes provide a tax reduction of $10.77 a week to anyone earning more than $22,000 per annum, increasing to $20.38 a week for anyone earning more than $52,000 per annum.

These changes are likely to increase work incentives. Working families and individuals not receiving a benefit will gain from the tax threshold changes if their individual incomes are above $14,000.

Individuals who receive the Independent Earner Tax Credit of up to $10 per week will be fully compensated by the increase in the $14,000 tax threshold. Only 32 per cent of those eligible claim this credit during the tax year.

New Zealand Superannuation recipients will gain from the tax threshold increases, and from the link between Superannuation rates and after-tax average wages.

Changes to Family Tax Credit

Eligible families with children aged under 16 will gain further from the increases to the Family Tax Credit rates for younger children.

Family Tax Credits increase by $9.25 a week for the first child under 16, while credits for subsequent children increase by between $17.75 and $26.81 per week.

A small number of families may be disadvantaged by the changes to Family Tax Credit abatement settings but in nearly all cases this will be more than offset by the tax threshold changes. Transitional assistance will be available for any families experiencing overall losses of more than $3 per week as a result of the changes across the Family Incomes Package.

Changes to accommodation payments

The maximum Accommodation Supplement rates for a two person household will increase between $25 and $75 a week, while larger households will gain up to between $40 and $80 a week in accommodation support, depending on where they live. In addition, the make-up of the four Accommodation Supplement areas will be updated so families in areas where housing costs have increased the most will receive further gains.

Families and individuals who are entitled to receive Accommodation Supplement at the maximum payment rate will gain from these changes.

Student Allowance recipients who are eligible to receive Accommodation Benefit at the current maximum weekly rate of $40 may now receive up to $60 per week. This will help around 41,000 students with high accommodation costs.
Below is the 'High Level AS Changes' sheet handed out by Treasury at the Budget (it's not available online):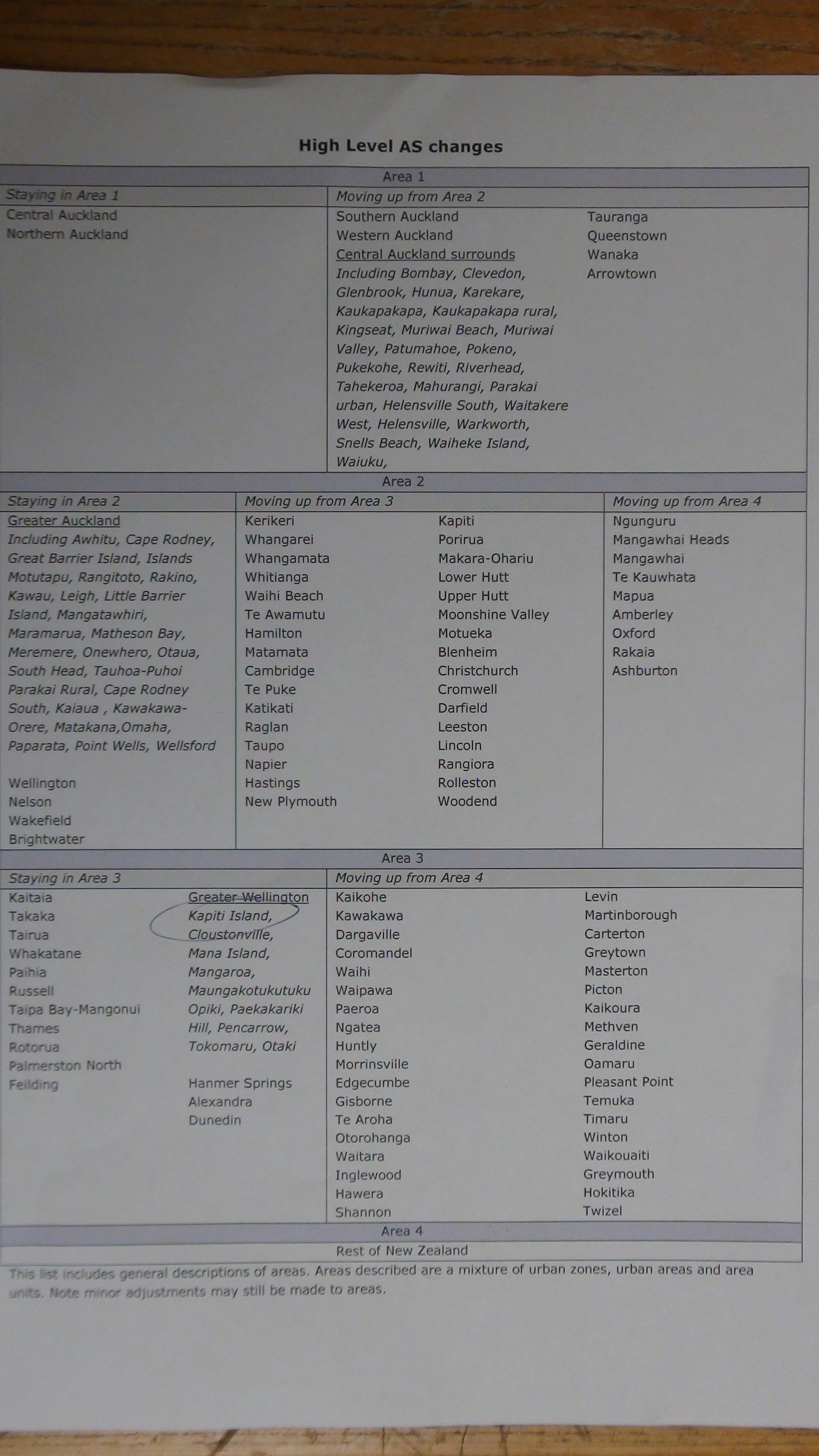 Below is the table for new payment maximums for the areas above: