Statistics New Zealand says there were 2926 new homes consented nationally in March, up 5.3% on the same month a year earlier; Auckland had 1082 consents, up 14.9%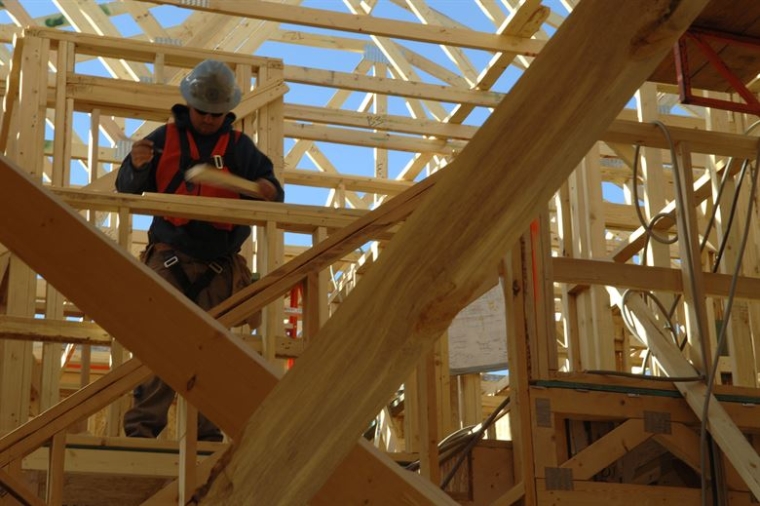 A spike in high density housing consents helped push up the nationwide number of building consents in March to 2926, up 5.3% from the same month a year ago.
In Auckland there were 1082 consents issued, which was a rise of 14.9%.
The rise follows a recent stalling in the growth trend for housing.
But the latest figures are boosted by higher density housing construction, such as townhouses, flats and units, apartments, and retirement villages.
ASB senior economist Jane Turner says she believes NZ construction activity is close to a peak.  
"Growth in Auckland consent issuance has slowed which likely reflects capacity constraints in the construction sector. Growth is Wellington consents have been strong, but limited construction sector capacity may soon start to slow growth in the capital also. Weak commercial construction confidence may weigh on non-residential construction demand."
Looking in detail at the March figures, Turner noted the strong apartment consent issuance – particularly in Auckland with 361 new apartment dwelling consents issued. 
"Building demand for town house development also increased, while the number of consents issued for standalone houses was flat over March. 
"While March apartment consents were strong, on a trend basis demand for new apartments remains relatively muted compared to the previous building cycle, with strong growth seen in townhouse construction instead.
 "Housing construction demand in Auckland is high, but growth is muted as the number of Auckland dwelling consents has trended sideways over the past six months. Although consents in Wellington fell in March, on a trend basis demand for dwelling construction continues to grow. 
"Both regions are undersupplied and new building rates remain below requirements for population growth."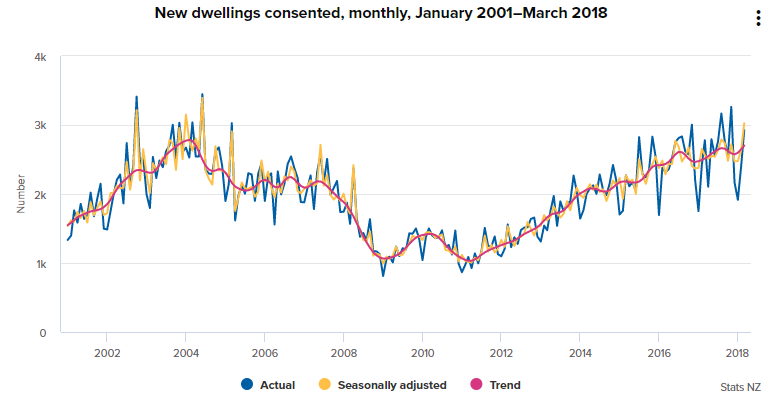 Statistics New Zealand said the breakdown of consents during the month was:
1,753 stand-alone houses
617 townhouses, flats, and units
492 apartments, including 361 in Auckland
64 retirement village units.
The seasonally adjusted number of all new dwellings consented rose 15%. But for houses only, the seasonally adjusted number rose 0.1%.
In the year ended March 2018, 31,392 new dwellings were consented – up 2.5% compared with the March 2017 year.
Regional new dwelling numbers in the March 2018 year were:
Auckland – up 9.7% to 11,192
Waikato – down 2.2% to 3,477
Wellington – up 23% to 2,558
Rest of North Island – down 1.6% to 5,791
Canterbury – down 15% to 4,906
Rest of South Island – up 10% to 3,464.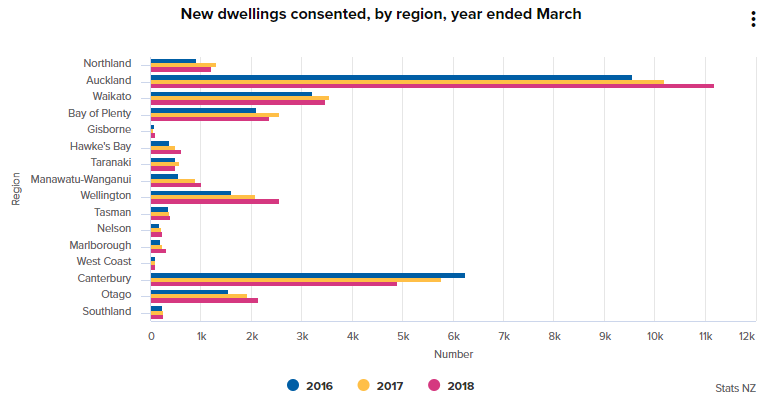 In non-residential building Stats NZ said significant projects in Auckland boosted the national value of consents for two non-residential building types in March 2018:
social, cultural, and religious buildings ($122 million) – boosted by a further consent for the New Zealand International Convention Centre
factories and industrial buildings ($122 million) – including another consent for the Fisher and Paykel Healthcare campus in Auckland.
In the year ended March 2018, non-residential building consents totalled $6,633 million – up 2.6% from the March 2017 year.
ASB's Turner says non-residential building consents remain elevated at high levels. 
"Non-residential consents remain supported by increased construction demand for farm buildings, factories and hotels.
"In recent months, confidence in the construction industry has fallen along with commercial construction intentions, and we may see non-residential construction activity begin to fall over 2018. 
"This is despite a significant number of demand supports for the sector, which include pressures on accommodation capacity, low vacancy rates for office buildings, strong demand for commercial and industrial properties and earthquake-related works."