Treasury halves forecast progress for KiwiBuild; Government to borrow to build 5,800 new public houses over four years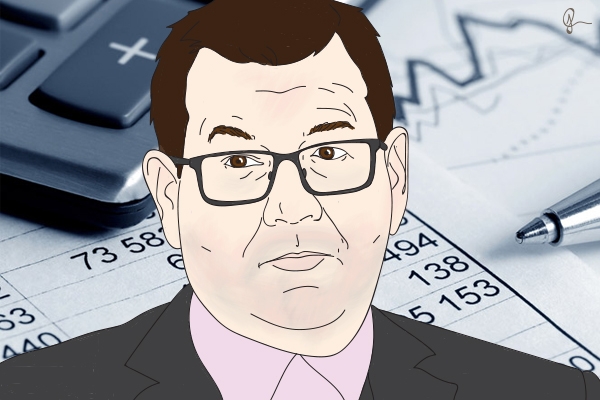 Treasury expects spending on KiwiBuild to be pushed out further into the future.
While at the mini-Budget in December it forecasted the capital injection into KiwiBuild to be $100 million in 2018, $900 million in 2019 and $100 million in 2020, it now expects this to be $100 million in 2018, only $300 million in 2019, $500 million in 2020 and $1 billion in 2021.
Altogether, it still expects to spend around $2 billion on the scheme, which aims to deliver 100,000 affordable houses for first home buyers over 10 years.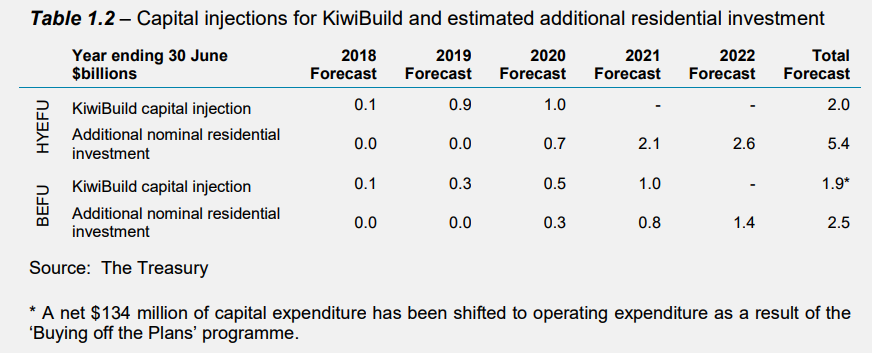 Treasury, in its Budget Economic and Fiscal Update 2018, says, "Changes in the timing of capital expenditure on KiwiBuild since the Half Year Update mean the boost to growth occurs later in the forecast period than previously assumed."
It goes on to say that while at the mini-Budget it expected "additional nominal residential investment" to total $5.4 billion by 2022, it's now dropped this forecast right down to $2.5 billion.
"This activity is not lost, but instead a greater proportion is assumed to occur outside the forecast period," it says.
"We make an assumption on the additional residential investment that is generated by KiwiBuild, which incorporates both the direct spending from KiwiBuild as well as policies designed to alleviate the capacity constraints that are currently limiting growth in the construction sector.
"There remains a high degree of uncertainty about the impact that these policies may have."
One of the policies Treasury is alluding to is the KiwiBuild Buying off the Plans Initiative, which will effectively see the taxpayer underwrite private development. 
Around 80% of the 1,000 'Kiwibuild' homes the Government aims to complete in the 2019 financial year will likely be constructed as part of the initiative. 
Public housing
KiwiBuild aside, the Government's focus in Budget 2018 when it comes to housing, is largely on public housing.
Public housing is targeted at households that can't access or sustain a tenancy in the private rental market. Public houses are owned or leased by Housing New Zealand or by registered Community Housing Providers.
The Government has allocated $234.4 million to increasing the public housing stock by 6,400 homes over four years.
Importantly, Housing and Urban Development Minister Phil Twyford has told interest.co.nz that 5,800 will be new builds.
These will also be funded by Housing New Zealand borrowing up to $2.9 billion and investing a further $900 million from its operations.
Twyford says: "This combination of borrowing and international funding by Housing New Zealand began under the former Government to fund the Auckland Housing Programme, and is now being expanded to allow Housing New Zealand to provide additional public housing places."
Finance Minister Grant Robertson is confident the borrowing Housing New Zealand needs to do won't throw the Government off its goal of reducing net debt to 20% of GDP in the first five years of it taking office.
He says that if Housing New Zealand borrowed up to the maximum in its cap, net crown debt as a percentage of GDP would end up at 20.1%, rather than the projected 19.1% by 2022.
The Government has also committed to spending $101.0 million (in operational spending) on increasing the transitional housing stock by more than 200 places to reach a target of 2,155 over four years. Its capital expenditure on this will be $68.9 million in 2018/19.
Transitional housing provides short-term housing for up to 12 weeks for people with immediate housing needs, along with support to help them find long-term homes.
Adding operational spending on transitional housing to that on public housing over four years equals $335.4 million.
This makes up 41% of the operational expenditure the Government has classified as "taking action on child poverty, housing and homeless" and 3% of the Budget 2018 operating package.