Fletcher Building CEO says the Government's flagship housing programme is both a threat and an opportunity for his company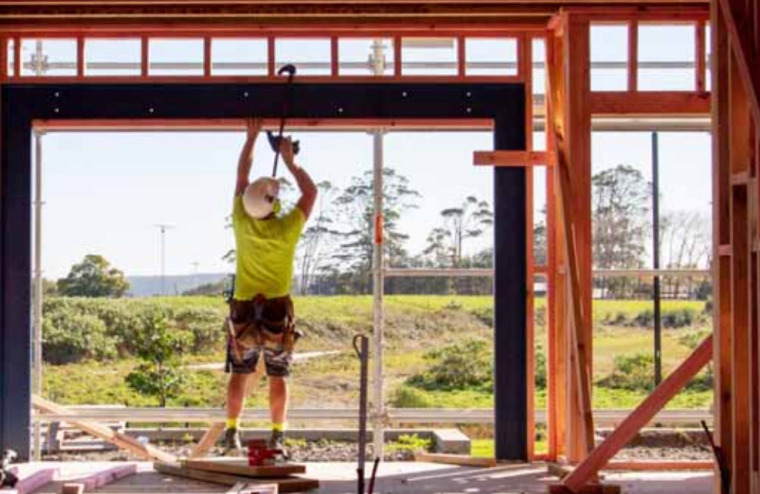 By David Hargreaves
Construction giant Fletcher Building says the Government's flagship KiwiBuild programme to construct 100,000 houses represents both a "threat and an opportunity".
Fletcher chief executive Ross Taylor told analysts at a briefing for the company's full-year results announcement on Wednesday that he would be meeting as soon as on Thursday morning for two hours with Housing and Urban Development Minister Phil Twyford and some relevant department heads to discuss how Fletcher can assist with KiwiBuild and "to start to work up some options".
He outlined three areas in which Fletcher could assist, which were: With the development pipeline, through a new 'panelisation' plant that Fletcher is building in Auckland to be commissioned next year, and through supply of products.
"One of the areas we are working with them is when we look at our own development and residential development pipeline – which parts that we might be able to work with them to build some KiwiBuild houses.
"In any of our developments we have a spectrum of lower price point entry into our developments, through to middle, through to higher, because you always want some social stratification in a development for a healthy community.
"So, we are working with them on that," Taylor said.
"We are also looking at potential other sites which are government-controlled or influenced where we may be able to get going and work more quickly to drive some faster development outcomes for them – again which would be a positive for both us and Government if we can work those up.
"And as we look into the future in our residential development business around particularly Auckland there's sites which may be out of the present zoning areas where I think we are well positioned and with partnering with government we might be able to move them forward a bit faster."
Fletcher said in the year to June 30, 2018 it sold 714 dwellings in NZ, up from just 499 the previous year. Operating earnings for the residential group within Fletcher were up 12% at $85 million.
And while the company's expecting a moderating in overall building consent numbers from a high level in the coming year, Taylor estimated that Fletcher itself would likely sell something like 800 dwellings in this coming year.
He also stressed that work Fletcher might do in support of KiwiBuild would be additional to - not instead of - its own building development work.
"We've also flagged as we look at supporting our own projects with panelisation and systems into building residential... we've flagged we're investing in a panelisation plant, which is under way right now – we've signed off on that – we expect to have it up and running through this financial year.
"In our own portfolio we think we can use circa 300 houses a year from that. Obviously our group home builder customers that we service through Placemakers and the like are very keen to also take some of the throughput and we are also actively talking to the Government around providing capacity and maybe making the plant a bit bigger potentially to actually provide some support around that as well.
"So, again, that's an active conversation that we are working through with them [the Government] as we speak," Taylor said.
He also said that Fletcher was actively going to work on working out ways of making "vertical mid-rise construction" economic in New Zealand.
"...The price point is a bit high in New Zealand to make it work effectively but we believe we might be able to get at that with some vertical modular solutions and that's a bit more of a medium term game, but we are actually working on that ourselves and hopefully we'll partner with Government on that to some extent."
KiwiBuild was both a threat and an opportunity for Fletcher Building, Taylor said.
'Govt will drive a chunk of housing'
"Definitely the Government's intent is clear and they will drive a chunk of this housing into the market so it is really quite important that we position ourselves to both help them deliver from a development point of view as well as a supply point of view.
"...And it's really important that we do do that and we do it well because if we don't somebody else will – so it's both a threat and an opportunity for us.
"And in my sense, more of an opportunity than a threat, but that's about getting organised to go after it and just in the way we are thinking about it, we are not going to…we want to maintain our, what I call in our development business what we are doing to the external market and to the extent we do KiwiBuild ...it will be in addition to those volumes."
He cautioned, however, that any KiwiBuild work was not "going to be an immediately big fillip".
"It's going to take a while for this to get momentum and wind up because even with the best will in the world – the Government as well as us – if you get land you've still got to go through your consenting process, you've got to get the land prepped, then the sections made before you build the house
"So…it's a couple of years to get momentum in this, so, there's a fair bit of water to go under the bridge yet – but now's the time to be working out how we participate."  
Loss of $190 mln
Fletcher Building reported a loss of $190 million for the 12 months ended 30 June 2018, which was in line with forecasts made by the company when announcing write-downs in February. This compares with a profit of $94 million in FY17.
Fletcher said that losses in its Building and Interiors division (which includes projects such as the SkyCity Convention Centre) have been maintained at the $660 million announced to the market in February 2018.
The Residential and Development division had performed strongly, with the Residential business benefiting from the number of units available to sell as subdivisions came to market as well as robust selling prices in Auckland, and the Land Development business recognising the sale of the first site at Wiri North, the company said.
The rise in Residential earnings reflected an increase in the number of units available to sell "as the established subdivisions of Swanson, Whenuapai and Red Beach are now operating at a sustainable level and new subdivisions of Waiata Shores, Kowhai Ridge, Totara Heights, and Atlas Quarter commenced sales".
The company said, however, that during the year a $12 million provision was recognised for a forecast loss on the Atlas Quarter Apartment project in Christchurch.
"This reflects a combination of lower than expected selling prices and cost escalations on the project, mainly due to seismic requirements and higher than forecast construction market rates. At year end $10 million of this provision remained unutilised following initial sales. Excluding the impact of this provision, Residential earnings were up $21 million, or 28%, on the prior year."
Strong demand in Auckland
The Residential business continued to see strong demand for homes in Auckland priced between $600,000 and $900,000, where the depth of market demand is greatest, but softer demand for large standalone homes priced in excess of $1,000,000.
"This supports a strategy of focusing on delivering smaller and innovative home typologies to target a lower price point."
The Christchurch market remained subdued with no growth in prices over the period. Work commenced on the East Frame project, with an initial 112 units underway. The next anticipated stage will include a further 59 terrace homes, and the decision on further stages of this development will depend on discussions with Government on typologies and market conditions.
Bridging finance restrictions
The company noted that in the second half of the financial year, the Residential division "continued to see an elevated number of transactions requiring the sale of the customer's current home due to bridging finance restrictions". The average settlement period lengthened to 43 days from 32 days in FY17.
At 30 June 2018, the Residential business held a total of 3,707 lots on balance sheet. In addition, the business holds a further 1,272 units under unconditional agreements, to be delivered over the next five years.
Land Development operating earnings in the period were $51 million. This business develops and sells mainly commercial sites within the Group's property portfolio which are surplus to operating requirements. The most significant contribution to this year was the sale of a 10 hectare site in June 2018 at the Wiri North development, in addition to three development locations in Australia.
While Land Development earnings will be irregular in nature, it is anticipated that the business will earn at least $25 million per annum over the next five years.