Government cuts petrol excise duty and road user charges, and halves public transport fares for three months; ANZ economists see this cooling inflation a touch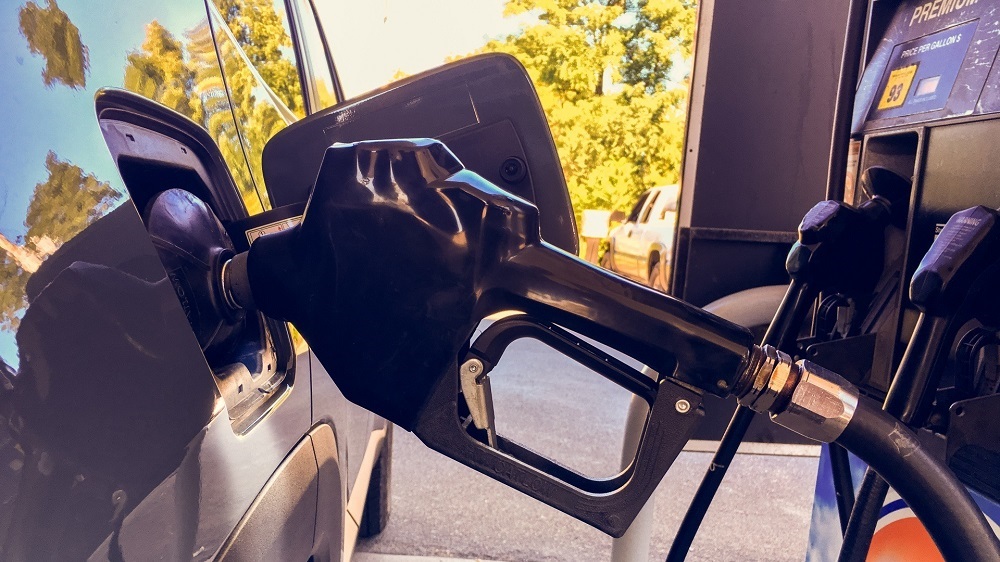 The government is cutting the petrol excise duty by 25 cents per litre for three months, in a bid to provide relief from what it describes as a "global energy crisis triggered by the war in Ukraine".
It's also committing to cutting road user charges and halving public transport fares for three months. 
The change to the petrol excise duty will take effect on Tuesday and be reviewed within the next three months. The government is open to extending the relief, but it wouldn't say for how long.
When it eventually hikes the duty back to where it is now, this will be done progressively.
Prime Minister Jacinda Ardern expected the change to reduce the cost of filling a 40-litre tank of petrol by $11, and a 60-litre tank by $17.
To put 25 cents in context, the average amount motorists pay in levies and taxes (excluding GST) across the country is 81 cents per litre.
Below is a graph showing how the change would've affected the petrol price for the week ended March 4 (the date for which the latest Ministry of Business Innovation and Employment data is available). An additional 3-cent GST saving would also be made, as GST is payable on the full price, inclusive of taxes.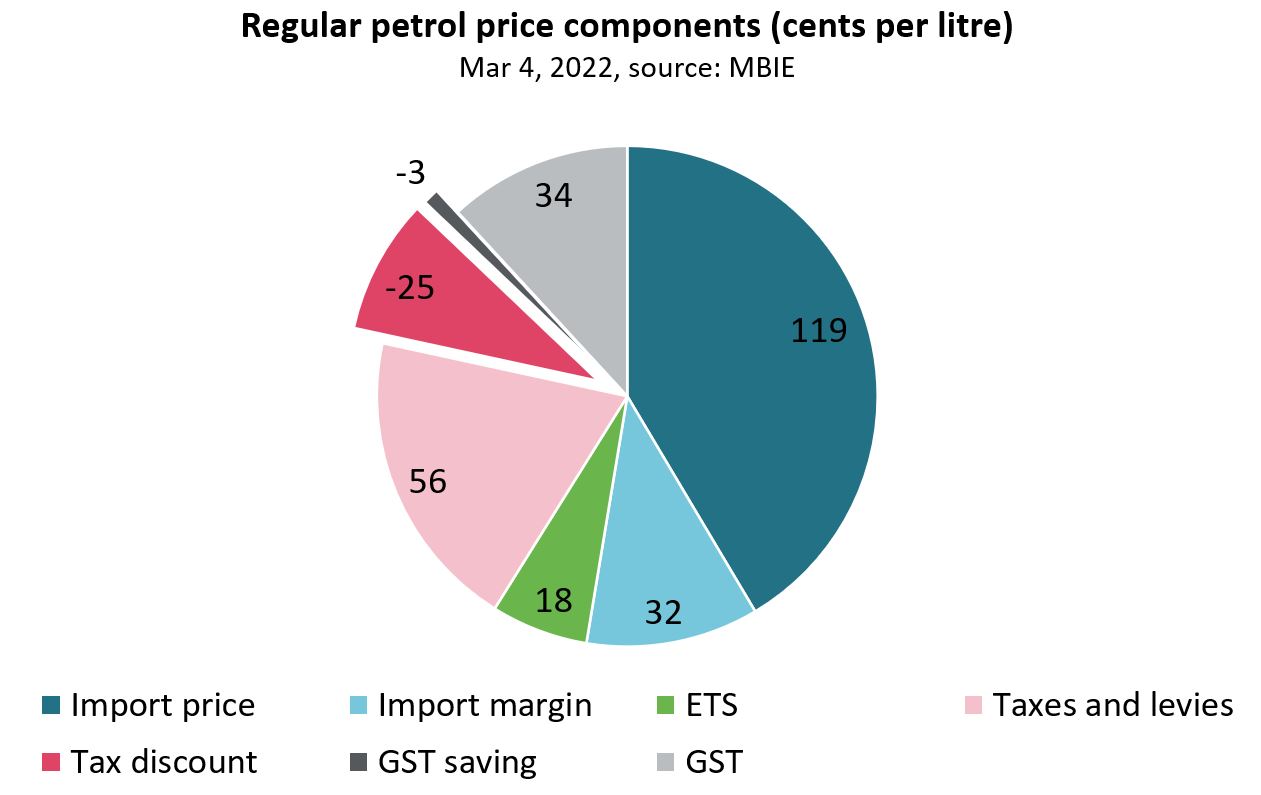 Below is a graph illustrating how petrol prices have risen over the past couple of years.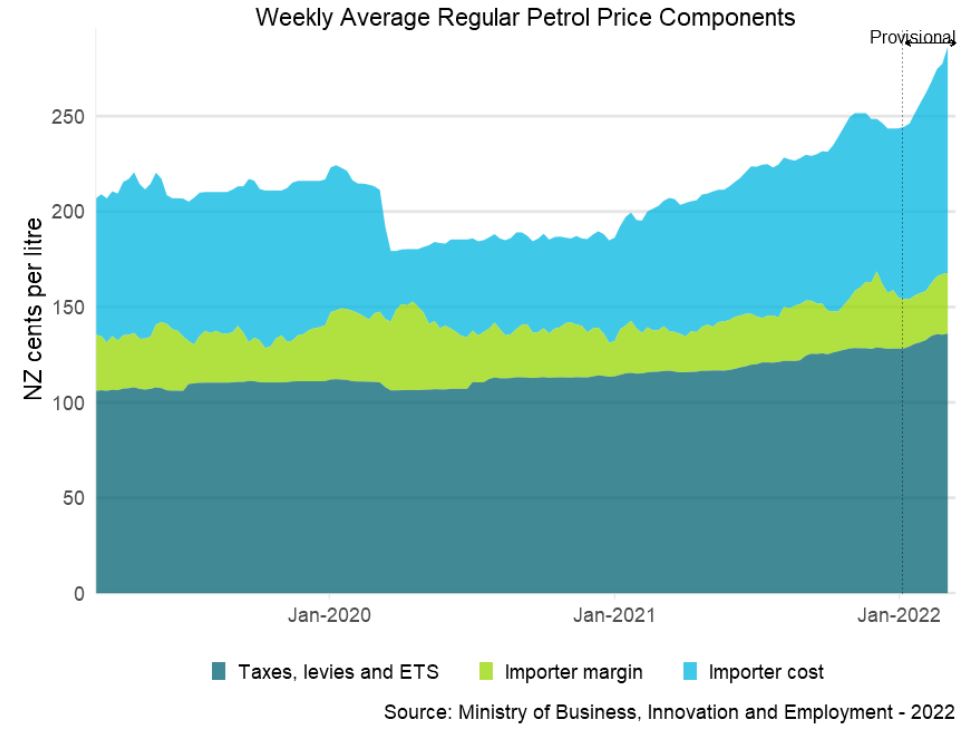 Discount to cost $350m over three months
Finance Minister Grant Robertson said providing the discount for three months will leave a $350 million hole in the National Land Transport Fund, which is a hypothecated fund used to pay for roads and other transport infrastructure. Accordingly, he committed to topping up the fund.
He said the $350 million would be paid for using unspent funding set aside for the Covid-19 response, so it wouldn't require the government to issue more debt than already planned.
Nonetheless, he couldn't say what would happen if in three, or even 12 months' time, the global oil price was still elevated, potentially making it politically difficult for him to remove the discount.
Change expected to dampen inflation by 0.5%
ANZ economists expect the change to slightly reduce the overall rate of inflation. They said it could see the Consumers Price Index rise by 6.9% year-on-year in the June quarter, rather than their currently forecast 7.4%.
This doesn't change their Official Cash Rate outlook. They still believe the Reserve Bank needs to make two large 50-point increases in April and May.
Public transport fare cut to cost up to $40m over three months
As for cutting road user charges for three months, the transport minister will in coming days provide further details on how and when this will happen. Robertson said this won't necessarily be a quick and easy change, because there are so many different rates.
Meanwhile he expected public transport fares to be halved by April 1. This will involve central government working with local authorities, which set fares.
He expected this change to cost between $25 million and $40 million over three months.
Prices are expected to keep rising
"We do need to recognise that petrol prices are expected to continue to rise," Robertson said. 
"The Russian invasion of Ukraine is continuing to undermine and de-stabilise global energy markets and, added to the other inflationary pressures the world has due to Covid supply chain disruptions, this is sadly not over yet.   
"That is why we will review the situation over the coming months.  We will also outline in the coming days the means by which we will reverse the changes being announced today. It is likely that this will be a gradual phase down in line with global oil prices stabilising and reducing, to keep pressure off families while recognising the need to return to more stable funding for our transport infrastructure.
"Further, in the Budget in May, we will progress work to ensure we are not at the whim of international oil prices in future, through greater investment from the Climate Emergency Response Fund. These investments will boost our plans for New Zealand to increase energy security and independence by decarbonising our transport fleet and reducing our reliance on volatile global energy markets."  
Petrol companies need to play ball
Energy and Resources Minister Megan Woods is writing to fuel companies today (Monday), setting out an expectation that the full amount of tax reduction from the government will be passed on to consumers at the pump.
"In addition, I am seeking daily information disclosure from fuel companies of their rolling seven-day average fuel margins, to monitor industry profits," Woods said.
"Our preference is that fuel companies volunteer this information and I am asking them to do that. But under the Fuel Industry Act we passed in 2020, there are options to pursue more data disclosure, and further measures to ensure the discounted excise duty is not being absorbed into company profits."
Political response
National said the changes don't fix the wider cost of living crisis. 
It has committed to scrapping the Auckland fuel tax, but is in favour of introducing congestion charging. 
National is also promising to adjust income tax thresholds for inflation, which it says would save the average earner $870 a year. Higher earners (who also pay more tax) would save much more than lower earners under this proposal.
The Green Party favours helping those feeling the pain from inflation by making direct payments via the welfare system or a tax credit. This way, support would subsidise the cost of living more generally, not just the cost of petrol. 
The Green Party also worries fuel companies won't pass on the full 25 cents/litre tax reduction to consumers.
However, it supports halving public transport fares.
ACT proposes putting more money in people's pockets by evenly distributing revenue from the Emissions Trading Scheme across the population, rather than investing it in government initiatives aimed at reducing climate change.