Public Policy
/
analysis
Gareth Vaughan on container shipping topping FANG profits, Argentina's lithium, the Brazilianization of the world & a special case of helicopter money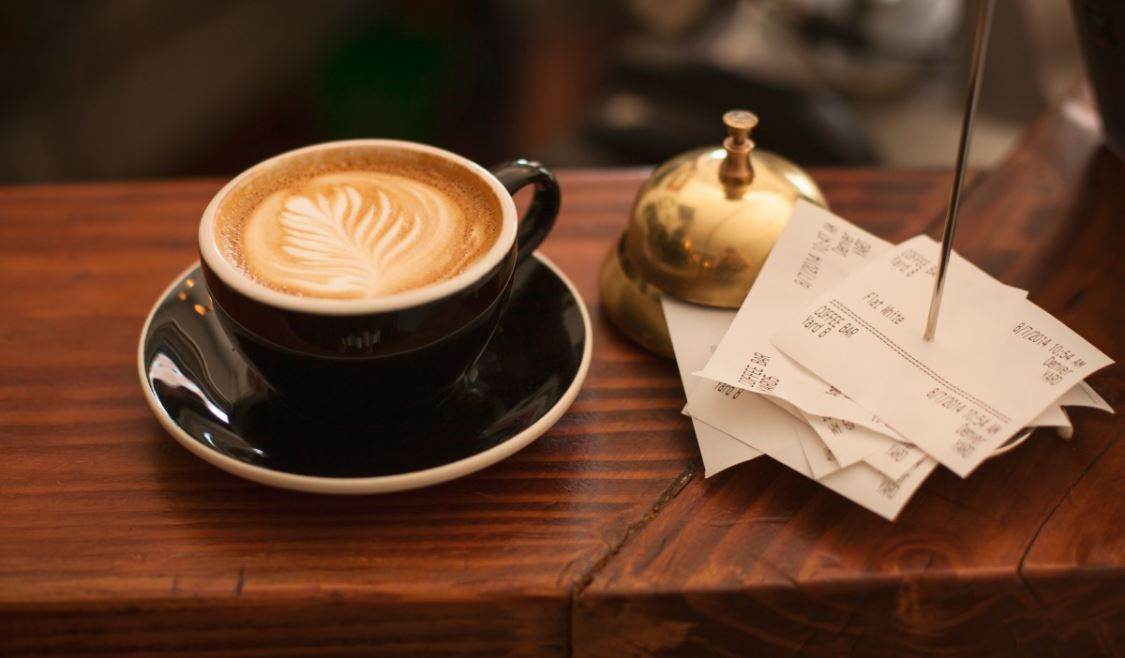 This Top 5 comes from interest.co.nz's Gareth Vaughan.
As always, we welcome your additions in the comments below or via email to david.chaston@interest.co.nz. And if you're interested in contributing the occasional Top 5 yourself, contact gareth.vaughan@interest.co.nz.
One of my favourite charts. pic.twitter.com/XYVd71c20p

— Sharon Zollner (@sharon_zollner) May 20, 2022
1) Container shipping beats tech FANGs.
In a Top 5 last year I featured a LinkedIn article on container shipping profits from John McCown, founder of New York-based Blue Alpha Capital. One of the big beneficiaries of the Covid-19 pandemic and able to ramp up prices due to related supply chain woes, I thought the container shipping industry was doing mind boggling well then. Well, McCowan's latest article shows things have got even better for the industry.
McCowan reports the industry's first quarter net income was US$59.3 billion, up $40.2 billion from the first quarter of 2021. It was the sixth straight quarter of record earnings. He compares the container shipping sector to the profitability of the so-called FANG technology behemoths. And guess who's doing better?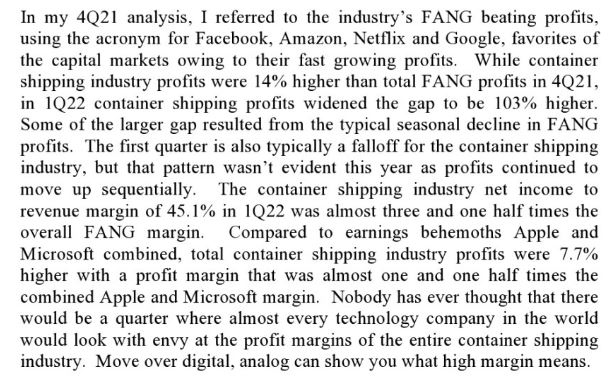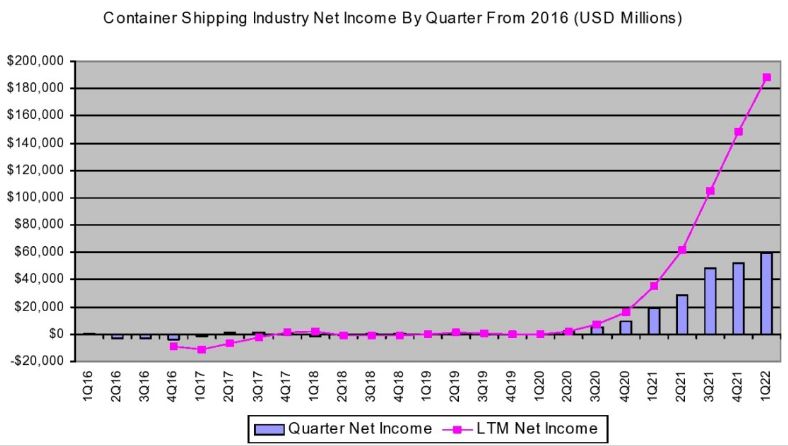 2) The oligopoly of giant container ships.
Staying with the container shipping theme, this article from US publisher FreightWaves argues megaships are a key reason for the shipping crisis along with a lack of competition, noting the Biden Administration complaining about "the cartel of shipping companies" controlling global trade. 
What's going on with global shipping is of huge importance to New Zealand. According to the Ministry of Transport, 99% of NZ's imports and exports travel along global shipping routes to reach consumers.
In the 1970s, there were so many ocean carriers that no single company controlled the industry. Since then, the market has consolidated into just a few large firms. 

Up to 60 of the 100 largest ocean carriers have vanished from the 2000s to today, thanks to a wave of bankruptcies and acquisitions. The top 10 largest ocean carriers in 2000 commanded 51% of the market; today, they dominate 80% of it, according to a White House fact sheet. All of these companies are based outside the U.S. 

Smaller ocean carriers began forming alliances with each other in order to compete with larger carriers, said Campbell University professor Sal Mercogliano. Megashippers decided to copy the strategy. Today, the largest ocean carriers are organized into three major container shipping alliances: 2M, The Alliance and Ocean Alliance.

To ship something from, say, China to Los Angeles, you book space on a container ship operated by one of these alliances. Each company shares space on the container ship with other members of the alliance. But these alliances may cancel — or have "blank sailings" — if demand has slumped. 

This system has been great for the carriers' own financial performance. Some claim this consolidation and the alliance system lead to inflated rates. 

The Loadstar, a global logistics publication, reported on April 22 that the 2M alliance was blanking at least three Asia-North Europe sailings. New Chinese COVID lockdowns were one reason for the cancellation, but Loadstar also pointed to 2M's desire to "halt the slide in rates" amid a slump in volume from China. More canceled sailings mean less capacity for cargo, and likely higher rates.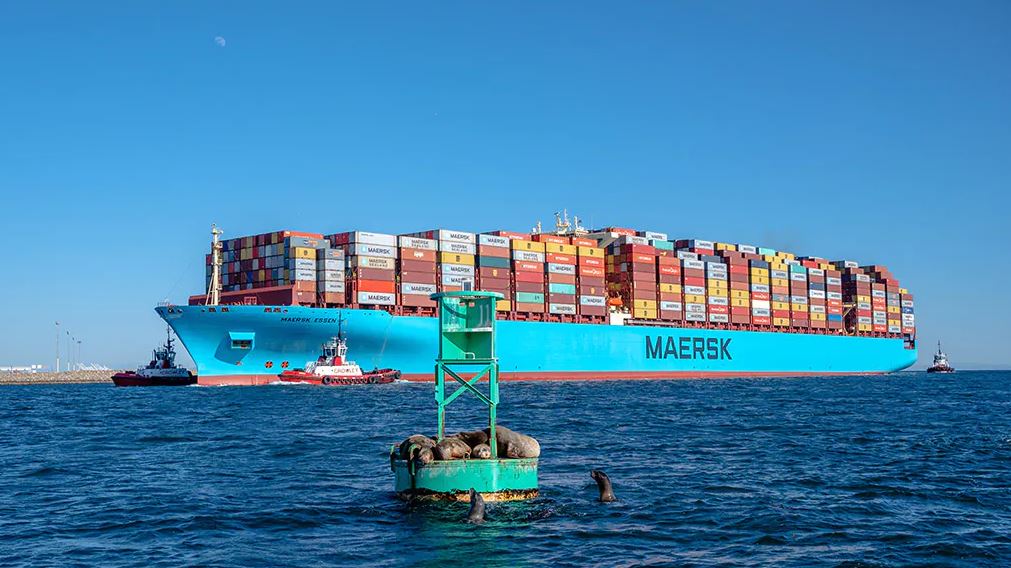 3) Argentina's lithium riches.
Argentina, sadly, has largely been known as an economic basket case in modern times. It hasn't always been that way. In the early twentieth century Argentina was one of the world's wealthier countries. It's still rich in terms of natural resources. 
A Bloomberg article describes how a recent lavish lunch in Buenos Aires featured 400 mining executives, many foreign ones by the sounds, and government officials. What are they excited about? Argentina has more lithium projects in the pipeline than any other country. Lithium, of course, is a key raw material in the batteries used in electric vehicles.
The world needs lithium supplies to grow fivefold by the end of the decade to meet projected demand as the electric-vehicle revolution gets into full swing, according to BloombergNEF. It could be Argentina's last shot at moving beyond its traditional offerings of soybeans, grains and beef to emerge as a global heavyweight in a new sector.

The country has 19 million metric tons of lithium resources that haven't yet been mined, twice as much as Chile. But Argentina has long struggled to lure the consistent, hefty international capital flows needed for mass development of oil, natural gas, gold and silver locked underground.

Patagonian shale formation Vaca Muerta is perhaps the best example. A decade ago, it was all buzz and promise. There was a special exemption from capital controls that attracted Chevron Corp. But the trickle never became a flood: Argentina's broader woes and interventions in fuel markets kept development in check. 

Now, the world's largest lithium producer, Albemarle Corp., plans to restart exploration in the Salar de Antofalla in Argentina, a more remote and less developed area than Australia and Chile, where the company has been mining so far.
4) The Brazilianization of the World.
Back before Covid-19 changed the world, much was written and spoken about how other developed economies, including ours and that of the United States, were following a Japanese path. This was primarily due to ongoing low interest rates, which Japan had experienced - alongside a deflationary environment - for decades.
But now that we have an inflation problem and rising interest rates, a new country comparison is being made for the US at least. It's Brazil. I stumbled across this via the twitter thread below.
So just to get it on the record again and elaborate a bit:

The US is speaking Portuguese and doesn't even know it.

The US is approx 2-3 qtrs behind Brazil in terms of stagflationary roadmap. Today's window of US vulnerability/soft patch is where Bz was back in the fall.
1/15

— Paulo Macro (@PauloMacro) May 6, 2022
In response to Paulo Macro's tweets, someone posted a link to an American Affairs article, The Brazilianization of the World. It's a bit long winded but makes an interesting, albeit not upbeat, argument.
The reality is that the twentieth century—with its confident state machines, forged in war, applying themselves to determine social outcomes—is over. So are its other features: organized political con­flict between Left and Right, or between social democracy and Christian democracy; competition between universalist and secular forces leading to cultural modernization; the integration of the labor­ing masses into the nation through formal, reasonably paid employment; and rapid and shared growth.

We now find ourselves at the End of the End of History. Unlike in the 1990s and 2000s, today many are keenly aware that things aren't well. We are weighed down, as the late cultural theorist Mark Fisher wrote, by "the slow cancellation of the future," of a future promised but not delivered, of involution in the place of progression.

The West's involution finds its mirror image in the original coun­try of the future, the nation doomed forever to remain the country of the future, the one that never reaches its destination: Brazil. The Brazilianization of the world is our encounter with a future denied, and in which this frustration has become constitutive of our social reality. While the closing of historical horizons has often been a leftist, indeed Marxist, concern, the sense that things don't work as they should is now widely shared across the political spectrum.

Welcome to Brazil. Here the only people satisfied with their situation are financial elites and venal politicians. Everyone complains, but everyone shrugs their shoulders. This slow degradation of society is not so much a runaway train, but more of a jittery rollercoaster, occasionally holding out promise of ascent, yet never break­ing free from the tracks. We always come back to where we started, shaken and disoriented, haunted by what might have been.
 5) QE versus 'a special case of helicopter money.'
It may seem a long time ago now, but in 2020 and 2021 we had an Official Cash Rate of just 0.25%, and a Reserve Bank (RBNZ) Large Scale Asset Purchase Programme. Through this quantitative easing (QE) the central bank bought $53.5 billion worth of NZ government and local government bonds. 
The RBNZ embarked on QE, buying the bonds off banks in the secondary market, to keep borrowing costs to households and businesses low. It said QE would encourage the bank sellers of the bonds to use the money they received from the RBNZ to switch into other financial assets like company shares, bonds, or new lending, thus helping to inject money into the economy.
However, even before the RBNZ launched QE, overseas central banks who had pursued the policy were being criticised for driving up asset prices and worsening wealth and income inequality.
Should the worm turn and we end up back in a world where interest rates are at or near zero, their effective lower bound (ELB), with central banks striving to kick some life into the economies they preside over, an International Monetary Fund working paper offers an alternative to QE. Economist Sascha Buetzer, the paper's author, argues outright transfers (OT) would be a better option than QE. Buetzer refers to OT as "a special case of helicopter money."
In an economy at the ELB with spare capacity, outright transfers (OT) from the central bank to private households would allow for a much more direct monetary policy transmission on prices and the real economy without creating undesirable financial stability risks such as asset price inflation or unsustainable credit growth. Moreover, in contrast to quantitative easing (QE), OT would not contribute to greater wealth inequality and reduce, rather than increase, risks of fiscal dominance. It would also allow for a faster and less disruptive liftoff from the ELB. OT could be implemented within the existing payments infrastructure although the emergence of central bank issued digital currencies (CBDC) could facilitate its use and allow for a more structural integration in central banks' monetary policy toolkits.
And;
Rather than relying on an increase of private and non-central bank public sector debt, OT would simultaneously expand base and broad money without creating new liabilities for firms, households, and governments. OT would raise the real net private wealth of the private sector, thereby setting in motion a virtuous cycle of increased consumption and investment, higher capacity utilization, and greater confidence.
Plus;
As households in regions that are hardest hit by a crisis are likely to have higher MPCs [marginal propensity to consume], e.g. due to an increase in unemployment or other cash constraints, one can expect a larger share of the transfer to be spent in such regions, boosting regional demand. In regions that are relatively less affected by an economic downturn, more of the transfer will be saved. Moreover, the part that is being spent would have a greater impact on nominal price and wage growth relative to regions with a larger negative output gap.