Most new polls show National would need support from both the Act and New Zealand First parties to form a majority government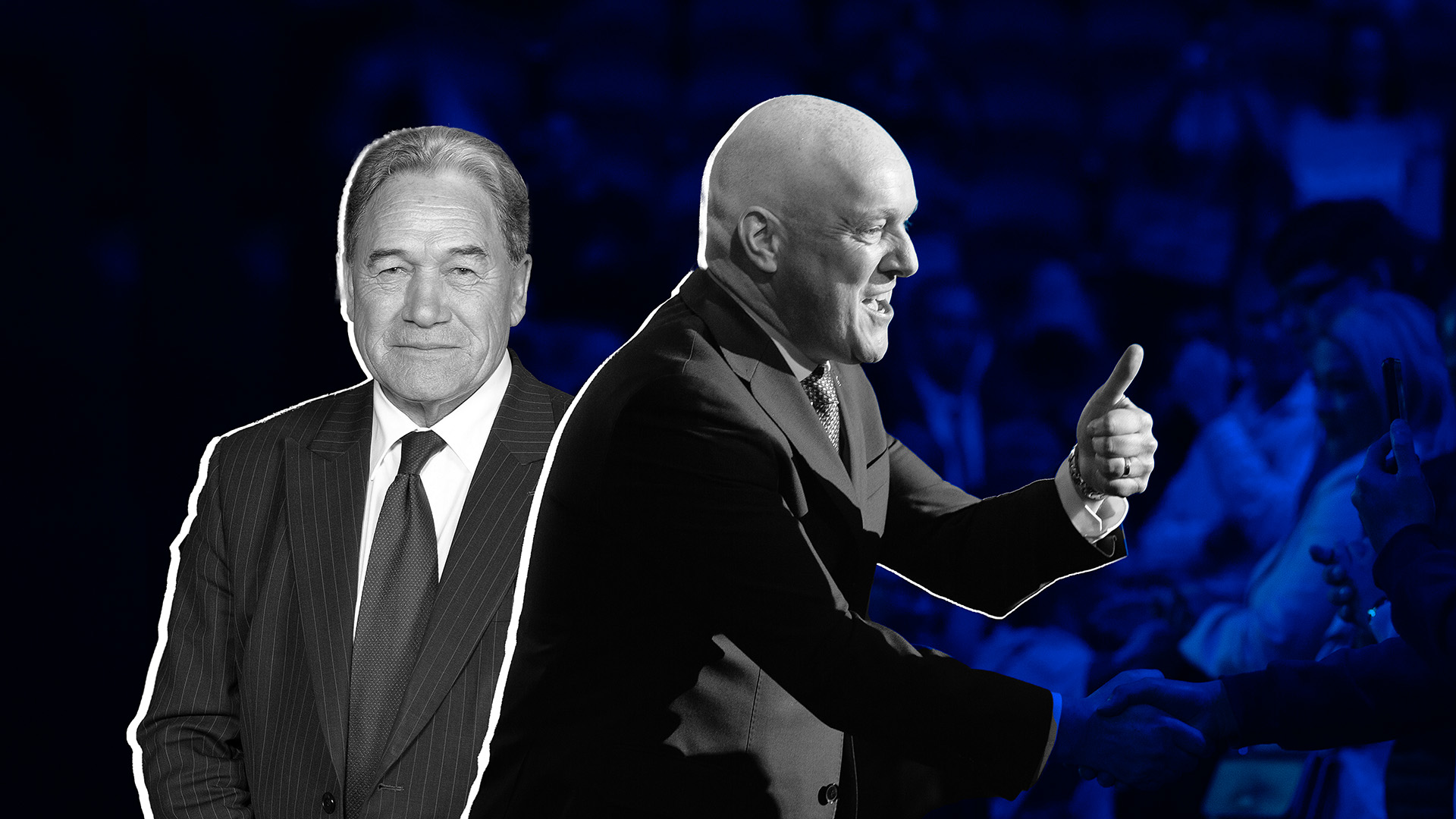 It is becoming increasingly likely that Christopher Luxon could need the support of New Zealand First to form a government after the October 14 election.
Recent polling shows the party, led by Winston Peters, has been hovering around the 5% threshold for the past month. NZ First was above the threshold in six of the past 10 polls. 
Earlier this week two new polls from Freshwater Strategy and Talbot Mills put NZ First on 6% and 5.4%, respectively, which might suggest the party could win at least six seats. 
That would be enough to block National and Act from forming a coalition alone, and would force Luxon and Act's David Seymour to work out a governing arrangement with Peters. 
However, a Taxpayers' Union–Curia poll released on Friday showed NZ First down two points from its previous poll and back below the threshold at just 3.9%. 
Interest.co.nz's DIY polling average shows NZ First sitting on 5%, but only by the barest of margins. A leaked Labour poll and a new/untested poll contributed to that result.
The three most reliable recent polls had the party at 3.7%, 5.4%, and 3.9%, respectively. 
Labour leader Chris Hipkins ruled out going into a coalition with NZ First late last month, saying the party was "Christopher Luxon's problem now".
Winston Peters had already ruled out returning Labour to government in an interview late last year, although that was while Jacinda Ardern was still the party's leader. 
In an interview with Mike Hosking last week, Luxon said NZ First was not above 5% in National's internal polls and he wasn't "thinking about them at all". 
The party's internal polls are conducted by Curia Market Research, the same group which polls on behalf of the Taxpayers' Union. 
Reporters have pushed Luxon to say whether he could work with Peters, but he has so far refused to comment.
Meanwhile, Seymour has ruled out supporting a Government that includes NZ First MPs as Cabinet ministers and called for Luxon to do the same. 
This leaves room for NZ First to support a National–Act government from the cross benches with a confidence-and-supply agreement, like in 2005 for Helen Clark's third term.
Policies from another planet
Luxon has already had to bat away one New Zealand First policy, which would require all new public buildings to include both unisex and single-sex bathrooms. 
It is a policy designed to appeal to the anti-transgender movement. People would be forced to use the bathroom that matches their biological sex, regardless of their gender or physical appearance.
The National Party leader dismissed the policy, saying there was no need for these laws. 
"You are on another planet if you want to have a conversation about bathrooms and make that an election issue," Luxon told reporters last month. 
NZ First's website has a list of 36 election commitments it has made to voters, starting with not returning Labour to government.
Its number two promise was that there would be "no change to the age of eligibility for Superannuation under New Zealand First".
This sets a collision course with National and Act who have both promised to slowly lift the retirement age to 67 across the coming decades, and have likely factored the savings into their spending plans. 
Promises three and four are about ending vaccine mandates (this has already happened) and removing Māori names from government departments. 
The party has also promised a "wide ranging, independent" inquiry into how the Covid pandemic was handled in New Zealand.
"This inquiry must not be run by Parliament, nor be restricted and narrow in its scope.  This must be a public and wide-ranging inquiry – so that New Zealanders will know the truth and be properly informed," it said. 
New spending commitments include more funding for St John, Mike King's charity, and Pharmac. The party also promised to "fund residential care for the aged" but didn't provide any further detail.
On tax, the party promises to take GST off "basic foods" and index income brackets to inflation. These are bigger versions of Labour and National policies, respectively. 
There were also the usual set of Northland promises, such as moving the Auckland port to Whangarei, establishing a naval base there, and building a rail line to service them.
First things first 
NZ First has yet to release the party list it will take into the election, but announced this week that former Wellington mayor Andy Foster would run in the Mana electorate. 
In a press release, Foster said the party could help to moderate "extreme policies or wild policy swings" from the two major blocs. 
"MMP was intended to reduce the likelihood of the 'unbridled power' of a single party government and the risk of relative ideological extremism," he said. 
Other notable candidates include former minister Shane Jones, Hobson's Pledge spokesperson Casey Costello, Whangarei District Councillor Gavin Benny, and former MPs Jenny Marcroft and Mahesh Bindra.
The party will have to confirm its list with the Electoral Commission by midday next Thursday and it will be published that weekend.
Other senior MPS, such as Tracey Martin, Ron Mark, and Fletcher Tabuteau, have moved on to careers beyond Parliamentary politics. 
Last year, Martin told 1News she was relieved when the party lost the 2020 election as she had become uncomfortable with many of its policy positions. 
The former minister now chairs the New Zealand Qualifications Authority and sits on the NZ Transport Agency's board of directors.