China prices for NZ logs drop dramatically on oversupply. India mirrors. Exporters think the shift has now bottomed. Harvesting reduced. Seasonally reduced domestic demand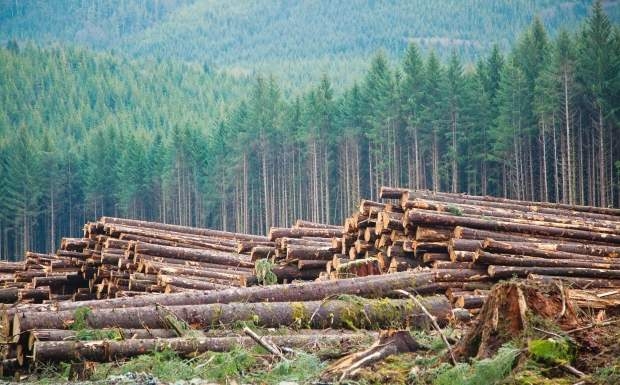 The CFR sale prices in China for New Zealand logs dropped dramatically in the second half of June.
Indeed, from a sale price of US$130 per JASm3 for A grade the price dropped -US$15 in one week.
Most exporters consider the market bottomed in early July with the lowest A grade sales in the US$105-110 range. This drop has predominantly been caused by an oversupply of logs and lumber along with negative market sentiment caused by the China - US trade war. The average drop between June and July 'at wharf gate' (AWG) prices was NZ$36 per JASm3. This drop in CFR prices and resulting drop in New Zealand AWG prices will have a significant impact on log supply. We expect CFR prices to start moving upward from September/October as activity increases in China as their temperatures cool.  
The domestic markets for sawntimber produced by New Zealand mills are similar to last year. We are entering the winter season in New Zealand when demand drops but there seems to be fewer forward orders than this time last year. Their sawn timber sales in Asia and China in particular have significant price pressure as buyers try to compete with the falling log prices.
Due to the drop in the AWG and average domestic structural log prices the PF Olsen Log Price Index for July decreased $16 to $112. The index is currently $17 below the two-year average, $15 below the three-year average, and $7 lower than the five-year average. 
Domestic Log Market
Log Supply and Pricing
Price movements for domestic log sales are variable. The prices for pruned logs have remained stable with some modest increases in the upper South Island and modest decreases in the lower South Island.  In many regions structural log prices have reduced with the biggest drops experienced in Northland and the Lower North Island.  The mills will initially receive a flood of logs as some forest owners and managers with jobs more reliant on the export market adjust to the falling prices for export logs. Then as these jobs stop and the larger more stable suppliers often cut back on production, the domestic mills become short of logs.  
Sawn timber markets
The wetter weather in June and into July has led to the seasonal reduction in demand for sawn timber. This is expected but many mills report fewer forward orders than this time last year. There are no price increases planned for sawn timber. There is speculation some mills may use lower log price inputs as an opportunity to offer discounts to win market share, but this is not a prudent strategy as inevitably log prices will rise again.     
The Australian market is steady at very low levels since the major drop in demand several months ago. The Asian markets are especially tough with downward price pressure as buyers compete with falling log prices. Most mills report customers expect between 10-20% reduction in prices.      
Export Log Markets
China
The CFR sale price for A grade logs in China was US$130 per JASm3 at the start of June. Since then the CFR sale price has fallen to US$105 per JASm3. The exporters report that agreed sale prices for log shipments are now being followed-up with LCs in higher percentages than at the end of June.   
During May, New Zealand exported a record of approximately 2.8M JAS m3 and we expect June volumes will be similar. While  volumes of the beetle damaged spruce logs from Europe are relatively small it contributes to a higher volume of logs arriving in China. In the past few months China also received a higher amount of South American pine logs and Russian and European sawn timber for various reasons. These volumes are also sold at cheaper prices which led to market disruption for New Zealand pine logs. 
Total softwood inventory in China is around 3.9M m3. Daily consumption in the first week of July was approximately 76K m3 per day. This demand is actually still reasonably healthy for this time of year in China.
Courtesy: Pacific Forest Products (PFP)
China has entered the hot sticky months of summer when construction activity is usually at the lowest point of the year. The trade war between China and the US has also created uncertainty for the Chinese, combined with stifling demand for exports to the US, and while softwood log stocks have not risen considerably during June, log stocks are expected to increase for the rest of July.
This drop in the CFR price will inevitably cause a slow-down in supply.  The South American supply chain cannot supply sustainably at this lower price level. However, there will be a period before this supply is materially affected given the length of the supply chain and like New Zealand there are vessels that have already left South America. Exporters will also be financially better off finishing a vessel with logs for which they know they will lose some money, but this is less than leaving a pile of logs to rot on a port in Uruguay.      
There will also be a reaction from New Zealand where there will be some reduction in harvesting.            
The critical question is how long before the supply and demand dynamics shift, and supply is not keeping up with demand. Through 2019 the Chinese government introduced some stimulation packages- (easier financing with lower mortgage rates, looser restrictions on home  buying, dozens of smaller cities being told to scrap the hukou residency rules permits). This has provided some confidence to the construction market. Indeed, sales for China's major excavator producers, an indicator of the vitality of an economy, also posted notable growth in Quarter 1. The country's 25 leading excavator makers sold 74,779 units in the first three months, climbing 24.5 percent from the previous year, data from the China Construction Machinery Association showed.
Activity in China traditionally picks up from September. History also tells us that in 2011, 2014, and 2015 the market rebound was relatively quick as shown in the Tauranga A-grade AWG price charted below. 
India
The Indian log market is now mirroring the downturn in China even though the softwood inventory levels are quite reasonable.  The demand for sawn timber from NZ pine remains in good shape with steady demand both from construction and packaging sectors.
The Uruguay log vessel mentioned in previous Wood Matters articles has arrived with much fanfare and billed as the first shipment of softwood logs to arrive in India outside of New Zealand. The sale price was initially pitched around US$145 per m3. One of the large buyers bought 8,000 m3 at approximately 135 USD per m3with a bulk discount. The cargo of 35,500 m3 was distributed in 33 lots to different buyers. However, as market turned south a large hue and cry was raised by buyers with three or four buyers refusing to open LCs, and now the entire market is asking the sellers for a downward price revision.  The quality of the Uruguay cargo has always been a major concern. The Elliotti and Taeda pine logs look nice from the outside but contain multiple knots, blue stain, and oily. The logs are a mix of younger ages between 15 to 25 years.
Fumigation on arrival was achieved at about US$1 per m3 but as Plant Quarantine Department put a legal case against the trader, the trader took a Court actioned stay order and discharged the vessel. The trader discharged the vessel with an affidavit claiming that Methyl Bromide was not available in Uruguay for break bulk vessel loading. If the ruling goes against the trader however, penalties could be multiple times over the costs incurred.
A second vessel (box vessel loaded only under deck) Astoria is loading in Uruguay for India with about 29,000 m3. The plan by the supplying trader is to either fumigate in Durban, South Africa en-route to India from Montevideo or work with affidavit/court stay on plant quarantine department in Kandla. This vessel is rumoured to be bought at around 128 USD per m3 levels. The sales price now seems likely to be US$10-15 per m3 below the price paid for New Zealand logs. The Durban Fumigation cost could potentially cost another US$3 or more per m3. Most players believe that the significant tumble in global prices for pine logs would force the supply from Uruguay to India to be shut down as it is to China. However, it is for the moment creating an imbalance and uncertainty in the market.
CFR log sales of New Zealand pine (current and arrivals for next 3-4 weeks)in Kandla are currently between US$144-148 per JAS m3 for A grade as since May. However, the steep CFR price drop in China has created a panic in Kandla sawn timber sales for New Zealand pine. The lumber sales price from NZ pine logs reduced from RS 511/CFT levels last month to Rs 475/CFT levels in July. Most market players are unhappy at the forced downward valuation of their inventory and purchases. The sawn timber prices are likely to hit Rs 450-460/CFT levels by end of July 2019.
Sales for logs loaded in vessels in NZ during July are between US$129 to 132 levels, but it is a dynamic environment where NZ traders are giving discounts to get LCs opened from India buyers.
In South India the market has virtually run out of log stocks as a large NZ trader had a delayed vessel loading. It was initially contracted at US$149 per JAS m3 for A grade, but then reduced to US$144. There is a fair amount of bitterness developing amongst South India players about the loading delay and the high price being charged to them while Kandla prices are correcting in a significant way. The sawn timber produced for NZ logs is selling around Rs 501/CFT. These traders are also unhappy that a large amount of sawn NZ pine is moving from Kandla to the south and mopping up customers of the South India players because they don't have enough stocks to cater to these markets and also that Kandla supplier have adjusted prices downwards
The European sawn timber continues to flow in at cheap prices. Kiln dried European pine sawn timber is available from CFR US$160 (run of mill) to  US$210 (S4S). The main supplier is the Ukraine followed by Germany, Sweden, Finland and Lithuania.
Most log traders expect the CFR price for New Zealand pine logs to continue to follow China pricing but prices are not likely go down beyond US$126 per JAS m3 for A grade levels in Kandla.
Exchange rates
The New Zealand Dollar (NZD) strengthened against the United States Dollar (USD) over June. At the end of May the NZD was worth 0.6505 and at the end of June was worth 0.67088.  This also had a negative effect on the AWG prices for July compared to June, but the effect was swamped by the drop in CFR sale prices. The Chinese Yuan Renminbi (CNY) strengthened against the USD and this will improve the buying power of the Chinese log buyers.   
NZD:USD
CNY:USD
Ocean Freight
Ocean freight rates from New Zealand to China have again increased on average US$2 for vessels on shorter term charter. Freight rates continue to be in the mid to high twenties for China and mid-thirties to India. You can get a two port load, one port discharge (2-1) vessel from New Zealand to Kandla, between US$34 to US$36 per m3.
Source: Investing.com
The bunker prices have also peaked and show a downward trend, with a slight recent increase.
Singapore Bunker Price (IFO380) (red line) versus Brent Oil Price (grey line)
Source: Ship & Bunker
The Baltic Dry Index (BDI) is a composite of three sub-indices, each covering a different carrier size: Capesize (40%), Panamax (30%), and Supramax (30%). It displays an index of the daily USD hire rates across 20 ocean shipping routes.  Whilst most of the NZ log trade is shipped in handy size vessels, this segment is strongly influenced by the BDI.  
The graph of the BDI over the last year below shows the recent increase in the BDI. (The handysize is about 35% of the global shipping fleet). 
Source: TradingEconomics.com
PF Olsen Log Price Index - July 2019
Due to the drop in the AWG and average domestic structural log prices the PF Olsen Log Price Index for July decreased $16 to $112. The index is currently $17 below the two-year average, $15 below the three-year average, and $7 lower than the five-year average. 
Basis of Index: This Index is based on prices in the table below weighted in proportions that represent a broad average of log grades produced from a typical pruned forest with an approximate mix of 40% domestic and 60% export supply.
Indicative Average Current Log Prices – July 2019
Log Grade
$/tonne at mill
$/JAS m3 at wharf
 
Jul-19

Jun-19

May-19

Apr-19

Mar-19

Feb-19

Jul-19

Jun-19

May-19

Apr-19

Mar-10

Feb-19

 
 
 
 
 
 
 
 
 
 
 
 
 

Pruned (P40)

170-190

175-190

175-192

175-192

175-195

175-195

178-183

178-183

178-183

178-183

185-190

185-192

Structural (S30)

125

132

132

130

130

130

 
 
 
 
 
 

Structural (S20)

110

115

115

115

115

115

 
 
 
 
 
 

Export A

 
 
 
 
 
 
103

140

144

145

151

156

Export K

 
 
 
 
 
 
96

132

136

137

143

148

Export KI

 
 
 
 
 
 
87

123

128

129

136

141

Export KIS

 
 
 
 
 
 
81

116

122

122

129

134

Pulp

51

51

51

50

50

50

 
 
 
 
 
 
Note: Actual prices will vary according to regional supply/demand balances, varying cost structures and grade variation. These prices should be used as a guide only..
A longer series of these prices is available here.
---
This article is reproduced from PF Olsen's Wood Matters, with permission.