China log prices rise as New Zealand and others shut down and they restart, indicating bullish prospects if the trade can get going again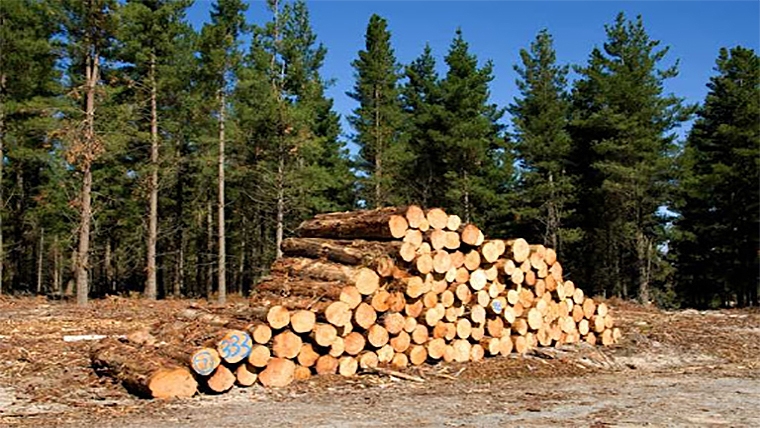 The February At Wharf Gate (AWG) prices for logs at New Zealand ports were predominantly rolled over for March. During March there have been gradual increases in the CFR sale price for radiata pine logs in China as productivity in China ramped up. A grade was selling in the 108-111 USD per JASm3 range prior to the news about the NZ COVID-19 lockdown.
The Chinese market reacted immediately to the New Zealand lockdown with wholesalers increasing their selling prices overnight by an average of 150 CNY per m3.
The combination of increased sale prices in China and the NZD weakening against the USD will see a significant increase in AWG prices when harvesting resumes. 
Many domestic mills reported near record domestic sales of structural sawn-timber during Quarter 1. Of course, this has all come to a halt with the NZ COVID-19 lockdown.
Due to some lower domestic log prices, the PF Olsen Log Price Index decreased $1 in March to $106, The index is currently $18 below the two-year average, $19 below the three-year average, and $14 lower than the five-year average. 
Domestic Log Market
Log Supply and Pricing
Log pricing has been variable from region to region with some mills initially receiving increased offers of supply, then becoming short of supply as many forest owners suspended harvesting operations.   
Sawn timber markets
Domestic demand for structural grade sawntimber has been very strong, driven by construction in the upper North Island. Many mills reported record sales. Export sales started to be affected by supply chain issues and demand due to COVID-19 restrictions in various countries.
Export Log Market
China
In the first week of March the CFR sale price for A grade radiata in China was in the low 100-104 USD per JASm3. Daily port off-take was still in the 35-50,000 m3 range. In the following week sales were confirmed at the 105-109 USD mark. This defied economic sense as stock was still building to over 8 million m3, with significant volume also on vessels.  It appears the Chinese log buyers had noticed the reduced supply from both NZ and spruce from Europe. Indication of daily port off-take in China ranged from 80,000-100,000.
The daily port off take is now variable and dropping to 20,000 some days as log wholesalers are holding volume back to take advantage of higher prices as China log buyers react to reduced supply.
The supply of spruce from Europe has ceased as well due to the lack of containers. This combined with the reduction of logs from New Zealand will see the Chinese deplete their log inventory. This bodes well for demand of New Zealand logs when harvesting restrictions are lifted.
India
India is in lockdown with strict curfews in place.  The INR is also weakening against the USD and this will reduce the buying power of the Indian log buyers when they return to work. The demand and supply balance will be dictated by the various timings of harvesting and production restrictions by various governments around the world. 
Exchange rates
The NZD weakened against the USD through March and this alone should lead to an increase in AWG prices by about 14 NZD per JASm3. The actual impact will depend upon where the exchange rate is closer to when AWG pries are posted. The CNY was relatively stable against the USD.     
NZD:USD
CNY:USD
Ocean Freight
The graph below shows the quiet China effect on ocean freight rates. There is a shortage of demand for bulk vessels so the ocean freight rates have dropped considerably and there is a wide variation in the market.  Shipping times have actually increased due to the slower discharge in China ports. There are also issues such as ex China vessels becoming quarantined, and specific personnel having to be dropped off at another port before reaching China to avoid quarantine. 
The Baltic Dry Index (BDI) is a composite of three sub-indices, each covering a different carrier size: Capesize (40%), Panamax (30%), and Supramax (30%). It displays an index of the daily USD hire rates across 20 ocean shipping routes.  Whilst most of the NZ log trade is shipped in handy size vessels, this segment is strongly influenced by the BDI.
Source: TradingEconomics.com
Singapore Bunker Price (IFO380) (red line) versus Brent Oil Price (grey line)
Source: Ship & Bunker
PF Olsen Log Price Index – March 2020
The PF Olsen Log Price Index decreased $1 in March to $106, due to some lower domestic log prices. The index is currently $18 below the two-year average, $19 below the three-year average, and $14 lower than the five-year average. 
Basis of Index: This Index is based on prices in the table below weighted in proportions that represent a broad average of log grades produced from a typical pruned forest with an approximate mix of 40% domestic and 60% export supply.
Indicative Average Current Log Prices – March 2020
Log Grade
$/tonne at mill
$/JAS m3 at wharf
 

Mar-20

Feb-20

Dec-19

Nov-19

Oct-19

Aug-19

Mar-20

Feb-20

Dec-19

Nov-19

Oct-19

Aug-19

 
 
 
 
 
 
 
 
 
 
 
 
 

Pruned (P40)

170-190

170-190

170-190

170-190

170-190

170-190

140-145

140-145

160-175

160-175

160-175

140-155

Structural (S30)

115-125

115-125

120-130

120-130

120-130

125

 
 
 
 
 
 

Structural (S20)

108

110

110

110

110

110

 
 
 
 
 
 

Export A

 
 
 
 
 
 
103

103

131

129

124

107

Export K

 
 
 
 
 
 
95

95

124

121

116

101

Export KI

 
 
 
 
 
 
83

83

116

114

108

92

Export KIS

 
 
 
 
 
 
80

80

107

105

105

85

Pulp

46

48

51

51

51

51

 
 
 
 
 
 
Note: Actual prices will vary according to regional supply/demand balances, varying cost structures and grade variation. These prices should be used as a guide only. There was no September 2019 report.
A longer series of these prices is available here.
---
This article is reproduced from PF Olsen's Wood Matters, with permission.