What will farmers find when we move out of lockdown? Guy Trafford reviews the moving landscape for saleyards, prices and markets. And the Courts insulate the Government from any duty of care to its citizens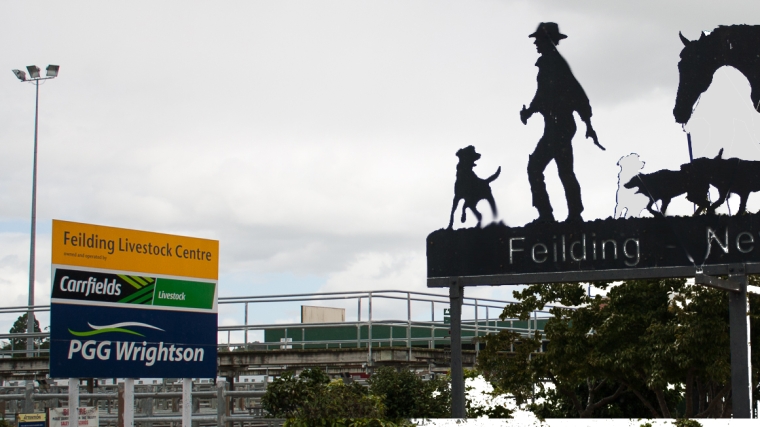 A return to normality is close with Alert level 2 coming in on Thursday. Unfortunately for most saleyards this has come too late in the week for companies to get into gear with only Fielding Saleyards which are held on Friday appearing to open. The rest will be opening next week.
Perhaps what has been disappointing is the lack of visible communication from seemingly all the livestock companies about what is open and what is not.
Given the companies and most saleyards have an online presence a simple update of the status of yards would save having to hassle a lot of stock agents. However, at least now we know and can begin to plan for winter stocking levels.
The grip of drought on Hawkes Bay farmers seems relentless and the help being offered from other regions must help morale. Whether saleyards being open will make a difference is unclear but at least it gives farms another option.
Once next week is over it is going to be interesting to see how livestock prices compare to pre-lockdown prices.
In a normal season by now we would be seeing winter premiums starting to kick in. This year who would know what to expect? If rumours are correct, there is a of a dearth of lambs around with most in both Islands going to processors earlier in the season and some trading has also taken place outside of the saleyards. Apparently, the works are catching up to the mutton supply and there may be some demand for them coming through as well.
What could have been expected to be a casualty of the lockdown was the weaner cattle sales but even they may not be as grim as they might have been. At least for the larger and better grown lines who by and large have found homes with purchasers from previous years. As with all livestock lines it will be the lesser quality lines that would have found difficulty being sold.
The schedules this week again showed little movement, with what there was being a slight shift up for mutton and prime beef.
However, when it came to venison it was a different story. Silver Fern Farms have knocked -$2.00 per kg of their schedule with the caveat that they may provide a top up at the end of the season. Alliance have trimmed -50cents off their meat price. This brings the average New Zealand price down to $5.38 per kg. The collapse has been well signalled with the closure of Northern Hemisphere restaurants, the traditional outlet of most of New Zealand's venison. Most of the meat has already been sold for this season, however, as with dairy prices, it may be next season where the pain is really going to be felt.
In the USA, Trump twittered "Starting early next week, at my order, the USA will be purchasing, from our Farmers, Ranchers & Specialty Crop Growers, 3 Billion Dollars worth of Dairy, Meat & Produce for Food Lines & Kitchens," Most commentators believe that this is part of the US$19 billion package announced earlier in April. However, the White House is not commenting. With Food Banks reportedly running out of staples there will be plenty of demand for Government purchased produce.
Unfortunately, there have also been reports of pigs being euthanized due to the closure of processing plant and crops being ploughed in and destroyed due to the breakdown supply chains. The breakdown in the meat supply has led some economists to forecast by the end of May a 30% reduction of meat in supermarkets, and being sold at a +20% premium. In an irony that could only come out of the States, just when the USA is at most need of its own production the USDA have reported that over the same period as the plummeting production, exports to China were up +40%.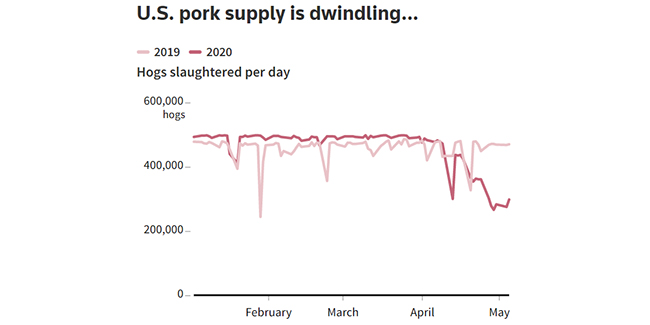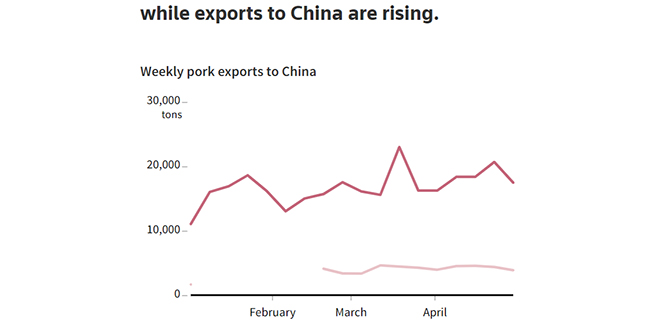 Note: Export data is unavailable for January and early February 2019 because there was a government shutdown. Chart shows export figures for weeks ending on Thursdays and compares data for equivalent weeks in 2019 and 2020. Thursdays in 2020 fall one or two days earlier than they did in 2019.
Source: U.S. Department of Agriculture
The fact that Smithfield Foods which is one of the largest pork processors is owned by China's WH Group will not help the mood of the public and likely contribute to the call from many politicians to bring more manufacturing back to the US, and in this case to remain in USA ownership.
In the EU food supply does not appear to be too much of a problem although issues of exporting between countries has emerged. The major concern appears to be getting enough labour to harvest crops. This work traditionally has had a large migrant worker component and many of these people have returned to their home countries due to little financial support where they have been working.
The biggest issue for EU producers appears to be a drop off in demand as school food programmes have closed and demand in general has dropped. This has led to a fall in prices and the disrupted supply chains leading to a rise in costs. To date not a lot of financial support has been forthcoming over the norm (which has still been considerable). The future 2021-27 EU agricultural budget vote, which is currently under negotiation, is likely to have the agricultural support budget (which makes up 40% of the total budget) be linked to positive environmental outcomes (sound familiar). EU farmers are vocal in the best of times and it is likely we will not have heard the last of this. New Zealand's attempt to get a free trade agreement with the EU has not surprisingly gone quiet and is likely to meet increased opposition from EU farmers if they are feeling under increased financial pressure.
With, hopefully, a return to some form of new normal for New Zealand the next cab off the block is Thursday's Budget announcement. Already with another NZ$4 billion going into health plus the huge financial package to try and support the nation in general it is unlikely that agriculture will get much targeted funding.
One area that  may start to achieve greater awareness and additional funding are controls at the border to keep out any number of alien threats.
The government, for now, has dodged a bullet in the case being brought against it by kiwifruit interests with the Court of Appeal ruling in favour of the government saying while MPI were negligent in allowing the infected kiwifruit pollen into the country through providing the permits required to import it however Kiwifruit Claim chairman John Cameron said. "… they found the Government does not owe a duty of care to ordinary New Zealanders and can't be held liable for its actions, simply because it's the Government," he said in a statement. "The decision by the Court of Appeal relied upon an interpretation of the Crown Proceedings Act that effectively means the Government can't be held to account for any wrongdoing."
It is likely the kiwifruit group will be seriously reviewing options to take their case to the Supreme Court. The case will prove to be of interest to many watchers as the Court of Appeals finding the Government does not owe a duty of care to ordinary New Zealanders will have raised a few eyebrows.