Guy Trafford tracks the underlying demand from China for animal feed and notes that product moves no matter what the political pressures are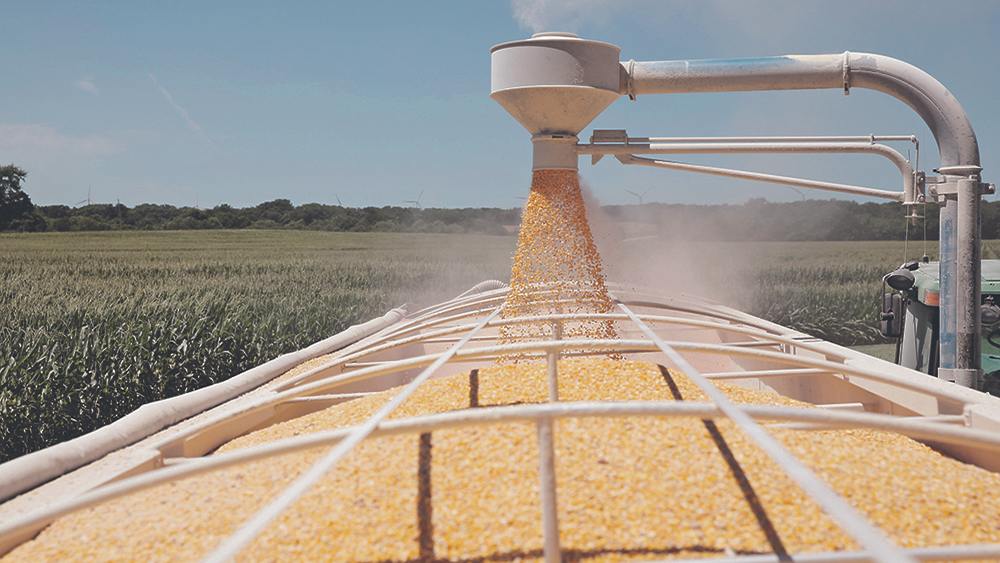 One thing the tensions between China and the USA (or Xi and Trump) has shown is that despite or the rhetoric, trade can still overshadow politics.
As spoken about before the coronavirus turned everything upside down China had agreed on a deal to increase trade with the US through a Phase 1 and Phase 2 agreement. It was looking as though China may renege or purchasing what was agreed and they would have been entitled under a force majeure clause created by the pandemic. However, to date they have not gone down this path. Up until recently they have been behind what was agreed but given the constraints in logistics on both sides of the Pacific understandable and neither side appear to be creating any great fuss over this (not to say there is not a lot being said over almost everything else).
This week however, China has taken a step towards making up at least some of the shortfall. An order for 1.762 million tonnes of corn for delivery in the 2020-21 marketing year beginning in September has been made. This is the largest single order placed by China (probably anyone) and comes on the back of having also bought 1.17 million tonnes of US soybean this month. A similar amount of soybean was bought in June when no corn was bought. However, since March when China started to make bulk orders from the USA nearly 4.2 million tonnes of corn has been purchased.
Apart from soaking some of the USA crop some interesting signals may be emerging from China (all politics aside). It appears that government reserves are being depleted at a faster rate than what was earlier expected. This is largely due to the growing recovery of the national pig herd after being decimated by ASF. Currently, corn prices in China are hitting record highs at a time of international prices being low and analysts are estimating there are only two months supply in storage (still a massive 50 million tonnes).
China's own production has been depleted due to floods and the removal of incentives in the Northeast due to excessive supply back in 2016-17. The bulk of China's corn imports come from Ukraine which has lower prices than the USA although given that some of the stored corn may have quality issues the cheaper price may be for a reason.
Potentially another reason China may be growing its feed reserves is that it is nervous about what is over the horizon. A similar thought was proposed by ASB senior economist Chris Tennent-Brown in regard to the strong buying by China of Whole Milk Powder at the latest GDT auction. He limited China's concerns to "the acceleration in global Covid-19 cases and increased potential for logistics disruption" which makes perfect sense. However, China is fighting political fires on many fronts at the moment and any one could lead to constraints with trade.
Meanwhile in the USA the additional US$600 per week on top of the usual unemployment benefit is about to come to an end. Both the Republican and Democratic parties have agreed that it needs extending but the time taken to get this done appears to be going to leave a gap in payments. Despite the generous COVID-19 package for those losing jobs the unemployment rate in the States has actually decreased for a high of 14.7% in February which it shot up to after being at a record low of 3.5% at the start of the year. It is now at 11.1% however, this still means a massive 18 million are drawing on the unemployment benefit.
Some in the USA are saying that the lower unemployment rate indicates that the recession (or pancession as it is now starting to be called) is over. But, with many states hitting record high infection rates and this second wave still not translating into a surge in deaths which is expected to come the odds of clear skies ahead looks distinctly unlikely. Even the promise of vaccines becoming available is being treated with scepticism with one survey quoting that over 50% of those surveyed wouldn't take a vaccine, yet, as they don't trust the safety due to the rushing through due process.
At the same time African countries are expressing concern that they may be left off the list of early receivers due to their lack of dollars for purchasing ahead of western nations. They want an equitable system of distribution between nation agreed to now before the rush kicks in.
The UK has already put an order in for 90 million and 100 million doses of two likely vaccines. Within the US, given their propensity to sort out issues through litigation, it has surprised me for some time that there is no news of legal action being taken against the President for his lack of leadership of the COVID-19 outbreak which has lead to 1,000's needlessly dying. A similar action was begun back when Obama was President and continued to Trump's administration over the USA's contribution to climate change. In this case, back in January, the federal appeals court threw out the case with one Judge stating "the government bluntly insists that it has the absolute right and unreviewable power to destroy the Nation." and advised the young plaintiffs to seek remedy for climate change from Congress or through elections. It would be interesting to see how a COVID-19 action would go.
Perhaps fortunately the elections are likely to get rid of the Administration before the courts could rule. However, it would be interesting to see politicians held to account by the same laws mere mortals are.