Selling high quality dairy products into China comes with all sorts of different tensions, from big power rivalries to dealing with suppressed consumer suspicions. It is a high risk trade even with exemplar products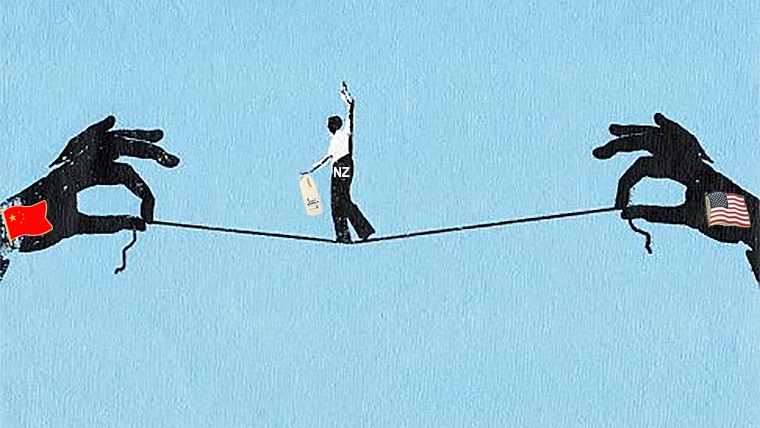 With our Government now falling into line with the other 'Five Eyes' partners by annulling the extradition treaty with Hong Kong, the risks of upsetting the Chinese authorities raises its head.
The delay in the declaration has probably been wise as it has allowed international focus to largely move away from the politics around Hong Kong and China and has not rubbed salt into Chinese pride. The more ethically minded among us may feel that we could have acted sooner and may have made more 'noise' about the injustices being meted out by the Chinese Government on a number of fronts. However, the New Zealand Government has been walking a narrow tight rope stretched between not wishing to upset China and losing our largest trading partner and upsetting our traditional allies and the benefits that they bestow.  (This column could be read in conjunction with yesterday's article).
The issue has been well discussed in the recent past but it is a reminder of how easily led the Chinese consumers are, and how well they respond to opinions passed down from up high.
Currently it is government 'policy' that they should drink more milk to strengthen bones and boost immunity. Quoting a China news source; Parents "should prepare enough milk and eggs every morning for your children…no congee should be allowed as breakfast," said Zhang Wenhong, a doctor at the infectious diseases department at Shanghai's Huashan Hospital and one of China's most outspoken critics of the nation's diet since the start of the Covid-19 outbreak.
It is releases like this that has led to the rapid increase in the consumption of dairy products in China.
Currently milk consumption is 34 litres per capita, still only one third of what countries like New Zealand consume but growing and showing what the potential of the market could be.
However, what the Government giveth it can also taketh. A case in point is what has happened to one of China's leading alcohol producers, Kweichow Moutai. It lost US$25 bln in value after a comment on a Government controlled WeChat account just happened to mention that Moutai's products are often involved in the country's official corruption cases and used for bribery. Criticism doesn't even have to be overt in these days of social media and innuendo is enough to have a heavy impact on targeted companies.
Closer to home, Yili and Mengnui (China's largest two dairy companies with Yili having considerable interests in New Zealand, notably Westland and Oceania) have come under scrutiny by some. The Sanlu melamine scandal of 12 years ago is still fresh in the mind of many Chinese consumers and they are quick to pick up the slightest sniff of a wrongdoing. So, when a WeChat post headlined "Six major sins of Mengniu and Yili, which the media dare not tell, so I'll tell" goes out, many take notice.
The article 'exposes' the decades-long history of China's two dairy giants, Mengniu and Yili, accusing them of adding various chemicals, such as fatty powder, whey powder, and melamine to their milk when their gross profits were as high as 70% or even 80%, making such practices a tacitly recognised hidden policy of the country's major dairy enterprises. The article also revealed that the two companies had pushed for changes in national dairy standards and lowered the quality and quantity requirements of milk products for their own benefit. The article also accused the two companies of having a poor production environment, deliberately raising the price of milk powder, exploiting dairy farmers, and neglecting the interests of consumers, resulting in a "complete decay of China's dairy industry from its source to its end".
In this case the Chinese Government appears not to want to see the major domestic dairy players brought into disrepute and the original WeChat article was swiftly deleted, by force. However, screenshots of the article went viral on social media, before being deleted too. Wang, the author, was abruptly arrested but was released the following day. To give an idea of the coverage, Yili normally gets about 900,000 WeChat searches daily, but these flew up to 21 mln on 20th July when the post was being distributed. Likewise, Mengnui went from 1.5 mln to 15 mln.
In this case social media has strengthened the place of imported milk products into China but it also highlights how easy it is to lead the consumer and their spending behaviour. Whether there is any truth in the claims against Yili and Mengnui is unclear but the point is that scrutiny food, and in particular milk, is in the Chinese psyche.
So, back to the initial comment about the tight rope the our Government has been walking. To date it has been a successful passage but as China increasingly thumbs its nose at international opinion (or much of it) and as the USA tries to wrestle its place back to where Trump believes it should be, this passage New Zealand is walking is going to become increasingly difficult.
Rightly or wrongly as an exporting nation we can only hope that a) China values the quality of our food products and b) has bigger fish to play than us.