Climate change will probably have the greatest impact on agriculture here through changes in climate variability and climate extremes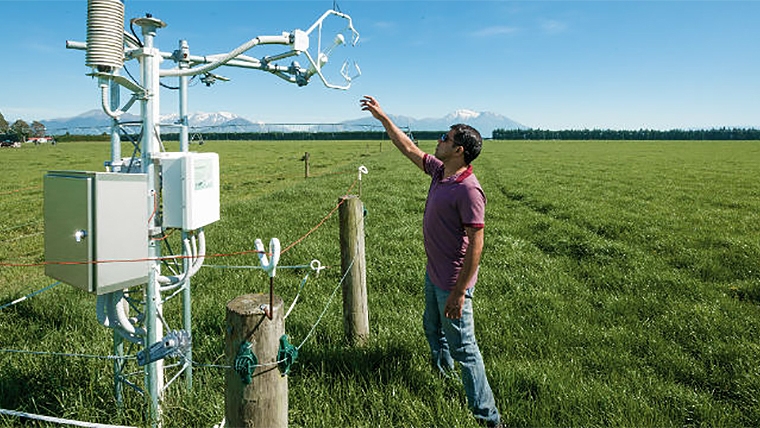 New Zealand farmers and growers are increasingly required to manage risk associated with climate events, and this will continue into the future with the possibility of increased risk in some regions.
Petra Pierce from NIWA says eastern regions could experience more frequent, and potentially more severe droughts through a combination of higher average temperatures, reduced average rainfall, and greater variability of rainfall.
Western regions, and possibly some eastern regions, could be more prone to flooding and erosion from high rainfall events.
Pasture production will generally increase an extended growing season. There may be a reduction in feed quality in pastures as far south as Waikato, with an increased incidence of subtropical species.
Feed quality may also decrease further in dry eastern regions, with more frequent drought leading to changes in pasture composition. Arable crops may generally benefit from warmer conditions. However, potential yield increases will require higher fertiliser inputs.
Availability of water for irrigation will be an important factor to achieve the potential gains, particularly in Canterbury, where there will be increased drought risk.
Hayward kiwifruit may become uneconomic in the Bay of Plenty in the next 50 years under mid to high climate warming scenarios, although the current industry expectation is that this variety will continue to be its mainstay. Apple production is unlikely to be adversely affected, although there could be greater risk of heat damage in future and availability of water for irrigation may be an increasingly critical issue.
There are a number of unknowns both with regard to basic climate changes and their impact on agriculture. While the existence of a human influence on climate, and projections of a trend towards higher future temperatures and a shift in rainfall patterns is considered reasonably robust, projections of absolute changes in particular regions are still highly uncertain and are usually considered as a set of scenarios. Within the agriculture sector, uncertainties about the impacts of those changing scenarios particularly relate to changes in pest and disease profiles in different regions, changes in soil fertility, and changes in water availability.
Technology and improved genetics will play a part in the Agri sector'ss role in mitigating climate change, as I have talked about over the past few weeks, farmers have come a long way in their practices and the environmental improvements are there.
The Agri sector is vital to New Zealand's economy and the demand for food across the globe is only going to increase, so it is important that any methodology that results in lower emissions also maintains or increases productivity.
Through improved genetics there are variations among animals in methane emissions per unit of feed intake and these variations suggest that there may be heritable differences in methane production. Trials suggest that animal breeding could achieve a 10–20% reduction in methane emissions.
While breeding for reduced methane emissions may not be compatible with other breeding objectives, breeding for improved feed conversion efficiency or lower net feed intake should be compatible and is likely to reduce methane emissions and the greenhouse gas intensity of animal products.
A range of dietary supplements and feed alternatives is being trialled to assess whether they can reduce methane emissions from livestock. Supplements being considered include oils, fats, tannins, probiotics, nitrates, enzymes, marine algae and Australian native vegetation.
Methane abatements of 10–25% are possible by feeding ruminants dietary oils, with 37–52% abatement achieved in individual studies in Australia. Plant secondary compounds, such as condensed tannins, have been shown to reduce methane production by 13–16%, mainly through a direct toxic effect on methanogens. However, high condensed tanins concentrations can reduce voluntary feed intake and digestibility.
Improved forage quality and pastures with lower fibre and higher soluble carbohydrates can reduce methane production in livestock. Being structural fibres, cellulose and hemi-celluloses ferment more slowly than non-structural carbohydrates and yield more methane per unit of feed digested.
Methane emissions are commonly lower with more forage legumes in the diet, partly because of the lower fibre content and a faster rate of digestion and in some cases, the presence of condensed tannins. As improved diet increases animal growth and reduces methane production, it has the effect of reducing the greenhouse gas intensity of the animal products.
Pasture quality can be improved in several ways including by plant breeding that use different pathways to capture carbon dioxide, or grazing on less mature pastures. Again, in Australia, several alternative plant forages, such as broccoli leaves and some native plants, have been shown to reduce methane emissions. Improvements will also be made through improved machinery emissions and a reduction in machinery hours needed as farming systems continue to improve and become more efficient.
While there are many challenges in front of farmers, these challenges will almost certainly be met. We are entering an interesting time, the planet needs to be fed and the farming industry will continue to meet those demands whilst supporting our environment.
To get the full story listen to or download the podcast above.
---
Angus Kebbell is the Producer at Tailwind Media. You can contact him here.