Guy Trafford digests Fonterra's result for the year just gone and looks ahead at what the current season may bring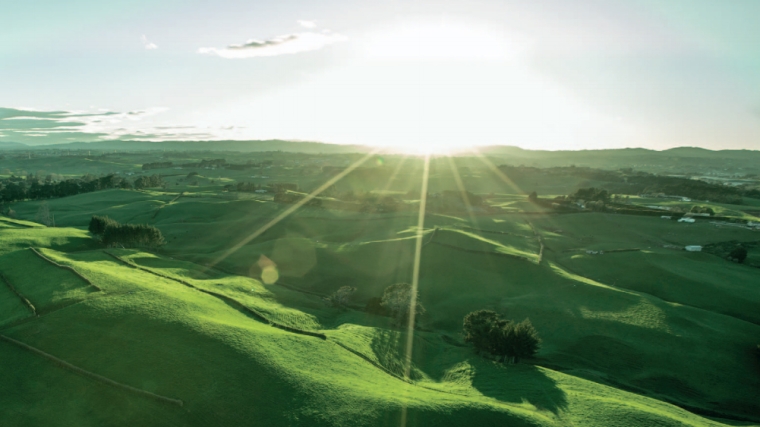 The Fonterra financial results were released on 18th September. It was perhaps a little surprising coming out on a Friday. If it was a political party 'we' would assume it was bad news that would be quickly overtaken by the weekend. However, this was not the case and the turn around that has been achieved by the Co-op has provided a very credible result and one that would have been difficult to predict, say, 18 months ago.
A summary of the key points of the results announcement are below:
Final cash payout for 2019/20 season: $7.19 per kgMS

Final 2019/20 Farmgate Milk Price: $7.14 per kgMS
2019/20 dividend: 5 cents per share

Reported Profit After Tax: $659 million, up $1.3 billion 
Normalised Profit After Tax: $382 million, up $118 million
Total Group Earnings Before Interest and Tax (EBIT): $1.1 billion, up $1.2 billion
Total Group normalised EBIT: $879 million, up $67 million
Total Group normalised gross profit: $3.2 billion, up $200 million
Total Group normalised operating expenses: $2.3 billion, down $14 million
Free cash flow: $1.8 billion, up $733 million 
Net debt : $4.7 billion, down $1.1 billion 
Debt to EBITDA ratio: 3.4x improved from 4.4x
Full year normalised earnings per share: 24 cents
2020/21 forecast Farmgate Milk Price range: $5.90 - $6.90 per kgMS. Mid-point of $6.40 per kgMS
2020/21 forecast earnings: 20 – 35 cents per share 
Fonterra CEO Miles Hurrell says 2019/20 was a good year for the Co-op, with profit up, debt down and a strong milk price.
"We increased our profit after tax by more than $1 billion, reduced our debt by more than $1 billion and this has put us in a position to start paying dividends again," he says.
Looking back at previous year's results shows how the fortunes have changed dramatically even just over the last five years.

Notable is the reduction in spending on capital items and as Hurrell says, the reduction in debt. Still on the books to be sold off are; China Farms and DPA Brazil.
The financial situation with China Farms has improved with gross profit lifting $47m from -$33m to a gross profit of now $14m. However, it still operates as a net loss on the Co-op and it is unlikely that the "for Sale" sign will be coming down.
The DPA Brazil operation looks less likely to find a purchaser in the current environment and both businesses' are classed as: "'held for sale' and 'Discontinued Operations' in financial accounts."
When looking at the Food service sector returns (below) it reinforces how China is carrying the Co-op's fortunes and other regions are being (still) seriously affected by the pandemic. This trend is most likely to continue into the current season.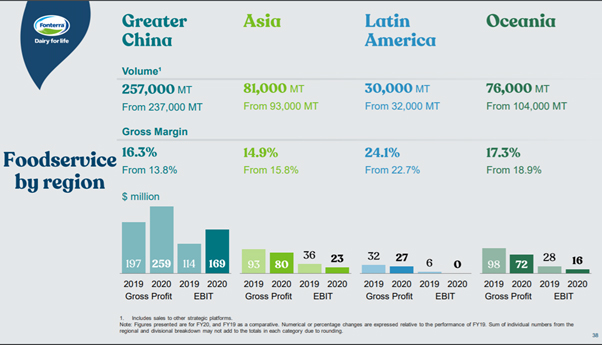 When it comes to Consumer products (below) the picture is less clear and the Q4 shows the impact of "challenging market conditions in Hong Kong and Chile".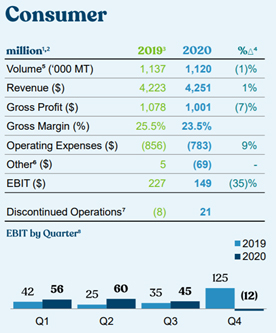 Fonterra's share price had a mildly positive reaction to the results, which had been widely forecasted, going from $4.00 per share to $4.05.
Interest now will look to the future and how the Co-op is able to perform in the 2020/21 season. To date the forecasted price of $6.40 (mid-point of the $5.90 - $6.90 range) is still being used and unlikely to change unless something dramatic happens. The dividend, at present is forecasted to be in the 20 – 35 cent range. This seems on the high side and also it seems the be the one payout that Fonterra are prepared to trim when things get a bit tight. With the potential for things coming in from left field that could be quite a high probability. Given climate and Covid-19 are already on the radar the next cab is likely to be political and that could work both ways.
On farm, there was a lift of farms having "Farm Environmental Plans" from 23% to 34%, which is a move in the right direction although hardly a major shift.
The growing likelihood of a GHG emission controller for cows (and arguably other ruminants) is likely to be where the greatest gains come from for GHG emissions from the dairy sector. The seaweed based product has received additional funding and is getting closer to becoming a reality. While transport energy is the major contributor to climate change, there are 1.5 billion cows in the world. Each year over the next two decades, the greenhouse gas (GHG) output for those 1.5 billion cows is greater than the GHG output from China, the largest GHG emitter by country in the world. Wouldn't it be nice if dairying could be responsible for 'saving the world'?