Guy Trafford notes that as climate impacts steadily rise, we are making only half-hearted efforts to meet our international obligations as Governments press harder on agriculture but leave urban voters largely unaffected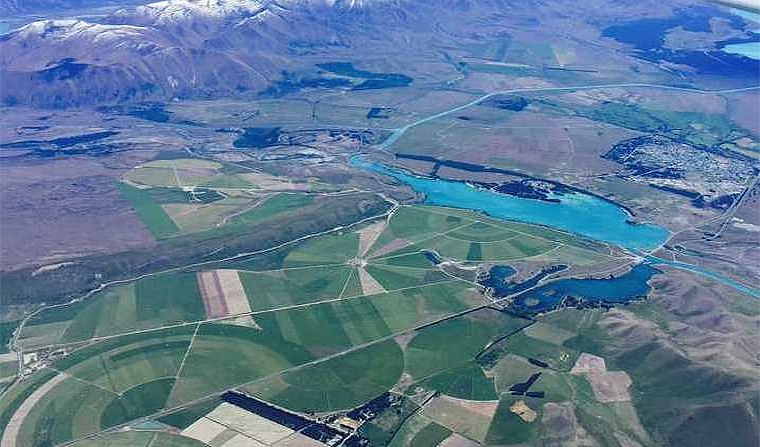 The folk at NIWA climate forecasting must wonder why they bother going to work some days. Looking back at the September update on the weather for the October to November (inclusive) period no particular signs were ahead for what was in store - particularly for Hawkes Bay but also for the country in general.
Rainfall was a bob each way prediction as was temperature, although the cooler percentage was a tad higher than could be expected given the general trend of late. One thing the forecasters have been correct on though, is the increase in the extremes.
Last week, taking place in Auckland was the Climate Change and Business Conference. Some of what the focus is going to be about is the recently released "Our Atmosphere and Climate Report".
While nothing in it is particularly new it is a reminder of what is ahead of us and given the relatively small shifts in temperature to date and the large shift in weather extremes, farmers at least should be considering climate in all future planning.
Given that climate change and its impacts is probably going to dominate news in the years to come it is worth having a 'touch up' on where we in New Zealand stand at the moment.
Taking a condensed view at what the climate is doing first; the national average temperature has risen by 1.13 (±0.27) degrees Celsius since 1909, at an average rate of 0.10 degrees per decade. That rate of increase sounds relatively mild and will allow 'us' to keep up with adaption. However, in the last 30 years that rate has trebled to 0.31oC per decade. Future predictions vary but 0.2oC per decade seems to be accepted, at least for the next few decades.
Drought or at least dry periods are becoming more common and extending in length. Auckland for example experienced its longest dry on record with 47 days dry in early 2020, well above the average length of 10 days for 1960–2019. Hawkes Bay and Northland came close to, if not having their driest season on record also.
Sea level rise, as a result of climate warming, has shown a similar pattern to temperature. New Zealand's mean relative sea level has risen by 1.81 (±0.05) mm per year on average since records began more than 100 years ago, and the average rate for 1961–2018 was twice the average rate for the time period since records began to 1960. Storm surges increase the impacts of rising sea levels.
The warnings scientists are putting out now are little different to what was being said a decade ago. What is different is that now we are also experiencing the impacts instead of just talking about them. Back in 2018 as part a Stats NZ data graphs were constructed of the New Zealand's population concerns around environmental issues.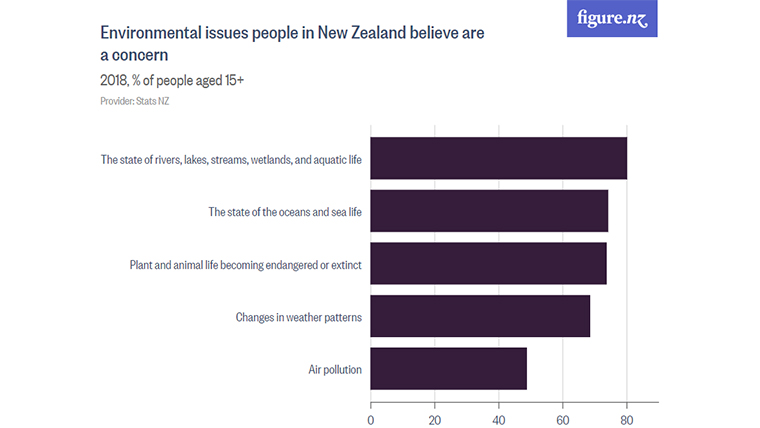 Weather patterns while ranking high still did not match other issues, notably the state of waterways and wetlands etc. I suspect the gap may have closed if the survey was done again now. Especially after the last 12 months with the number of wildfires in Australia, the USA and increasingly here. I also suspect that people focus more on what they believe can be changed, whereas climate is largely out of New Zealanders control.
Under the Paris Accord, New Zealand has committed to reducing future emissions
5 per cent reduction below 1990 gross emissions for the period 2013-2020
30 per cent reduction below 2005 (or 11 per cent below 1990) gross emissions for the period 2021-2030.
As can be seen in the below graph 'we' are well short. Agriculture has been a major contributor, but the biggest increases have come from transport. Road transportation emissions in 2018 were up 2.0 percent from 2017 and up 101.6 percent from 1990.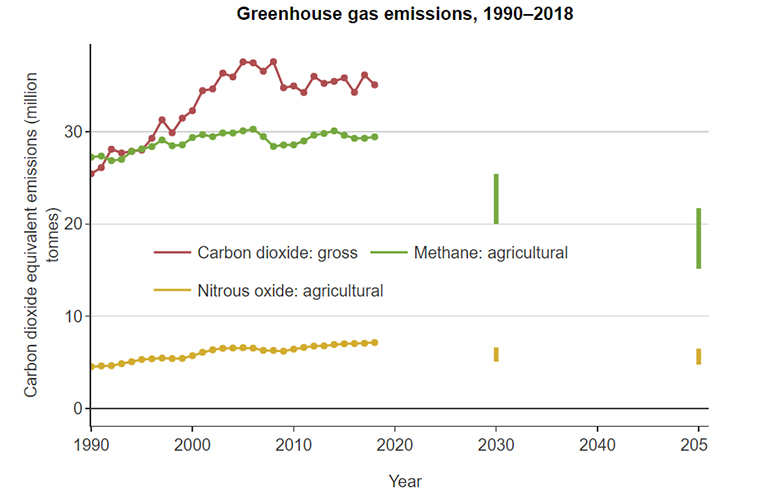 Methane emissions from livestock in 2018 were up +8.3% from 1990, and up +0.5% from 2017.
There are not many of us who are not responsible to some degree for the transport contribution but Government seems content to let the ETS component of fuel remain as the only means to dissuade drivers from adding to the problem and yet this area is far and away where the largest growth is taking place.
In the meantime, more taxpayers money is being poured into roading infrastructure.
A random fact I heard the other day is that cycling is 22 times more efficient than motoring when it comes to GHG emissions and yet cities are providing little provision to encouraging cyclists when this could provide real improvements. New Zealand still lags behind the rest of the world when it comes to incentivising people to switch to electric vehicles and public transport is severely lacking. In the meantime, agriculture is trotted out as being to the forefront of tackling its emissions and it is where most of the pressure is being applied by Government. The report says: "Carbon dioxide emissions from transport are projected to be 14 percent lower in 2035 than levels estimated for 2020. Because vehicles are replaced slowly in this country, it will take longer here for the effects of improved fuel efficiency and more electric vehicles to affect our emissions than in other countries (MfE, 2019)."
To date there is little evidence of any action to steer our transport emissions to meet this outcome (COVID-19 aside).
 At the moment New Zealand hasn't a hope in hell of meeting the Paris Accord requirements but we have had a history of being strong on rhetoric and not being able to show the results in reductions. Per capita, New Zealand is the 17th worse of the 34 OECD nations with 7.7 tonnes of CO2e. Perhaps not surprising the USA and Australia are 1st and 2nd respectively.
The irony is, no matter what actions New Zealand takes it is going to matter very little in the global sense. With total emission a tadge over 0.1% of global emissions our contribution is almost purely symbolic. The most positive news to date on global climate issues is the imminent removal of Trump from the US presidency and the USA re-joining the Paris accord.