Rebounding global demand is primed to send global meat prices higher over 2021. Meanwhile, global meat supply will struggle to keep up with demand. The main constraint on farmgate prices this year will be a strengthening NZ dollar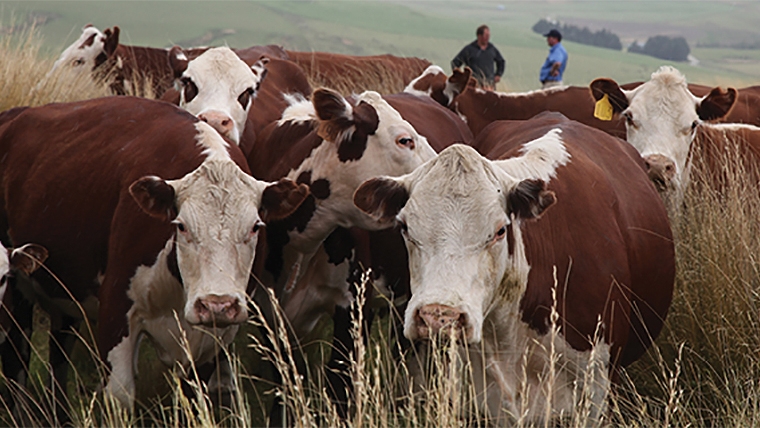 This article is a repost of the Westpac publication Monthly Meat Matters here. It is used with permission.
---
By Nathan Penny
Key global meat prices are on the rise. For example, two prices of relevance for New Zealand, US bull beef prices and EU lamb leg prices, have both jumped around 10% so far over 2021.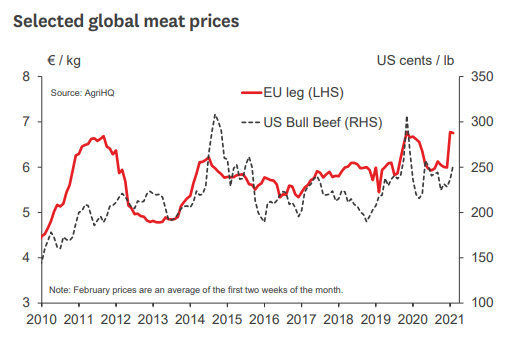 And we expect prices have further to run over 2021. In terms of export markets, we anticipate that Covid vaccine rollouts will boost meat demand, first in the US, and then later in the year in the EU and the UK. This boost will add to the demand strength already present in China.
The broad strength in our key export markets will translate into broad strength across all meat sectors. That means venison prices, which have been hardest hit by Covid, are also likely to turn the corner as European (German) meat demand returns. Similarly, fine (and mid micron) wool prices are likely to lift as strength eventually returns to Northern Hemisphere apparel markets.
High prices for other key (agricultural) commodities are consistent with the case for higher global meat prices. For example, the FAO World Price Index, which includes key grain prices as well as meat and dairy, has surged to its highest level since 2014. In addition, Brent oil prices are trading above US$63/bbl as at the time of writing, essentially back at their pre-Covid levels.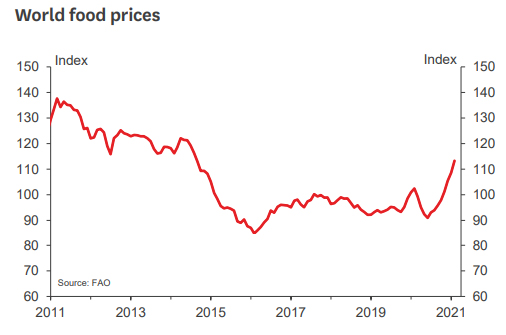 Meanwhile, global food supply is struggling to keep up with surging demand, causing high grain (feed) prices. That is going to constrain global supply of meat (and to a lesser degree wool). We think that this dynamic also has further to run and will add to the upward price pressure over 2021.
At the same time as global meat prices are rising the New Zealand dollar is also likely to firm. As a result, farmgate prices will not reflect the full rise in global meat prices. Nonetheless, we expect farmgate prices to generally track above 2020 levels over 2021. Note though that seasonal patterns in farmgate prices will still apply, notably for lamb prices. All up and those caveats aside, 2021 is shaping up as a healthy year for farmgate meat prices.
Sector snapshots
---
Lamb
Farmgate prices dipped sharply to start the year, but have since stabilised. The initial price dip was significant, with January prices averaging 36 cents per kg (5.2%) lower than the December average. By the end of January prices have stabilised and February prices to date are beginning to hint at a lift.
From here, we're picking a gradual return to strength in lamb markets and prices. As mentioned above, while the Chinese and US markets are firm and firming, the EU and UK markets are likely to remain soft before they pick up later in the year. As such, we expect farmgate lamb prices to trend largely sideways in the short term, before they pick up strength from around mid-year. Meanwhile, farmgate mutton prices are likely to outperform on the back of very strong Chinese demand.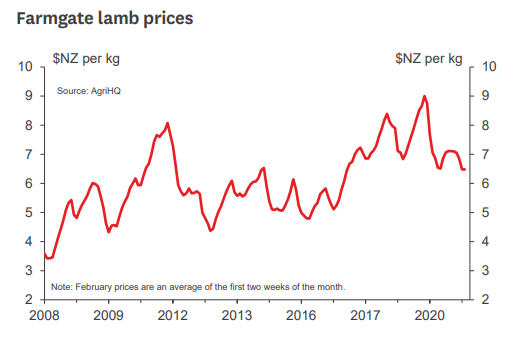 ---
Beef
Farmgate beef prices have dipped since the end of 2020. However, this dip masks a price turnaround. Notably and as mentioned above, US beef prices have jumped more than 10% so far this year.
Moreover, we expect this positive trend to continue over 2021. In the key US market, the vaccine rollout is going well, and this should boost the economy and in turn meat demand. Meanwhile, the Chinese economy remains strong, further underpinning beef demand. On the supply side, grain (feed) prices are high which will constrain the supply response to higher prices. While the firm New Zealand dollar will cap returns to a degree, we expect farmgate beef prices to head higher over the year.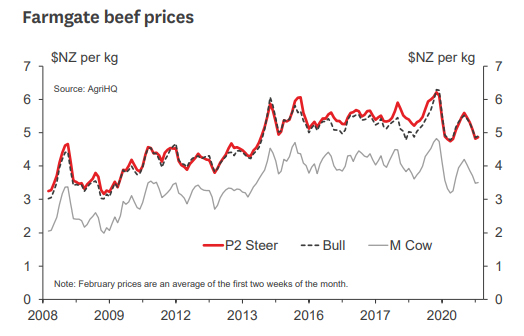 ---
Venison
Venison prices have remained very weak so far over 2021. Indeed, prices have slid an additional 2.9% to date this year.
However, we see light at the end of the tunnel for venison producers. In the key German market, vaccine rollout will help boost demand and venison prices over the year. Mind you, the pickup will be gradual, reflecting the relatively slow pace of growth in Germany. With that in mind, we expect the farmgate price pickup to materialise from around mid-year.