Angus Kebbell talks to Nick Taylor about how one North Canterbury region turned its communities into active, thriving and diverse social centers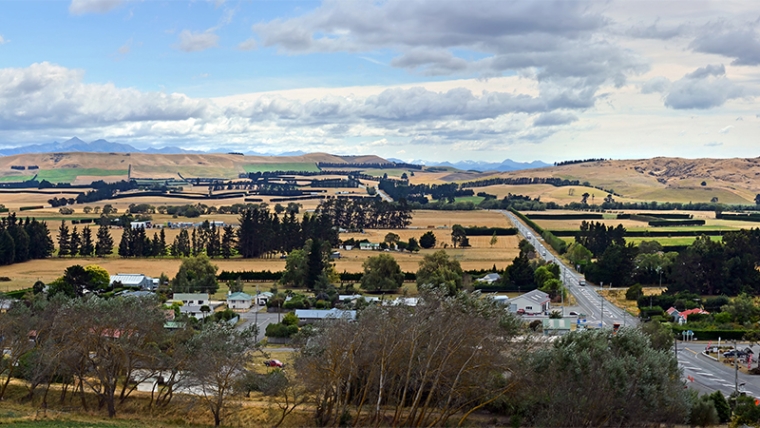 Another sheep and beef property goes out the gate for carbon farming this time in Otago, I have talked about carbon farming on this show on more than one occasion is in my view we need to do something about it immediately. I have had David Norton on the show previously talking about carbon farming among other things and he has some great views which I agree with and you can catch that episode here.
The Emissions Trading Scheme will not reduce New Zealand's greenhouse gas emissions without having strong measures put in place to prevent the conversion of huge areas of productive land into carbon farming. If preventative measures are not put in place the focus will be taken away from actually reducing fossil fuel emissions, which are required to address climate change. The Government needs to place significant limits on the amount of carbon farming available through the ETS to offset fossil fuel emissions.
It is vital there are safeguards in place to prevent fossil fuel emitters from having a free reign to offset all of their pollution on our landscapes, at the expense of a sector that is worth 16% of New Zealand's exports and provides over 90,000 jobs. Furthermore the social implications to our farming communities will be significant via a dramatic reduction of jobs and services available in our communities.
Today I am talking with Nick Taylor from Taylor and Associates to discuss a report he produced looking at the social benefits irrigation has brought to the Amuri Basin in North Canterbury, have a listen to our conversation as it raises some interesting findings.
In this interview we discussed what the social benefits irrigation can bring to a rural community. Many east coast areas right now are very very dry. While environmental impacts and climate change are currently being addressed through significant programs and groups, many of which are being discussed on this show. I still think we are underutilising irrigation in this country. The obvious benefits are economic for our farmers as they have greater control over their ability to grow feed for their livestock or whatever agricultural activity they are engaged in  – water is critical to achieve their economic outcomes, and whether the individual agrees or not, NZ actually has an enormous amount of water that flows through it's valleys and rivers, plains, underground and out to sea. How it is managed both coming onto the farm and indeed out the other end is another conversation.
And of course the other benefit is the social benefit which is what Nick Taylor and myself talk about. The outcomes he found in the Amuri Basin were that water transformed the landscape and brought considerable social change to the irrigated area and its towns, people and communities.
The fundamental driver was the conversion from dry-land farming of sheep and beef, with limited cropping, to dairy farming. The accompanying changes in farming type, irrigation technology, herd size, farm ownership, management systems and employment meant:
 • The population of the Amuri held relatively steady up to 2001, a period when other areas had falling populations. The rate of population growth peaked in the 2001–6 period and was greatest for the irrigated areas, compared to the towns.
• The land-use changes with irrigation brought a younger population with higher levels of tertiary qualifications and this has largely remained the case; although the working population is now older there is also regular introduction of younger workers, managers and families. The townships also have an increasing proportion of older people.
• The Amuri Basin, along with the rest of the Hurunui District, has employment dominated by the agricultural sector, and dairy farming in the irrigated areas. There is some increase in the visitor and hospitality sector.
• There has also been a marked increase in the number and proportion of paid employees in the irrigated areas and a reduction in self-employed farmers. The irrigated areas have a noticeably high proportion of people employed full-time.
• Household incomes in the irrigated areas are noticeably higher than the townships, the District and the nation. While the townships of Rotherham and Culverden have lower household incomes than the irrigated areas, they are better off than the townships of Hawarden and Waikari, suggesting the economic benefits of irrigation flows into the closer settlements.
 • There has also been an increase in cultural and ethnic diversity. There was wide adoption of the employment of migrant workers between 2006 and 2013, with an increased proportion of Asians bringing a significant change in ethnicity in the Amuri over this period.
• The presence of more, younger families has helped school rolls, with schools being important community hubs. Amuri Area School is doing well for roll numbers and Rotherham school has a steady increase. In comparison, both Waiau and Waikari have almost halved their rolls since 1997.
• There has been an increase in the Amuri population, and the economic activity of farming, has helped to boost medical services, and a range of businesses, including builders, vets and rural supplies. Sports groups and community activities have also benefited.
• On the other hand, a more mobile and diverse community presents challenges to the communities, and in the early years of farming social issues emerged around employment, housing and community cohesion, this of course will be less of an issue as time goes on.
As New Zealand continues to drive towards sustainability and lower emission's, our story will be unique and I believe in time we will see farmgate returns dramatically increase for our farmers which will allow our more traditional sheep and beef farmers the opportunity to capitalise on irrigation when previously the numbers didn't quite stack up.
To get the full story listen above.
---
Angus Kebbell is the Producer at Tailwind Media. You can contact him here.