Guy Trafford says unless the Government intends all of us to become beneficiaries its needs to do more than pay scant lip service to New Zealand's future and focus on improving productivity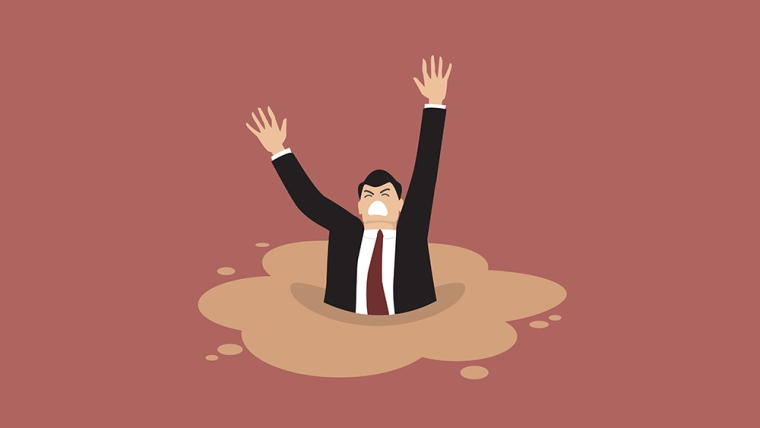 One area that I found frustrating in the recent Budget was the lack of anything meaningful that could be seen to be contributing to lifting overall New Zealand productivity.
The National Party established the Productivity Commission in 2010 and recently quite a bit of coverage was gained with the appointment of well known media commentator on economic matters, Ghanesh Nana, who headed up the Berl consultancy used by the Labour Party for its economic advice.
In the last public report provided to the responsible Minister (who ironically also happens to be the Minister of Finance) it contained the following sentence;
Whatever priorities different governments may have for the wellbeing of New Zealanders, the nation's productivity performance is at the heart of achieving sustained higher living standards and greater wellbeing.
Looking at the numbers, New Zealand is about 30% per capita of GDP below the top half of OECD countries (those we like to compare ourselves against) and have been at that level since about 1996.
When looking at labour productivity the story get worse with New Zealand operating at about 40% below the top half of the OECD and this gap has widened since 1996 when it was around 34%. This makes us comparable to countries like Estonia, Portugal and Czech Republic.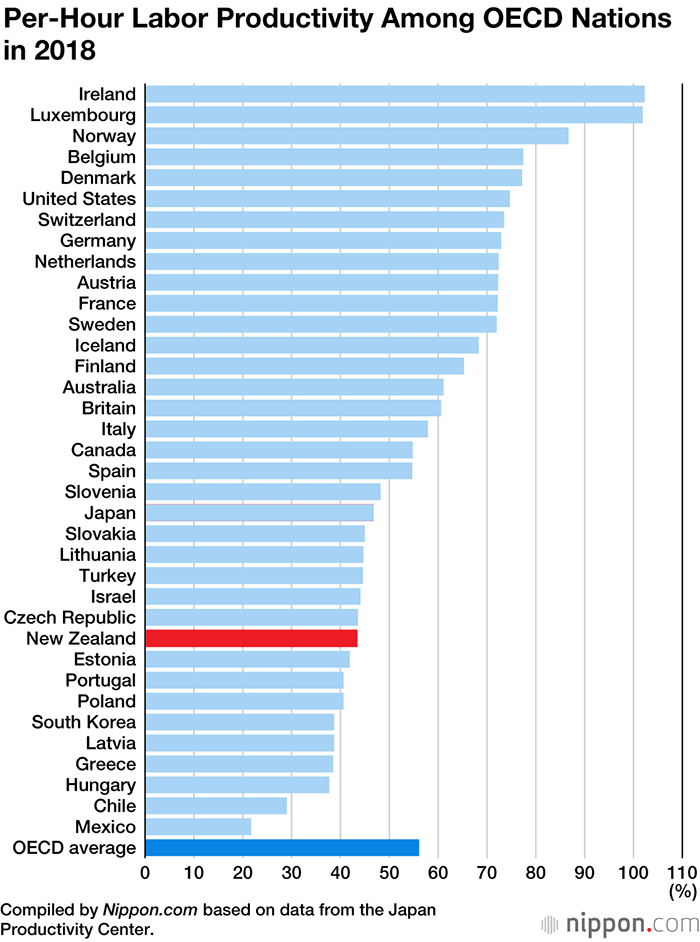 Some lesser developed countries can improve their performance by lowering the unemployment rate. However, one measure that New Zealand does do well with is keeping our unemployment rate relatively low. This just leaves lifting productivity as the only long term permanent means to improve living standards.
In the meantime, lifting social welfare benefits, while welcomed by those receiving them and probably overdue, are really ambulances at the cliff bottom - something New Zealand seems to do more readily on multiple fronts rather than taking proactive and preventative action.
Looking at the graph above two countries standout for being at the wrong end of where they might have been expected, they are Japan and South Korea.
Generally, it is accepted that manufacturing economies do better than non-manufacturing and both Japan and South Korea have a history of innovative and successful manufacturing sectors. However, defining why countries fall is complex but in this case it appears both countries now have ageing and falling populations, little immigration leading to a lack of innovation and entrepreneurial drivers.
This leads to why New Zealand is also lagging behind, especially given when the country was bursting at the seams from previous governments immigration policies. We do have a lack of manufacturing in the country, and the 'tyranny of distance' from major populations contribute to reducing any competitive advantage here.
However, one area where New Zealand has been successful is in IT 'manufacturing'. Unfortunately, too many just as they become successful, they get swallowed up by bigger international companies. So far this year the fourth has been sold this year, and in total going for billions. This testifies to the success of this sector and fortunately there are still some operating successfully within New Zealand. Whether New Zealand has had a competitive advantage in this area is perhaps questionable but there appears to be something in the DNA that fosters their development.
One thing that has made further development problematic has been the lack of skilled people to grow this sector. At the moment on the back of how the government has 'allowed' different sectors access to MIQ there appears to be no appreciation in their decision making on the benefits of who is allowed in. The classic example has been the favouring of Russian fishermen who incidentally could have triggered another lock-down versus skilled IT workers.
To provide some context in 2011 Peter Gluckman is quoted as saying that an employee in the tourism sector produces around $82,800 versus a technology worker who produces $1.7 million.
With New Zealand's attractiveness as a place to reside in on an all time high (on the back of the government's handling of the Covid-19 response) we should be cashing in on this by filtering in attractive applicants to fill the roles vacant. This doesn't have to be mutually exclusive of other sectors and doesn't even require the shelling out of more funds.
It is also likely if we had a healthy technology development sector it couldn't help but spill over into our more traditional primary sectors and help to lift their productivity.
Another example of where the country should have a competitive advantage is in forestry processing. Currently it is our third largest exporter and yet the vast bulk are is exported as raw logs. In the meantime, local processors are closing and at the same time there is a shortage of timber for milling. One of the issues that is distorting the market are the state subsidies China provides to its onshore industry to allow them to compete for our logs. It has been said that China, who takes up to 80% of our logs, operates strategically whereas New Zealand operates very transactionally, and 'we' are one of the few countries that allows unfettered access to our timber resources. This has resulted in overseas companies buying up our timber resources and sending the logs offshore to China and strangling the local mills.
Given that we are trying to also balance our carbon emissions this does seem to be a clumsy oversight.
New Zealand should have an advantage (in this case) over China with energy and capital whereas China's advantages lie with cheap labour (for now). However, with the current policies around energy, New Zealand has some of the highest power changes in the world and little incentives currently exist to invest in timber processing while the distortions exist. Whether the government is able in the current political climate to extract change out of China in the way the timber trade is conducted is a moot point, but they could provide more onshore support to even out the field. However, at the moment they still need our timber (while their plantations are establishing) and our processors need help to survive otherwise we will end up in a situation where our raw timber is unwanted and we don't have any domestic capacity to utilise the timber.
A frustration at the moment is the lack of what seems to be any Government appreciation for the wider picture beyond the welfare state.
Welfare is important but unless the Government intends all of us to become beneficiaries its needs to do more than pay scant lip service to New Zealand's future.