Guy Trafford reviews what the Climate Change Commission's final report recommends for the rural sector. He sees an opportunity to lead change and restoration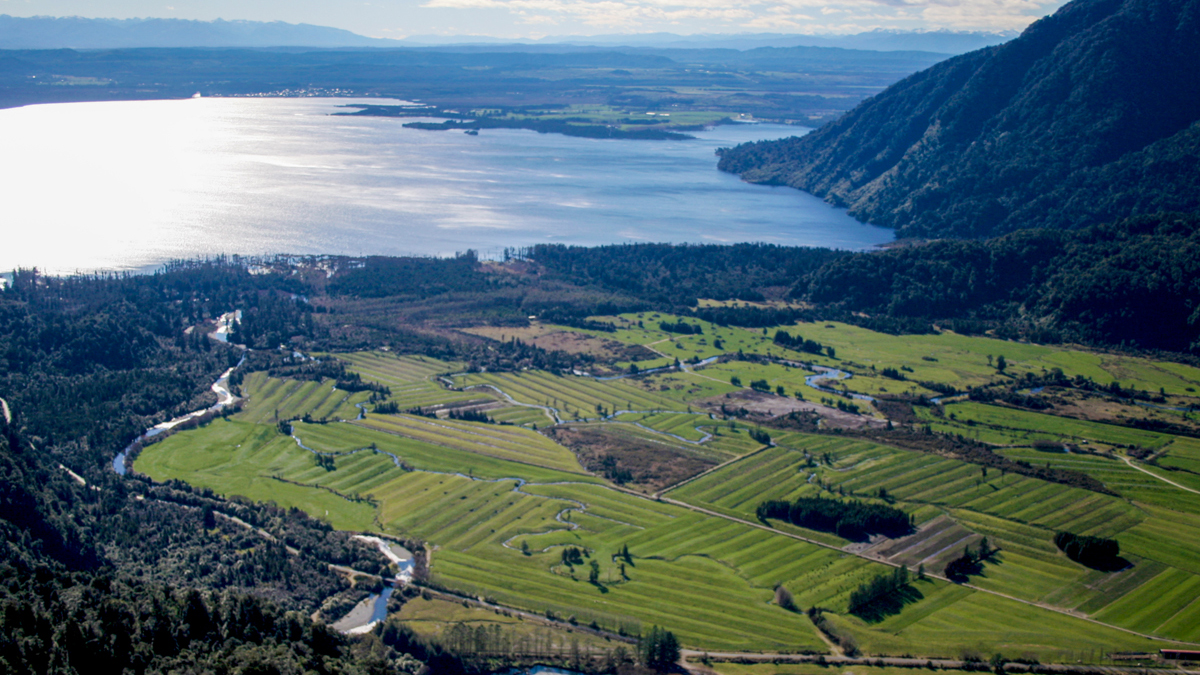 The final report from the Climate Change Commission has now been released to the public, (Parliament has had nine days to peruse it). Not surprisingly public responses have been mixed.
Greenpeace are calling for greater reductions in dairy cow numbers and reduce livestock numbers overall. They and others are always quick to point out problems but are very light in providing alternatives. Regardless of what your opinion of livestock farming is, at a time when New Zealand is missing its largest export sector in the form of tourism is not the time at to hack away at the second largest export earner.
In the meantime, livestock numbers and associated emissions have been reducing and on farm efficiencies have been increasing. The same cannot be said for transport.
The graph below shows how New Zealand per head of capita for CO2 emissions from fossil fuel compares to Australia, the USA and the UK (UK's profile is similar to many EU countries). While New Zealand's CO2 emissions are considerably less than the US and Australia (who is the highest in the the world) we are still on an upward trend and in the highest quartile for emissions. Transport makes up 33% of New Zealand's "long lived" gases (methane not included).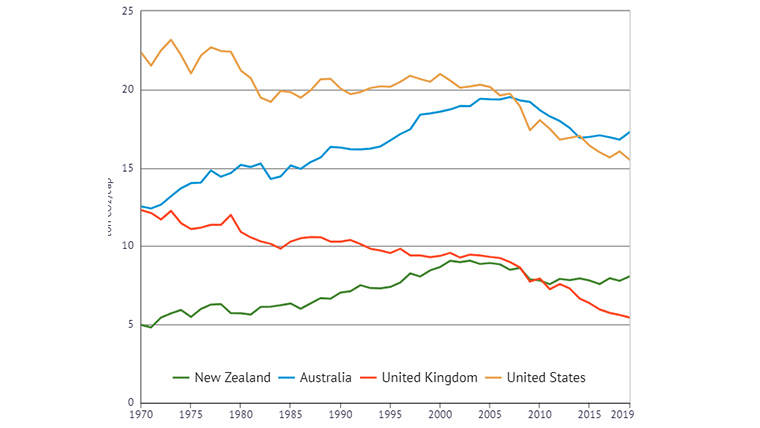 It appears the Climate Change Commission has recognised this and not taken as heavy a hand approach to agriculture that some were concerned about, and others were calling for, although it is not off the hook and the earlier published reduction rates are still there.
Agriculture makes 19% of New Zealand's "long lived" gases but 91% of methane (short lived) which the commission has seen fit to continue to treat differently.
The reductions of methane of -10% by 2030 and -47% by 2050 with current technologies will be challenging enough but the industry sectors have already accepted these targets and agriculture needs to be seen to be doing its share even if not all agree its enough.
Given that funding for the PGGRC finishes later this year and government investment into Research, Development and Demonstration (RD and D) is only secure until 2025, the Commission felt a more certain roadmap needs to be laid out as to the future of research in methane and other on farm GHG reductions.
For the 'long lived' gases they endorsed the view that a pricing system (ETS?) would enable farmers to find the best way to reduce emissions on their farms. Where the pricing would fall was unclear; that is, they seemed to imply that measures should take place on farm rather than at the processors level. However, as in the 2020 decision, agriculture were given until June 2022 to agree upon how this should be carried out and the sector has until then to get this sorted. The Commission will review what is put up by Agriculture at that time and give its view and the Ministers (Agriculture and Climate Change) will have to have made their decision by the end of 2022.
Given the mention of contesting views by submitters to the Commission in the area around pricing and what, if any, free allocations sectors may receive, there is likely to be considerable public debate before we get to the end point. They pointed out that having the close 2022 deadline should give farmers confidence they will not be penalised by starting or continuing their pathway to instigate emissions against any future benchmarking. A 2025 starting point may have encouraged such fudging behaviour as was seen through Canterbury when N leaching limits were discussed and then brought in. However, 2026 is the earliest farmers are likely to see any payment requirements (if any) as January 1st 2025 is when farmers must be able to show they have their recording systems in place and know what their emissions are.
The Commission said as part of the process to incentivise farmers to move away from livestock systems, the government needs to "roll out" policies, tools and incentives and invest to create future emission reduction options. A summary diagram of governments role and actions is below.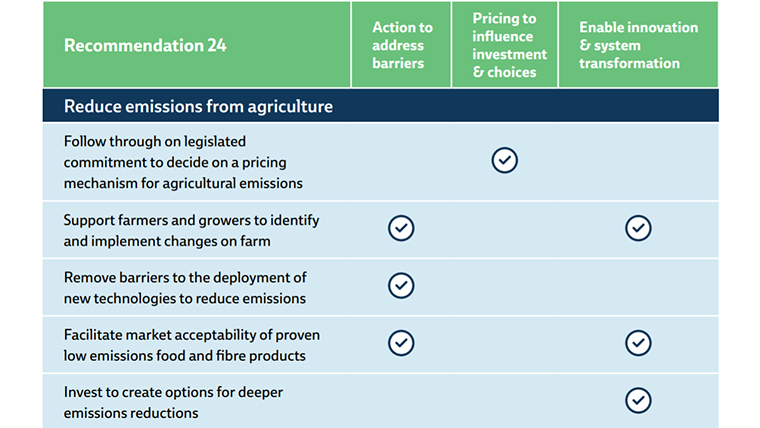 When it came to forestry the Commission has said while it still favours some plantation forestry it should be at a lower level than the ETS policies currently favour, and more emphasis should be on native plantings.
There is a recognition than wholesale plantation planting has a negative impact upon rural communities.
However, they do believe farmers should be encouraged to plant more woodlots on farms, be them native or plantation. The preservations of wetlands were also worthy of a mention.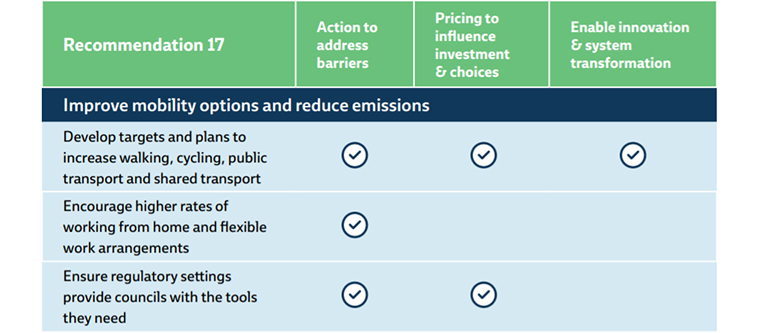 As indicated earlier the increases in New Zealand's emissions are coming from transport. Long overdue, the Commission has been more urgent in trying to get Government to tackle this area with more commitment than has been seen in the past.
They have put forward three main areas for discussion:
Reducing the publics reliance on (fossil fuel ) cars or light vehicles
Rapidly adopt electric vehicles
Begin work now to decarbonise heavy transport and freight.
They believe that many of the cost of private transport are hidden and there should be more done to encourage the use of public transport (which needs to be improved) through subsidies etc and including more outlying areas in their routes.
They have called for the government to have in place by the end of 2022 implemented plans to encourage the use of cycling, walking and public transport. No doubt the new Auckland harbour crossing plan was rolled out with this in mind.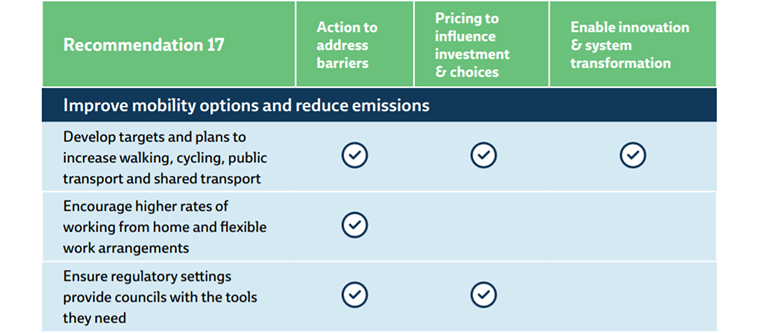 All imported light vehicles need to be low emission vehicles by 2035. They believe the government needs to introduce "fiscal incentives to lower the upfront costs of EV's as a matter of urgency" Increasing the costs of owning non-low emission vehicles is also mooted.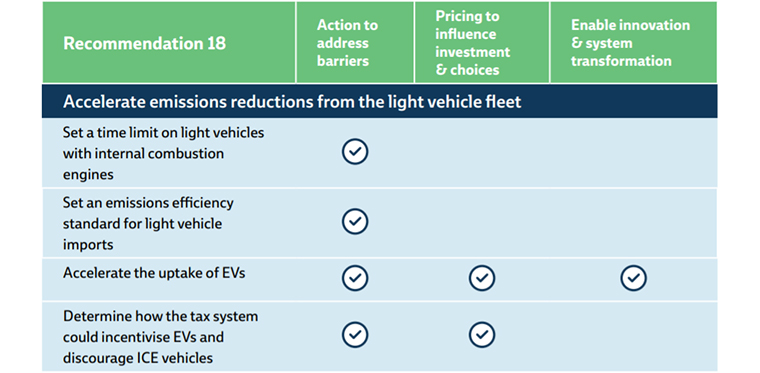 The freight and heavy transport sector have been treated with longer time frames to get their emissions lower with the 2050 deadline as being the goal.

For most policies, the Commission has laid out the Government has been given until the end of 2022 to get legislation in place to ensure action follows the rhetoric. This should mean that the politicians and bureaucrats are going to be working into the night for the next 18 months. However, the general tenor of the report is positive and while primarily dealing with climate change it has also, particularly when discussing forestry in conjunction with agriculture, linked in restoration of the environment.
If the vision outlined can be achieved, instead of being criticised for lack of action, farmers in the future may well be praised as the major leaders of change and restoration.