The Australian Government leadership is now dominated by two throwback climate change sceptics. Guy Trafford assesses where they are going, and why New Zealand may benefit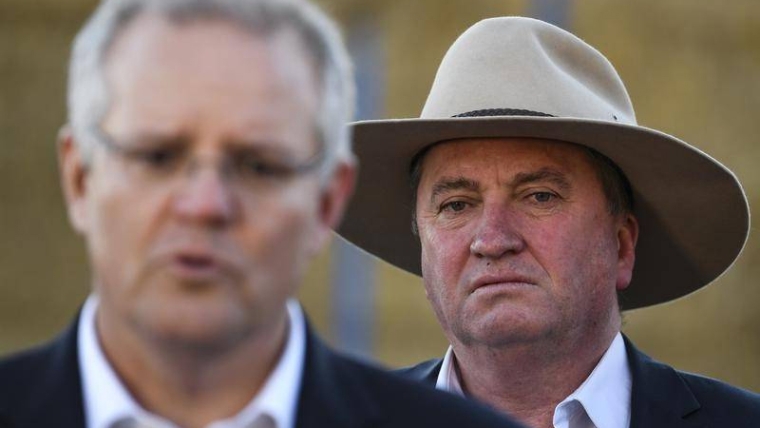 While New Zealand has been making steady progress along the path to tackling the issues needed to reduce the country's greenhouse gas emissions, some events have taken place which makes it worthwhile having a look over the Tasman and see what is occurring in Australia.
They have had a fraught (recent) history when it comes to tackling GHG emissions and policies and when the policies have been seen to be going too far, generally to bringing in more GHG reductions, leaders have been de-throned, and governments have toppled.
The latest offering in Australian politics is the re-establishing of Barnaby Joyce as the leader of the National [Country] Party. As such he takes over the role of Deputy Prime Minister. Australian politics under the leadership of Prime Minister Scott Morrison has already moved several notches to the right with Joyce as his deputy this shift is further rooted right of centre and as such in the fudge climate change territory. Climate Change politics may yet again create a change in Australian politics, this time however, it may be the catalyst for those resistant to change leaving some political parties.
While the current government has made some moves towards meeting their Paris Agreements (a 26%-28% reduction on 2005 levels by 2030) they tend to be on paper rather than in actions. A recent Australian survey published in the Guardian showed that 59% of Australians were concerned the government was not doing enough and they "believe Australia needs to follow the lead of other countries and make action a priority". With energy in Australia getting a lot of its source from aging coal fired stations when asked how they should be replaced, the vast majority wanted renewable energy as the solution.

While government coalition supporters were the most lukewarm of the respondents when it came to renewables, they still did not want to use fossil fuelled stations.
PM Scott Morrison has 'seen' the necessity to "articulate the preference for a net zero 2050". His rhetoric is severely undermined by his junior coalition partner. In the meantime, Australia lacks a coherent GHG reduction policy while having one of the highest GHG emissions in the world.
The only clear policy that has been articulated is that they intend to replace coalfired stations with gas. An improvement but well short of 'net-zero by 2050'. With the UK and others saying that they are considering placing tariffs on goods coming from countries they believe have not implemented enough actions to reduce emissions (how this would be applied is not clear and looks more like sabre rattling than a real threat, at this stage) many within Australia believe they need to put some real reduction policies in place.
When it comes to agriculture about 12%-16% of Australia's GHG emissions come from that sector, depending upon sources. Of this, approx. 66% is methane.
What is perhaps surprising is that even farmers are calling on the Federal Government to get more aggressive in making reductions in national emissions. Much of this is driven by the recognition of the vulnerability agriculture has to extreme climate events (take you pick from fire, floods, dust storms, droughts, mouse plagues etc etc).
In August 2020, a forum comprised of business, farming, investment, union, social welfare and environmental sectors issued an extraordinary statement calling for the government to adopt a target for net-zero emissions by 2050. A  poll from June 2020 found that 70% of Australians expected the government to protect the environment as part of the economic recovery efforts. Another poll found 72% of Australians view the bushfires of November 2019 to January 2020 as a wakeup call on the impacts of climate change, with 73% agreeing that the Prime Minister should lead on climate change action. A federal-level commitment to zero emissions and a Paris Agreement consistent 2030 target as well as a renewable energy target beyond 2020 are necessary to ensure a consistent federal framework for a fast transition to a zero-carbon future.
Their federal government trumpets out reductions in the national emissions profile, including agriculture. However, more independent data cannot see how Australia can get close to its Paris Agreements let alone a "net zero by 2050" even agriculture is predicted to increase by 11% from 2020- 2030. The National Party wants agriculture to be excluded from any emissions reductions policies "Australia could follow New Zealand's lead in exempting emissions from the agriculture sector". New Zealand farmers might be interested in finding out they are exempt. Treated differently, but not exempt.
If trading partners do begin to bring pressure onto countries that are not doing their bit to reduce GHG emissions, it could potentially play into New Zealand's favour. Even China is aiming to be "net zero by 2050". Given it already seems to be using any excuse to apply pressure on Australian exporters lack of a coherent Australian agricultural policy may benefit New Zealand.
Australia is similar to the USA with its combination of Federal (or Commonwealth) and State governments. And in both cases the national (Federal/Commonwealth) has seemed to be out of step with the State policies in regard to climate change. The US has remedied the situation with the dumping of Trump. Australia remains to be seen.
No chart with that title exists.