Guy Trafford compares the cost of red meat in our supermarkets with what it sells for in another offshore market, and contrasts that with what farmers are paid. Making meat more affordable won't be easy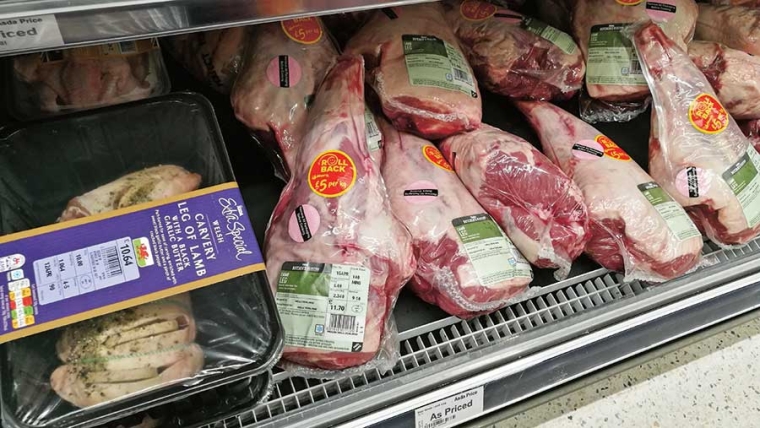 While the international Global Dairy Trade (GDT) prices for milk products have taken a minor turn for the worse, meat and in particular lamb are going from strength to strength.
Progressive/Countdown are now paying on the advertised schedule $9.00 per kg for lamb in the South Island with the North only a tad behind. It is no wonder there are starting to be a few squeals coming from consumers about the price they are having to pay.
The $9.00 translates into prices ranging  at the supermarket (Countdown) from $19 per kg for shoulder chops up to $33 for lamb steaks. A leg of lamb is $21 per kg. Prime beef which is floating around the $6 per kg for farmers is getting up to $35 and beyond for Scotch fillet and prime mince at $18. Stewing steak is (still) at $9.00 but did look a bit gristly and so a long cook would be required.
Having a look on the Sainsbury website in the UK as perhaps a comparable export destination supermarket to Countdown, a leg of New Zealand lamb there is worth £11 per kg and their top value local beef is £33 (30 day matured). With the New Zealand dollar being worth £0.51 then the UK £ price can be doubled to get a rough comparison.
So, the leg of lamb is pretty comparable although the beef is through the roof in the UK. The UK prices make it understandable why at least lamb meat prices are high in New Zealand. If the UK are paying humongous prices for beef the presumably that is a reflection of the international prices.
But it does ask the question why farmers here are still only getting $6 per kg.
The high international prices are unfortunately cool comfort for those in the domestic market who are having to compete at these levels.
There are no doubt cheaper places to but meat than Countdown, a quick look at a couple of 'direct purchase' websites surprised me by actually being more expensive. Farmers are contributing to food banks via the "Meat the Need" charity. However, this is not putting red meat onto Kiwi's plates. From where I sit there are no easy answers.
To provide more affordable meat someone in the chain has to take a haircut, the easy finger pointing goes to the retailers, notably supermarkets. However as can be seen their prices are not over the top when compared to UK prices and no doubt I could have found more expensive sites. Farmers are not making so much that they can trim their margins so then the focus goes to Government; could or should they consider subsidising staple foods.
In some ways they are, by providing WINZ top ups to lower income families et al to access more groceries. However, apart from more basic meat cuts WINZ top ups are not going to reach the mid to top end cuts.
---
Get rid of those pesky ads! Find out how.
---
Interfering directly with food pricing is a dangerous path to go down. Argentina has some crude government controls restricting beef exports to provide cheaper domestic meat. This was/is in response to 60-70% increases in the price of food and a 50% annual inflation rate overall.
Needless to say, beef farmers are not happy there and their government plan to increase beef production from 3 million tonnes to 5 million, thereby being able to swamp the local market and presumably bring down prices, has no detail and farmers are highly sceptical.
Prior to the latest controls, about 70% of Argentina's beef (5th largest beef producer worldwide) was/is going to China. The latest restrictions may provide more opportunity for New Zealand beef to fill some gaps.
Did anyone else notice irony of the gaff of Minister of Trade and Agriculture late last week? It happened on the same day that media were highlighting the 40th anniversary of the start of the 1981 Springbok tour - the tour where Muldoon was sticking to the principle of "sport and politics don't mix", something we know has proved time and time again to be wrong, even if we may not agree with it.
What Minister O'Connor said is "This is a security issue. It's not a trade issue. We have no reason to believe that there should be any reaction".
Unfortunately, security and trade are certainly aligned and trade is a well-travelled 'weapon' to inflict pressure on other countries and often over security matters. A gaff at best, highly ironic on the Springbok tour anniversary. And who does he think he is kidding? China?