Although prices in China are rising with demand, log sellers effectively pay the shipping costs which have jumped, and this has sharply reduced local at-wharf prices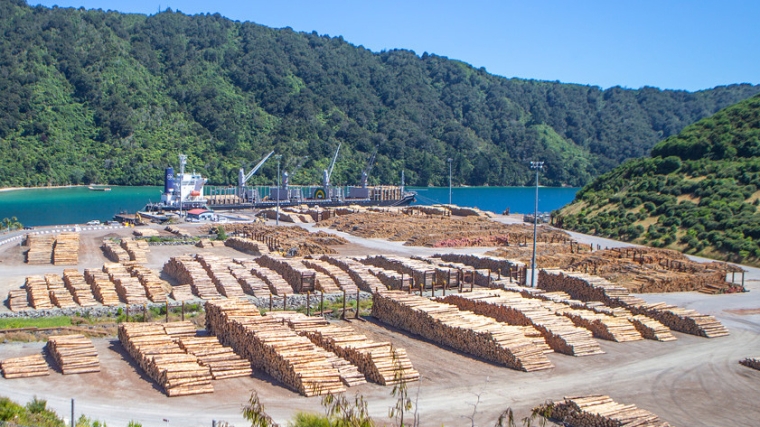 Prices for export logs in August dropped around $35 per JAS m3 from July prices, due to the combination of reduced demand in China and increased shipping costs. This was an average reduction of 30% across the grades.
CFR prices in China are still relatively healthy for this time of the year with A grade logs selling for about 165 USD per JASm3. We expect log prices in China will now steadily increase because of a reduction in log supply from New Zealand due to the Covid lockdown, and an increase in log demand in China. High ocean freight costs, however, will limit AWG increases for New Zealand forest owners.  
The PF Olsen Log Price Index for August reduced $21 from $139 to $118. This was a result of the drop in AWG prices for export logs. The index is currently $5 below the two-year average, $6 below the three year-average and $7 below the five-year average.
Domestic Log Market
Log Supply and Pricing
There has been no harvesting in New Zealand for the last two weeks of August. 
Sawn Timber Markets
The domestic market is waiting for news of when the lockdown may be lifted in Auckland and Northland. Auckland is by far the largest market for sawntimber in New Zealand. Sawmill managers (other than those in Auckland/Northland obviously) do not see the Auckland/Northland lockdown as a problem but an opportunity to replenish stocks.  This is assuming the regions below Auckland will move down to Covid Level 3 at the end of August where they can operate. Demand will increase again quickly after the lockdown.
Export Log Market
AWG prices
AWG prices are usually set at the start of each month. This month In August exporters were very reluctant to set prices, with CFR prices still not confirmed in China as there was a standoff over prices in LC's for vessels enroute. During this time shipping costs increased, and the New Zealand dollar strengthened, which did not help the AWG calculations. Once the dust settled there was still differences in AWG between exporters but not the array seen in July. The average drop in prices was about 35 NZD per JASm3. AWG prices in Gisborne were again affected by the high demurrage costs, but the ability to load vessels during the Covid Level 4 lockdown has eased this situation.      
China
The price for A grade logs was in the mid 160's USD per m3 for A grade. Exporters noted log buyers were immediately more active upon announcement of the Covid lockdown in New Zealand. This lockdown will be for two weeks to the end of August.  Vessels have been able to be loaded during this time, but all harvesting has ceased. This has assisted with port congestion at Gisborne and Tauranga. The average number of vessels departing New Zealand each month has been 55 this year. There are currently less than 35 vessels planned for September. This reduction in supply will hopefully assist with port congestion in China, where at two main port areas Lanshan and Xinminzhou log vessels are now waiting longer than three weeks.                
Softwood log inventory has not risen in the last month and sits around 5.5m m3 although there is significant volume sitting on vessels. Daily port off-take has increased about 15k per day over the last month to around 75k m3 per day. Market participants in China expect further increases in demand over September. 
There is an audit underway of sawmills in the Lanshan area to see if they are achieving set environmental targets. Hopefully, this will not significantly impact log demand in the short term.  
The use of prefabricated wood structures is featured in the latest five-year provincial plan for new construction in China counties. This is a promising sign for increased consumption of logs in China.   In June, the Chinese Ministry of Housing and Urban-Rural Development (MOHURD), released the formal Guideline on Strengthening Green and Low-carbon Construction in Counties. The policy contains specific requirements on county development and states that new residential buildings in counties should be predominantly six storeys and, in principle, not higher than 18 storeys. No less than 70 percent of newly built residential buildings should be 6-storeys and lower. Requirements to achieve this guideline indicate significant opportunities for wood-frame and prefabricated wood structures in construction. 
India
The price for sawn timber in Kandla is weak at INR 591 levels per CFT, due to negative sentiments and seasonal factors. The log market in Kandla expects about 9 vessels to arrive in September, from Australia, New Zealand and Uruguay, with an additional five vessels in October. 
Tuticorin should receive its first bulk log ship in about three years when they receive a shipment from Uruguay. They used to regularly receive log shipments from New Zealand. Container shortages has made shipping companies quote excessively high freight rates which have made log shipments in containers untenable. 
The Indian monsoon should subside in September. The log market anticipates log buyer sentiment will become more positive in October. The North Indian new accounting year starts on Diwali day, November 4th and demand should increase through to the year-end.
Exchange rates
The NZD was relatively unchanged against the USD between the start and end of July (0.6982 to 0.6973). This NZD rose to 0.7045 against the USD during the first week in August when AWG prices were being set. This caused a further drop in AWG prices of approximately 1.60 NZD from the AWG prices.
NZD:USD
CNY:USD
Ocean Freight
Demurrage costs at ports in New Zealand and China add to the high daily costs of vessels. The reduction of logs vessels from New Zealand in September will do little to ease the market as logs account for less than 10% of the total handy size trade. The Baltic Dry Index was sitting at 1200 in November and is now at 4235. High ocean freight costs are the biggest impediment to improving AWG prices through quarter 4 in New Zealand.  
Source: TradingEconomics.com
The Baltic Dry Index (BDI) is a composite of three sub-indices, each covering a different carrier size: Capesize (40%), Panamax (30%), and Supramax (30%).  It displays an index of the daily USD hire rates across 20 ocean shipping routes.  Whilst most of the NZ log trade is shipped in handy size vessels, this segment is strongly influenced by the BDI. The Singapore Bunker Price has continued to edge upward. 
Singapore Bunker Price (IFO380) (red line) versus Brent Oil Price (grey line)
Source: Ship & Bunker
PF Olsen Log Price Index – August 2021
The PF Olsen Log Price Index for August reduced $21 from $139 to $118. This was a result of the drop in AWG prices for export logs. The index is currently $5 below the two-year average, $6 below the three year-average and $7 below the five-year average.
Basis of Index: This Index is based on prices in the table below weighted in proportions that represent a broad average of log grades produced from a typical pruned forest with an approximate mix of 40% domestic and 60% export supply.
Indicative Average Current Log Prices – August 2021
Log Grade

$/tonne at mill

$/JAS m3 at wharf

 
Aug-21

Jul-21

Jun-21

May-21

Apr-21

Mar-21

Aug-21

Jul-21

Jun-21

May-21

Apr-21

Mar-21

 
 
 
 
 
 
 
 
 
 
 
 
 

Pruned (P40)

180-200

180-200

180-200

175-195

175-195

175-195

194-200

194-200

204-218

200-214

184-192

180-190

Structural (S30)

125-160

125-160

125-160

125-139

122-136

118-132

 
 
 
 
 
 

Structural (S20)

109

109

109

109

108

108

 
 
 
 
 
 

Export A

 
 
 
 
 
 

128

163

171

165

150

148

Export K

 
 
 
 
 
 

120

156

164

158

142

140

Export KI

 
 
 
 
 
 

113

147

154

150

134

134

Export KIS

 
 
 
 
 
 

104

137

146

142

125

125

Pulp

46

46

46

46

46

46

 
 
 
 
 
 
Note: Actual prices will vary according to regional supply/demand balances, varying cost structures and grade variation. These prices should be used as a guide only.
A longer series of these prices is available here.
---
This article is reproduced from PF Olsen's Wood Matters, with permission.