Guy Trafford sees new questions about changing land use to monocultures such as pine with no foreseeable plans for harvesting, and their GHG emissions, and with very limited contribution to ecological ecosystems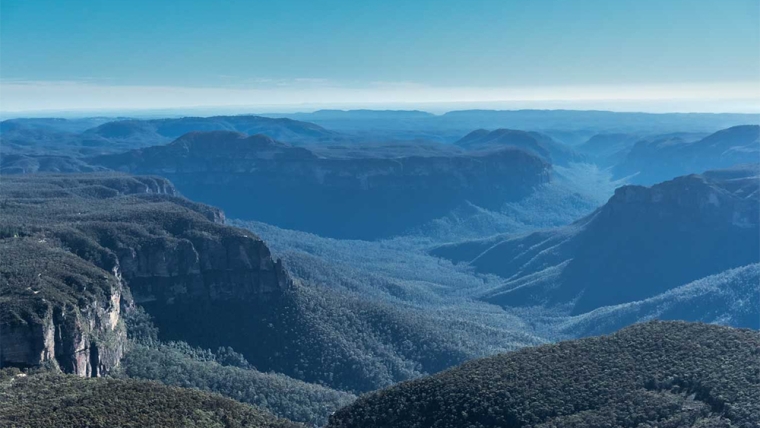 Blue Mountains, NSW, Australia
A passing comment from a colleague has led to this article and it concerned my understanding of "isoprene", which I had to admit was almost zilch; just a vague recollection of something to do with ozone at a guess.
The question was asked in the context of trees which created a bit more confusion for me. But some research has made me far better informed although well short of being close to expert on the topic.
The reason the question raised my eyebrows as it was asked in the context of trees adding (at least in part) to the total CO2e totals going into the atmosphere. Given that trees are seen as a major part of the solution in restoring some balance back into the atmosphere obviously some further investigation was required.
The photograph below is of the Blue Ridge Mountains of Virginia and the blue haze from which the mountainous area derives its name is apparently due to the isoprene (or more correctly volatile organic compounds (VOCs) which include isoprenes), solid or liquid particles suspended in gas being emitted from the forests below. Presumably Blue Mountains in Australia have the same source.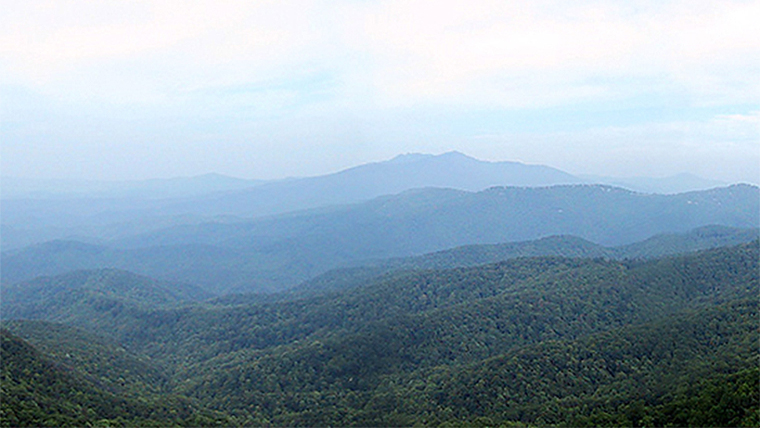 Source: Phys.org/news (creative commons)
Put simply, isoprene is a chemical produced by most plants, but mainly trees, to help protect them from abiotic negative influences. I.e. too much heat, sunshine, and wind among other things. It is also a major component of the latex produced by rubber trees and has now been produced synthetically to create tyres etc.
On balance researchers say trees have a positive impact upon the environment.
However, it appears like most things there is also a downside. Apart from tying up land which could potentially used for food production there are another couple of negatives. The first is that, particularly deciduous trees, due to the dark colour it can absorb more of the sun's heat rather than reflecting it back out of the atmosphere. (Getting rid of the wilding pines in tussock country is an example where the original form of the countryside is better at reflecting sunlight).
The other major negative seems to be the emission of isoprene molecules. When isoprene gets into the atmosphere it contributes to creating more global warming potential in some of the existing pollutant gases. I.e. it extends the life of methane but seemingly more importantly creates more ozone's in the lower troposphere where they also add to global warming. So, it starts getting complicated.
The IPCC attitude to tree reafforestation has been subtly changed in the 2019 update. The bottom line is, planting trees is seen as a positive impact upon climate change. "preserving and restoring forests and peatlands and other options that do not require land use change provide almost exclusively positive impacts on sustainable development, such as reducing poverty and hunger and enhancing health, clean water and sanitation."  That hasn't changed.
However, some comments do seem a little less unequivocal. "Tree-planting that results in land-use change must be approached more selectively." It is this that the New Zealand Government should be taking a closer look at.
Back to isoprenes. Globally, trees emit approximately 600Tgs per year (1 Tg = 1,000,000 tonnes). It is the most abundant biogenic volatile organic compound (BVOC) in the atmosphere and emission increase with greater temperature, however, decreases with increased atmospheric levels of CO2. 
Through most of the published research the tree species that have the highest rates of VOC production are oaks, aspens and poplars. Initially this seemed counterintuitive given that they all lose their leaves for about 4 months of the year. But as VOC's are emitted more in warmers months then perhaps this helps to explain it as there would be little reduction over winter with no leaves.
Pines are not immune from emitting VOC's but just have limited information when compared to other species. Among the pines Pinus Radiata appears to be at the lower end but with the caveat that plantation forests are a major source due to the dense canopies. (Use a value of 700 g m -2 compared with 375 g m -2 for deciduous forests).
Given that this whole area of research still seems to be a developing science it is understandable why the regulatory bodies are not (yet) incorporating such data into land use calculations.
However, especially for land that is being planted into monocultures such as pine with no foreseeable plans for harvesting, there is growing evidence around GHG emissions, very limited contribution to ecological ecosystems, next to no contribution to the rural society make-up then there is growing evidence that some within the public should be concerned.
There is a saying that there should be 8 reasons to plant a tree. Sole carbon harvesting forests I suspect would have difficulty in achieving this and it looks to be becoming more difficult as time progresses.