Guy Trafford wonders if the meat industry's selective enthusiasm for seeing China in the CPTPP might not be the principled promotion of free trade being presented, rather just a selective pragmatic approach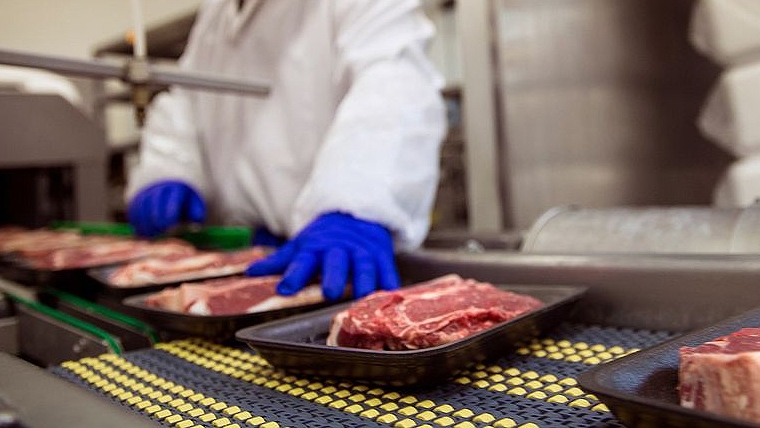 The joint statement released by Beef and Lamb NZ and the Meat Industry Association (MIA) last week saying how pleased they were that China had applied to join the CPTPP trading group raised some eyebrows.
They said, "the application is an exciting and important development as New Zealand looks to trade to drive its economic recovery following the COVID-19 pandemic."
While most meat producers would endorse the sentiment, they may have taken a lower profile approach given the ongoing controversies around trade with China. These largely come from the very questionable human rights issues spread over a number of areas within the China domestic sphere of influence.
On RNZ  MIA Chief executive Sirma Karapeeva went a step further stating geopolitical and trade issues are separate. "The government has spoken very clearly about New Zealand's approach to a sovereign and a standalone foreign policy approach, and I think it's important to keep geopolitical issues away from trade issues".
Two things came to mind regarding press release and resulting statements. One was that it is perhaps premature given that China has just applied and has not yet been accepted by the CPTPP members. Given that Australia is a member (and not a great fan of China) and applicants have to have meetings with the existing members mean that the acceptance of China cannot be considered a 'done deal'.
A further potential complication is that back in February the UK also applied to join the CPTPP and while not yet accepted they will be having a meeting with the existing members seemingly in October judging by Japan's Economy Minister Yasutoshi Nishimura comments. Britain also is not currently in the Chinese fan club, especially after China's treatment of Hong Kong's residents, and quite possibly could also be a CPTPP member by the time China's application comes up for formal discussion.
So back to the B&LNZ and MIA statement, why would you put your head on the block making what to some is a controversial statement when there is still so much (murky) water to flow under the bridge?
The CPTPP trade pact removes 95% of tariffs between its members: Japan, Canada, Australia, Vietnam, New Zealand, Singapore, Mexico, Peru, Brunei, Chile and Malaysia. So, the carrot to having China in the group is going to be attractive to many members. However New Zealand is already in a prime spot with the FTA already with China.
The second part of the release I had difficulty with was regards the statement "keeping geopolitical and trade issues are separate." While they are standing behind the governments policy, both they and the government seem to be cherry picking where New Zealand stands when it comes to principles. As signatories to the UN New Zealand already conducts a raft of trade embargoes to other countries conducting less than savoury human rights practices. Most of these are more concerned around the exportation of arms or goods that can support arms but not solely as there are countries such as North Korea where the embargoes go across the board including "Food and Agricultural goods". They also without exception seem to be focused on countries which do not count among desirable countries to trade with. So, no tears over lost trade.
However, more desirable trading countries such as Russia and China get side stepped. A pragmatic approach but not one to shout about.
While New Zealand already has a FTA with China since 2008 which includes meat (Beef and Sheep) and has had tariffs at 0% since 2017, it presumably means that having China in the CPTPP may result in a reduction in non-tariffs barriers. On paper these should have gone under the FTA also especially with the 2017 upgrade. But the CPTPP may (again) result in less border paperwork and it appears some meat works, especially some beef plants, maybe still waiting to get approval to export to China even though they believe they have met all requirements.
By far the largest proportion of meat trade is conducted under the auspices of Free Trade Agreements (see below) or soon to have one. The biggest prize yet to come New Zealand's way is India either with an FTA or joining CPTPP.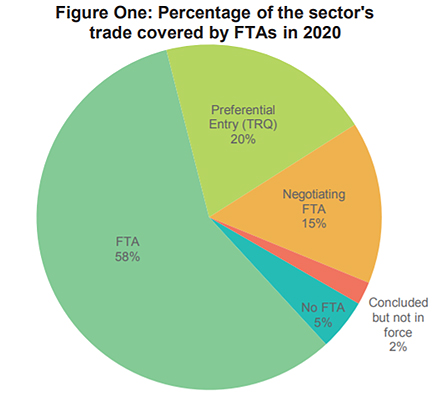 Source: Beef and Lamb NZ & MIA 2021
A quirky aside is China already has a FTA with us but they and certainly B&LNZ are keen for them to join the CPTPP whereas shortly the UK will be in the CPTPP with us and New Zealand (and already Australia) are seeking to have an FTA with them. Judging by this neither of the two trade deals (CPTPP or FTA's) are in themselves the complete answer.
For those interested  the New Zealand Sheep and Beef Sector report "Barriers To International Trade 2020/21" provides good up-to-date additional information on New Zealand's meat exports.
As can be seen in the graph below, while the cost of tariffs to New Zealand producers are steadily reducing there is still room for improvement with currently an annual cost to the industry of over $150 mln.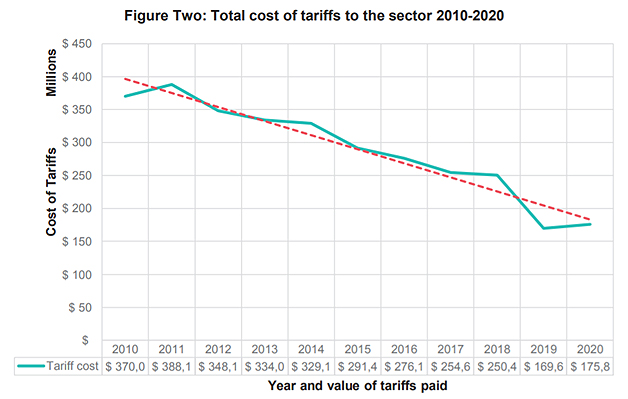 Source: Beef and Lamb NZ & MIA 2021