One region grapples with the implications of encroaching foreign-owned and 'short-term' carbon farming and doesn't like what it sees and the mess it will leave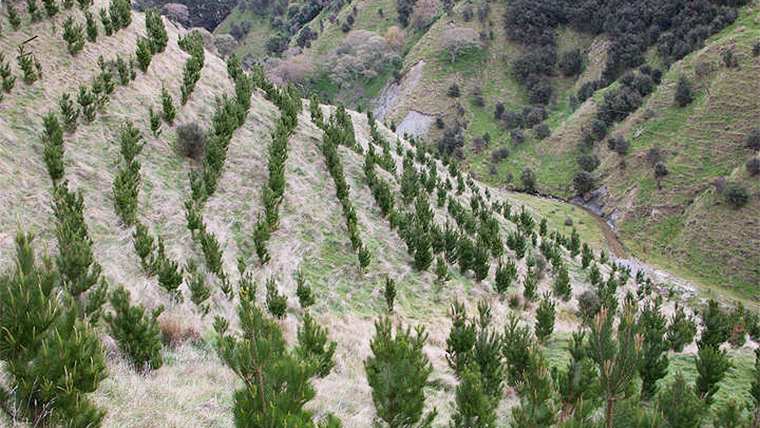 Most, perhaps even all of the recent discussion around plantation forestry established for carbon farming has been focused on a foreseeable time horizon. Given the number of changes to laws around forestry over the last 50 years this approach is not surprising.
However, in the Gisborne/Tairāwhiti region there was launched in February 2017, the Tairāwhiti Economic Action Plan (TEAP) Operations Group tasked with identifying actions to address some of the key challenges in the Tairāwhiti region.
Latterly a "concerned community delegation" went to TEAP to seek more a close examination of what the widespread conversion of land into plantation forestry for carbon farming and the impact the ETS has in its current form may have upon it. To this end TEAP employed BDO Gisborne Ltd to conduct a comprehensive report to investigate short and long term ramifications to the region.
What makes this report unique is that:
• It focuses only on permanent carbon farming
• It is not commissioned by any particular industry
• It takes a regional/community focus
• It considers environmental and wellbeing outcomes as well as economic
• It looks at these issues from the perspective of generations 100 years from now".
Any projections that look out 100 years is bound to be will astray from the reality that is occurring in that future. However, without making some attempt to foresee and mitigate some of the issues then the future could be a lot worse. The scope of the report focuses on three pillars:
Wellbeing
Wellbeing focuses on the people of the region and in particular employment opportunities and household incomes which directly impacts on the social, physical, and mental wellbeing of the people of Tairawhiti.
Environment
Environment focuses on the environmental and biodiversity outcomes from permanent carbon farming.
Economy
Economy focuses on the Gross Domestic Product for the region as well as returns for land or forest owners.
Where negative consequences are identified for the Tairawhiti region the report will where possible suggest responses and solutions at a local and national level.
This article does not intend to rehash the report in full but just highlight some points which may provide a taster to encourage those interested to go and read the full report.
Concerns raised in the report, some of which only relate to Tairāwhiti include the following.
With 83% of the grassland area in land level 6-8 there is no protection coming from government over the rate of land conversion with only land in level 1-5 likely to be regulated. The inference is obvious with this region bearing the brunt of widespread land conversion.
Permanent carbon farmers are quoted as saying that once the forest stops taking up additional carbon (and thereby the income stream stops) they will transition to native forest. The report identifies that to do this in any meaningful way will be very expensive and given carbon forest investors are generally driven by profit, this is unlikely to occur.
They also identify post 50 years of establishment (forest maturity) costs such as rates and insurance continue and future owners may not feel so enamoured to keep paying for these as liabilities build up. Given many investors are companies it makes it difficult to pursue individuals for outstanding debt. The Tiwai point waste products are a recent warning about the cost taxpayers and rate payers may end up having to wear.
The potential value of the land at this stage (post maturity) is minimal due to the costs of paying back ETS liability leaving little for any creditors (councils) to recoup. The reports authors do not believe planting in native trees is feasible from day 1 (under the current scheme) due to the high costs and slower establishment. In 50 plus years time if the ETS and other carbon emission reduction programmes have done their job the unit price is likely to have reduced (unless government intervene, again) providing even less incentive to plant native forests. If the carbon emissions haven't reduced, then 'we' may have larger problems to discuss.
The losses of overall potential income to the region once the forests go 'post maturity' is identified as -$146 million from lost livestock income and -$173 million from lost forestry income (based upon 2019 values). These numbers presumably do not take into account the 'multiplier effect' which is often put at between 2x - 6x by the time the money does the rounds. They also highlight that the "plant and leave" approach (as done with carbon farming) does little to enhance longer term employment options leading to a "significant migration out of the district" and what jobs that are created  with zero harvesting tend to come with lower pay rates than either farming or production forestry.
On the environmental front the report recognises permanent forestry would have a positive impact upon water quality. However surface water availability would decrease.
When it came to recommendations to central government there was a "unanimous desire" to have permanent carbon farming regulated.
The report provided the example, "A regulatory solution that would not impact production forestry or farming while capturing existing permanent exotic forests (forests not intended to be harvested) would be to require permanent exotic forest owners of greater than 50 hectares to get consent to keep exotic forests past normal production forestry age. For example, 35 years for Pinus radiata and 50 years for eucalyptus. Without such regulation huge plantings or retirement of areas in a permanent monoculture will continue as the lowest cost option to produce a carbon credit".
They also believed an incentive scheme could work with the regulations would be to provide bio-diversity credits for native plantings within 30 metres of waterways. This could be funded by instigating a levy on the credits provided for permanent carbon forests.
While this report was done for the Gisborne/Tairāwhiti region, many perhaps all of the issues relate to other areas such as Whanganui, Central North Island, parts of the Wairarapa and Wellington regions to mention some. Given the rate farmland is going into permanent forests the government cannot afford to sit on its hands for too long.