The higher farm gate milk prices go, the more challenging it is for Fonterra to operate profitably. Profitability is an issue for other dairy companies too at these milk prices. Early season indicators are milk volumes will be strong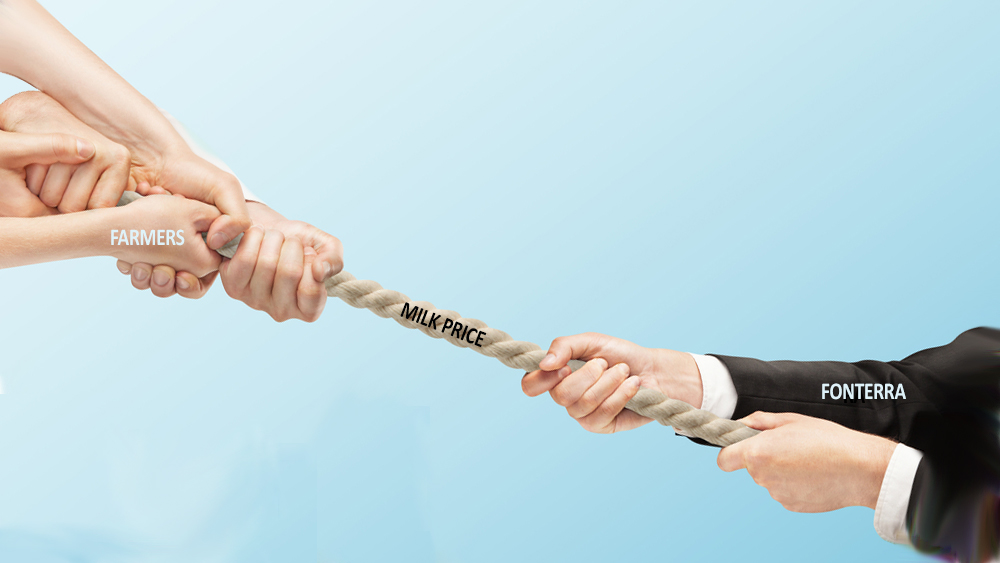 The latest dairy auction continued the recent upward trend that started back in August. Since that time the GDT weighted average has lifted in jumps by about +12%. Over that period all of the four major products New Zealand exports (Butter, Cheddar, SMP and WMP) have had regular lifts which will help Fonterra meet its recently upgraded seasonal farmgate price.
However, as Nathan Penny from Westpac points out nothing is ever that good or operates in isolation. He reminds us that the higher the farmgate price goes the harder it is for the added value components to compete, and show a profit.
Also, while all products are up, if one takes off at the expense of others there exists the potential of lost opportunities through insufficient processing capacity of that product, say WMP.
However, in the meantime dairy farmers are knocking on the door of a record payout for the season (if it can be maintained). Penny points to a drop-off in world production as the reason for the current lift in prices.
Unfortunately, while Fonterra is experiencing a positive patch the same cannot be said for A2 Milk. Over the last 12 months its share price has steadily declined on the poor performance of sales, largely a result of Covid-19 interruptions.
A2 Milk share price

Source: NZX
The demise of A2 Milk is also matched by its source producer, Synlait. This shows that just being involved in the dairy industry is not necessarily a sure path to riches making the Fonterra result more impressive.
The high outlook price must also be putting pressure on other New Zealand producers who tend to link their prices to Fonterra's. Early days yet for the big Coop, with plenty of water to pass under the bridge but indications look good. Ironically, Fonterra's share prices have also been looking rather sad over the last 6 months or so. But in their case, this is largely due to the restructure plans.
Fonterra share price

Source: NZX
The NIWA outlook for a La Nina season is for the traditional drier parts of the country better than an El Nino and certainly to date most of the country has been experiencing reasonable rainfall. Irrigators have only really cranked up in the last week or so, given it has been at the start of September for many years when irrigators have been turned on, this year has been a boon. What the total milk flow for the year is going to be is always a raffle this early into the season, so far not only are prices good but production could also be good.
Sticking with share prices AllBirds, a shoe and clothing company started up by Kiwis Tim Brown and Joey Zwillinger, opened on the Nasdaq and appear to be on a winner. Using merino wool sourced from New Zealand to produce their products it continues the strong demand that merino is experiencing - but unfortunately not transferring over to coarser wools.
Allbirds share price

Source: Nasdaq
COP26
Further to reinforce the quandary that New Zealand has in the methane discussion (see article3/11/21), James Shaw has been dragged into the debate before even leaving the country.
Environmental groups have criticised him for hypocrisy in signing up, along with another 100 or so nations, in agreeing to reduce methane emissions by 30% by 2030 whilst all the while having no plans to match the reductions in our own policy. This position, however, is not only conducted by New Zealand with those countries signing up to the -30% agreement also not bound to make the cuts domestically. This makes it appear to be a rather "Claytons" agreement.
If this smoke and mirrors approach is how COP26 is to be conducted then making any real progress is going to be highly unlikely and just reinforces my cynical view of the politicians and the political process especially when it comes from an international level.
Australia, however, chose not to sign the methane reduction agreement, perhaps putting a bit of honesty ahead of international political expediency.
On an optimistic front the COP26 meeting may get positive change across the line although as with all these agreements it takes time to measure the success or to show that it has yet again just been hot air rhetoric.