New Year livestock prices have eased back somewhat, but with warmer temperatures and reasonable rainfall, some regions are not as water-stressed as usual. New Zealand is faring better than many other global agricultural areas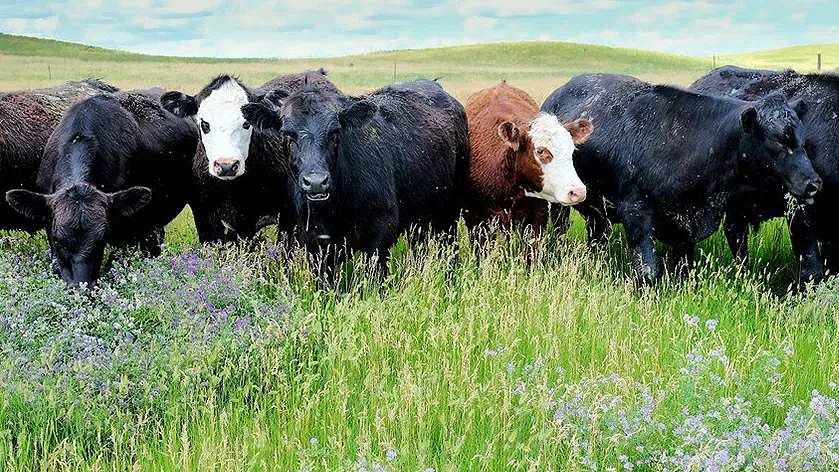 Back at the desk after a prolonged period off requires a bit of a catch-up for the holiday period and the year just gone.
Livestock schedules
Not surprisingly prices have softened over the Christmas period and beyond. Lambs have taken an -$5 to -$8 drop with all other classes similarly affected percentage wise with one notable exception.
Venison has gone in the other direction with a +20c per kg increase. This has taken the national average over $7.00 per kg for the first time in nearly 2 years and a welcome reversal for deer farmers.
Sale yard prices have held up well for lamb prices although North Island cattle prices have taken a bit of a knock.
The opening sale of coarse wools has shown no inclination to reverse its time in the doldrums with few sales of the finer end to make any predictions as yet. There was a report that China were reducing its purchases of Australian merino wool (slightly) which may put a bit of downward pressure here also.
Milk
GDT prices have been ticking over with a general positive trend supporting the increases in the farmgate prices most economists are predicting. New Zealand farmers will also be gaining the benefits from a remaining soft NZ$ against the US$ over the break period.
With the results of this morning's sale now in, the outlook is looking even better. The overall weighted price is up +4.6% with the New Zealand product range doing even better:
WMP up +5.6% to US$4,082 or NZ$5,951
SMP up +5% to US$3,963 or NZ$5778
Butter up +5% to US$6,158 or NZ$8,978
Cheddar up +1.1% to US$5,546 or NZ$8,086 (all per metric tonne)
Since December 10th, 2021, in New Zealand dollar terms all products have lifted in price by between +5% to +6%.
Climate
Apart from the ongoing saga of Covid-19 dominating the media, the climate has remained important. Looking back has shown 2021 to have been a year of growing extremes.
Using the North America as an example of the international scene; 2021 was among the hottest (ranking 4th) with the hottest 6 all occurring in the last 8 years. Within this many states recorded their hottest days especially on the Northwest in both Canada and the US. Widespread wildfires are becoming the norm in both countries plus extreme tornados and hurricanes increasing in strength. Rainfall was up slightly but coming in larger events and creating more flooding.
(See the diagrams below)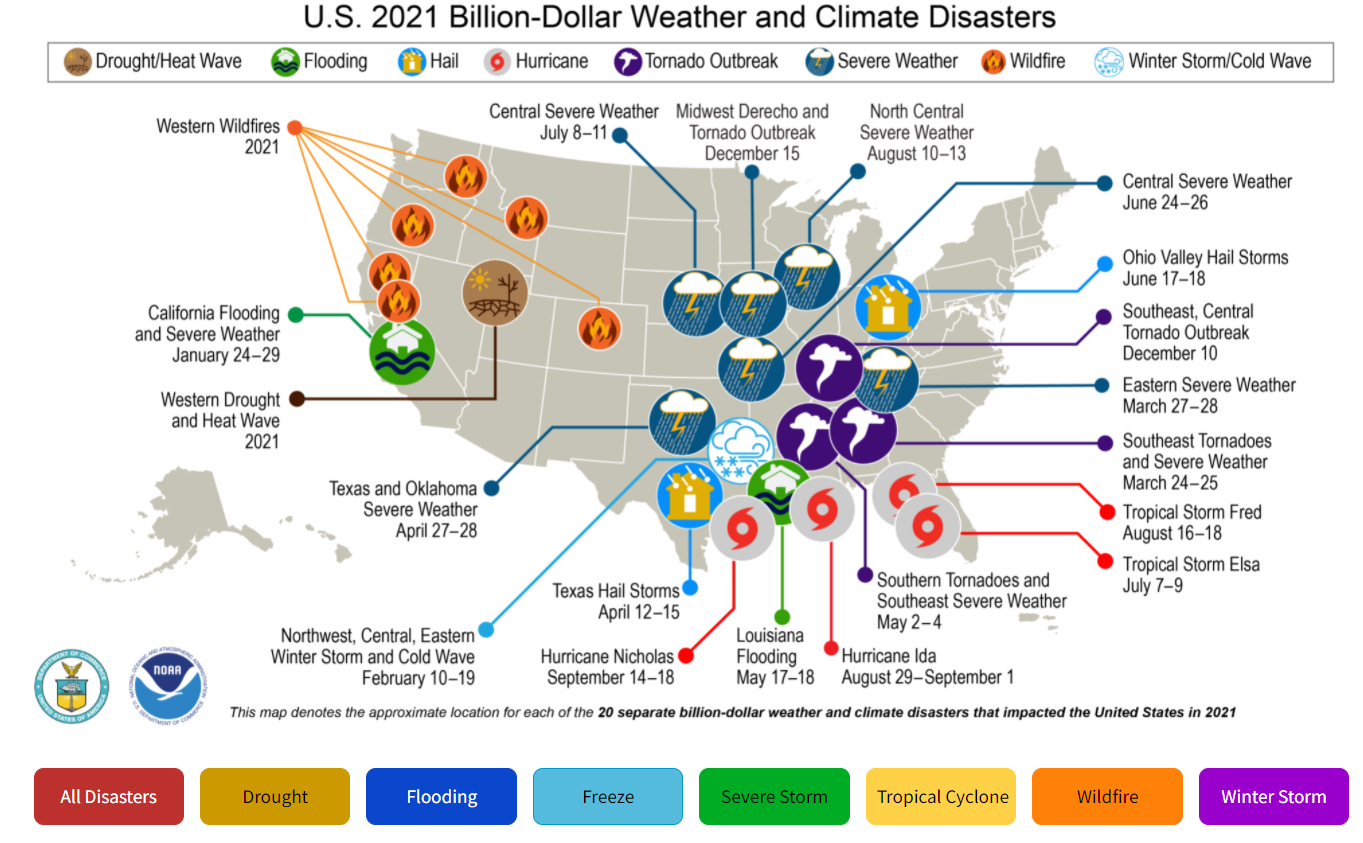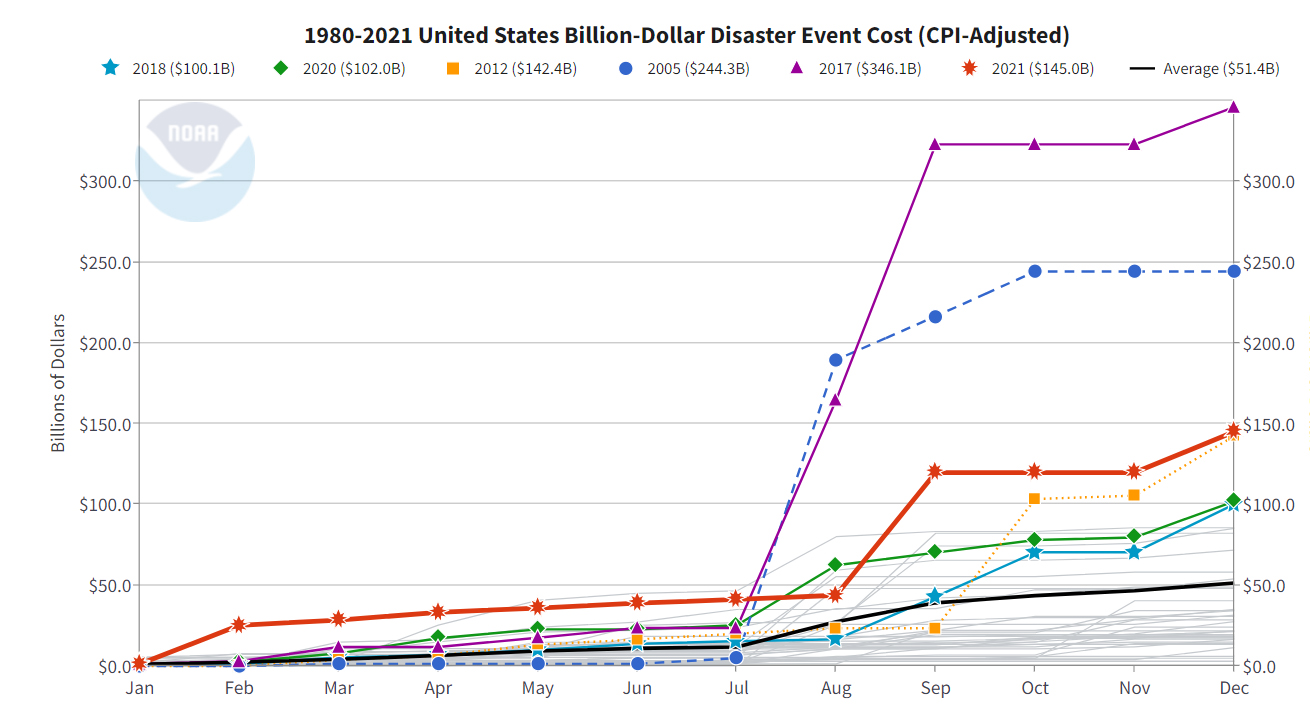 Source: https://www.ncdc.noaa.gov/billions/
New Zealand has fared better (relatively) than most other countries, a feature of our moderating maritime climate. However, 2021 was still the hottest year on record with Ashburton's high of 39.4c setting a new national record (today Canterbury is forecasting 32c, even with a Southerly coming in this evening). Overall rainfall was near average but this disguises the impact that heavy 'events' have had.

Source: NIWA
The last couple of months locally have been a season notable for warm temperatures and regular rainfall. Irrigators went on late and here at home we made the decision not to irrigate this year and we still had to bring a neighbour's cattle to help clean-up surplus pasture. With irrigation at $1,000 per year in electricity the regular rains have been money in the bank and a lot less work.
With February approaching, parts of the country are starting to now get dry especially in the north of the North Island. But with the East Coast of the North Island getting some 'spill over' from ex tropical Cyclone Cody and the South Island getting wetter southerlies coming through there is no talk of drought and this makes a change from years past. I suspect climate will continue to dominate the airways etc. as there are still conversations and decisions that need to be made especially around mitigating the impacts in the short term.
Another conversation that government and the country still need to have is around the "Three Waters" programme. More coverage and insights are to come on this but at the moment the divide between councils and Government is wide.
In the meantime, I have water problems of my own, with the house water pump continuing to run but no sign of where the water is disappearing too.